Russia has developed a transport drone of the aircraft type TrAMP (transport aviation multifunctional platform) that can fly to a considerable distance while hauling a significant amount of cargo, reported Ria Novosti. 
The aircraft can transport and drop cargo up to 250 kilograms over distances of more than 600 kilometers, the report said, citing a source. The drone is reportedly made to carry out duties considered dangerous for manned aircraft in inclement weather. 
The machine's standout feature is a big 2650-liter cargo box, which allows the user to load oversized items and drop them with a parachute at a predetermined location.
Additionally, the device has a cruise speed of 195 km/h and a cruising ceiling of 3000 meters. The landing gear enables users to take off and land on ill-prepared and small platforms. 
Furthermore, the UAV's modular design makes it possible to change the wing, motor, and landing gear swiftly. Depending on the available space, the drone can be used as a military or agricultural device by packing various items into the compartment. 
Besides that, the downward-opening flaps of the cargo compartment enable the TrAMP to be used as a bomber for concentrated attacks on enemy areas, reported Military Review. 
"It is also possible to install radar, optical, cartographic, and other special equipment for observation in the compartment. Downward-opening cargo bay doors allow shock payloads to be suspended," the report added. 
But it's not clear what state of development the drone is in. Furthermore, no deadline is provided for when the drone can be deployed. 
That being said, the cargo drone can be a more effective and affordable solution for moving vital payloads in high-risk settings compared to manned aircraft.
Military analysts concur that such drones can be stationed closer to the front lines than crewed aircraft, potentially cutting down the time needed to identify and evacuate soldiers.
USA's Efforts To Put Such Drones Into Operations
The US military has been pursuing a number of programs to broaden the spectrum of unmanned aerial vehicle activities to integrate a range of drones alongside its current assets.
In this sense, one of the key aspects the US military is pursuing involves drones that can transport big payloads across considerable distances. 
The EurAsian Times had earlier reported that the US Navy's Naval Air Warfare Center Aircraft Division (NAWCAD) demonstrated several drones capable of delivering cargo to a moving ship in December 2021. 
These drones had a payload capacity of about 50 pounds (22.68 kilograms), and they could take off and land vertically from most navy ships, negating the need for specialized launch and recovery equipment.
The US military is primarily interested in cargo drones because it seeks to discover ways to quickly restock frontline platoons and squads with weapons, ammo, and other crucial supplies.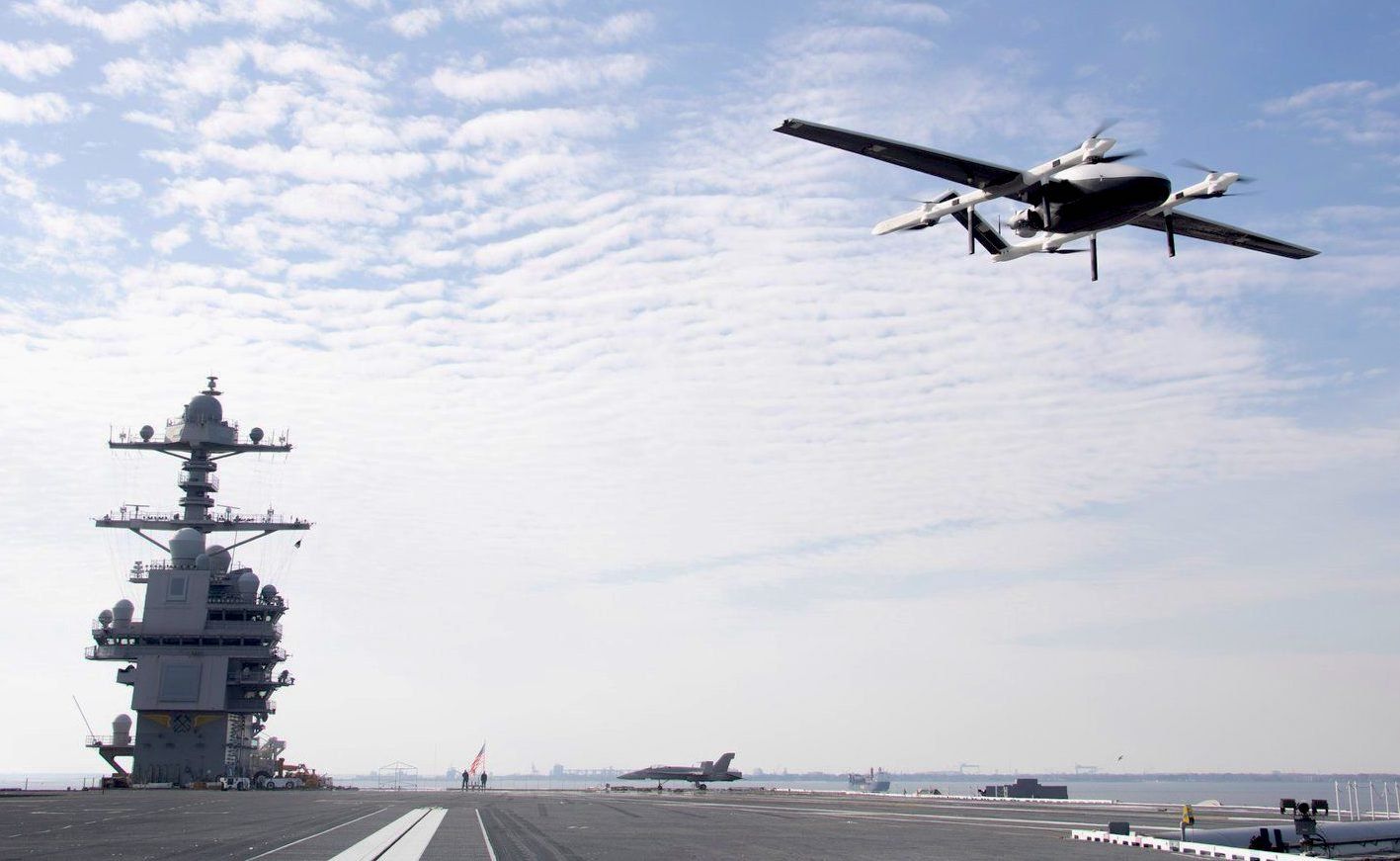 The military understands that unmanned air vehicles (UAVs) can meet the requirements of small but essential units on the battlefield, effectively removing layers of military bureaucracy and logistical issues by allowing soldiers to call up supplies as needed. 
It was previously reported that the army and US Marine Corps had joined forces to develop these concepts, and they are seeking feedback from aerospace companies.
The services' project is known as the Joint Tactical Autonomous Aerial Resupply System (JTAARS).
The project aims to develop small, easily transportable unmanned aerial vehicles (UAVs) that weigh less than 599 kilograms (1,320 pounds) and need less maintenance and support resources. 
The services require the UAV to have a cargo capacity between 136kg and 636kg. The experts say that such a technology might enable small units to move constantly. Resupply would be crucial in maintaining fast-paced operations against near-peer enemies with precise and long-range weapons, like China or Russia.
Furthermore, such just-in-time military logistics can lessen the burden on foot soldiers, who are constantly burdened by food, body armor, batteries, and electronic devices.
Meanwhile, in October 2022, Airbus, a major player in the aerospace and aviation industries in Europe, announced that they have successfully tested a small-scale demonstration model of their upcoming "cargo copter" drone, which can carry 250 kilograms of payload over a maximum range of just over 300 kilometers.
Nevertheless, given concurrent commercial initiatives to employ autonomous cargo UAVs, it's possible that the army won't develop its technology but instead will adopt advances made in the private sector.