China displayed a new air defense system armed with missiles and a Gatling-style cannon at this year's Zhuhai Air Show.
Designated as the Type 625E AA Gun Missile Integrated Weapon System, the air defense system is jointly developed by China South Industries Group Corporation (CSGC) and China North Industries Group Corporation or Norinco.
CSGC and Norinco are involved in developing many homegrown weapon systems showcased at this year's Zhuhai Air Show, and Type 625E appears to be one of them.
The Type 625E SHORAD
Based on the images of the air defense system, the Type 625E short-range air defense system (SHORAD) appears to be an 8×8 vehicle-mounted self-propelled anti-aircraft gun and surface-to-air missile system.
The Best Images Yet of Type 625E Whd SPAAG was Taken After the Airshow in Transport… pic.twitter.com/EYSnXYZeRj

— David Wang (@Nickatgreat1220) November 16, 2022
The turret has a sizeable Gatling-style cannon with a distinctive look, which according to Chinese media reports, is a six-barreled 25mm self-propelled anti-aircraft gun. The vehicle is armed with four canisterized anti-aircraft missiles on each turret's side.
The exact missile type used on the system is unclear, but based on the general appearance of the 4-unit missile launcher, reports suggest the missile system used could be FB-10 short-range types reportedly designed by the China Aerospace Long-March International (ALIT) company.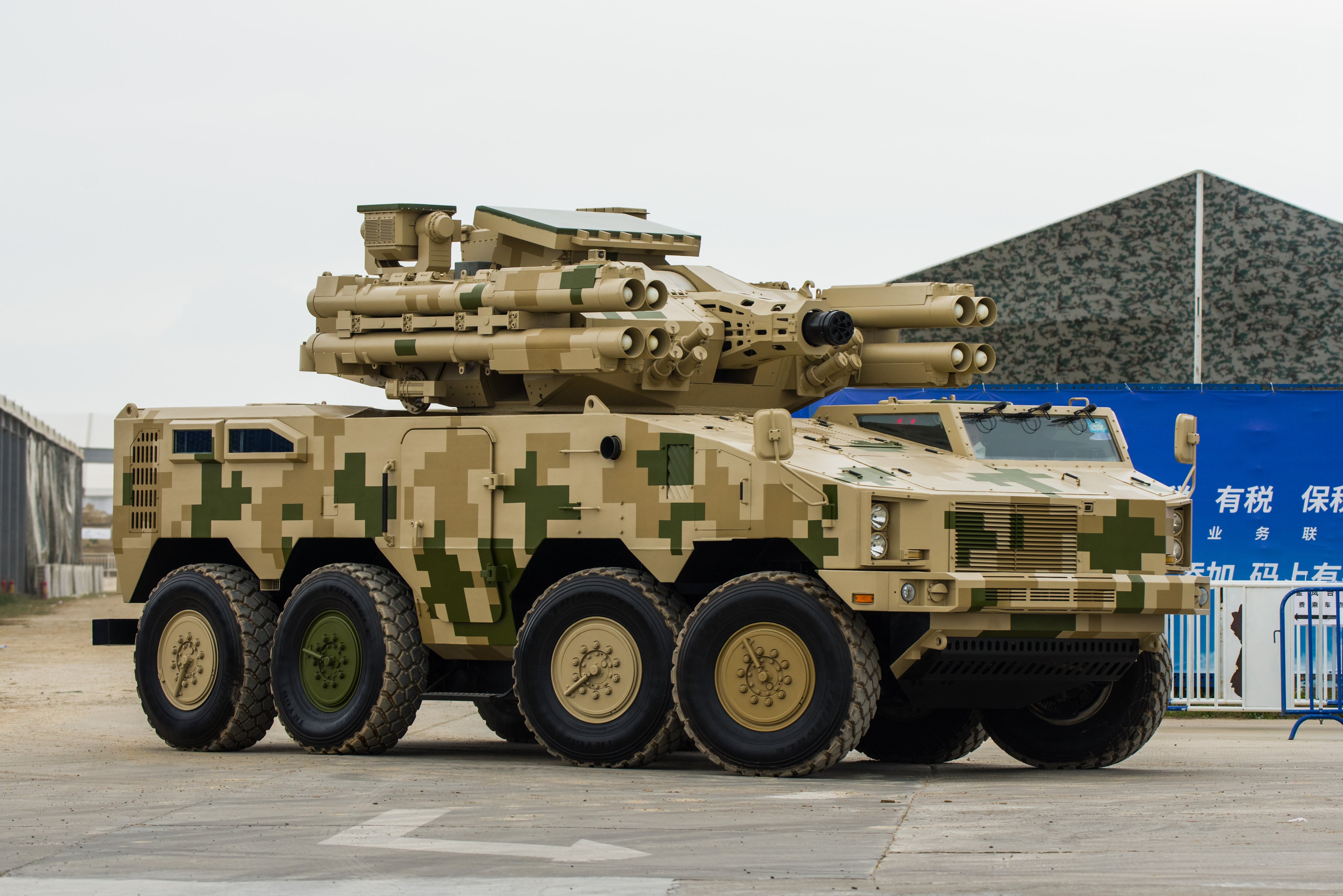 The FB-10 was displayed at the Zhuhai Air Show in 2016, mounted on a 6×6 Transporter Erector Launcher (TEL) with a phased array radar, optical sensor, and eight missile tubes.
In 2021, an improved variant called the FB-10A was unveiled during the Egypt Defense Exhibition in a similar configuration to the 2016 showcase. In 2021, its chassis was confirmed to be a Dongfeng Mengshi 6×6 light tactical vehicle.
Reports also suggest an FB-20 variant of the system, but there is little confirmed information about this derivative. The FB-series missiles can reportedly engage airborne targets at a maximum range of ten kilometers and an altitude between 15 to 5,000 meters.
The technical specifications of the FB-10 missile type are said to be equivalent to China's Hongqi-10 (HQ-10) surface-to-air missile system, also designed by ALIT for maritime environments.
The HQ-10 reportedly uses an advanced rolling projectile. It is equipped with an infrared homing seeker and radar seekers, either passive or semi-active, which provide the missile with 'dual-mode' guidance capabilities.
In some of the images of the Type 625E, radar is also visible behind the missile system, which will likely support the system's anti-aircraft role by detecting and tracking low-flying aircraft like unmanned aerial vehicles (UAVs), helicopters, and cruise missiles.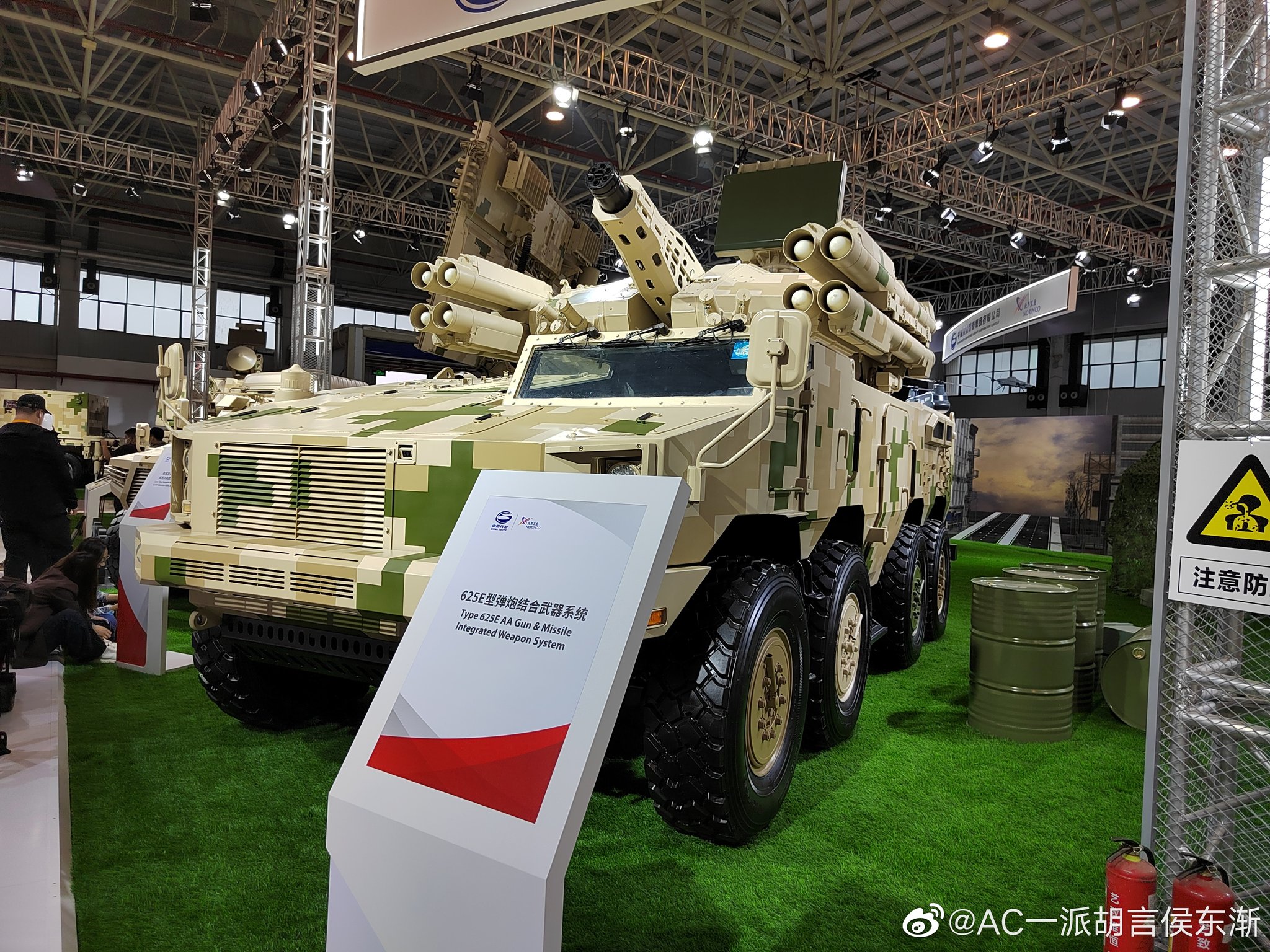 In a promotional video featuring the Type 625E and other Chinese combat vehicles, the system can be seen engaging several drones simultaneously through an infrared camera feed, which could mean that Type 625E is also equipped with infrared optical sensors.
中国南方工業集団公司(CSGC) 終末防御装備 pic.twitter.com/b55IFO9B91

— OedoSoldier (@OedoSoldier) November 14, 2022
Reports also suggest a secondary role for the Type 625E as a highly mobile counter-rocket, artillery, and motor (C-RAM) system with its rapid-fire Gatling gun, but it cannot be definitively said if such a secondary purpose is part of the system's requirement.
China also exhibited the CS/SA5 30mm Wheeled Self-Propelled Anti-Aircraft Weapon at Zhuhai this year, which looks closely related to the Type 625E. It is armed with a 30mm machine gun and what could be two dual-mounted FN-6 anti-aircraft missile launching tubes.
Interestingly, CSGC and Norinco released a promotional video for this system last year, which depicts the same footage as the clip of what is said to be the Type 625E in the video above.
??PLA 6×25 SPAA Live Fire Exercises Released from Official Footage(Starts at 15:19)

Rememeber the Promotion Video re CS/SA5 30mm Wheeled SPAA from Norinco Last year?

TWO into ONE pic.twitter.com/AGmT2WiCLU

— David Wang (@Nickatgreat1220) September 12, 2022
Except for the difference in machine gun caliber and missile configuration, both systems are mounted on the same 8×8 vehicles, based on which reports suggest the possibility of CS/SA5 being an export derivative of the Type 625E, as Chinese systems usually have two designations, one for domestic use, and one for pitching on the international market.
Significance Of Drones And SHORADS
Drones and SHORADS are expected to be a significant factor in future conflicts, as highlighted by the ongoing Ukraine War, where experts note that drones had free reign in the initial four months because of the absence of air defense systems.
Russian MoD video showing Strela-10MN SHORAD systems with Barnaul-T command posts shooting down a Ukrainian UAV. https://t.co/eddR7Y1ZFu pic.twitter.com/fnNPW40FYO

— Rob Lee (@RALee85) March 28, 2022
Other countries, like neighboring Poland, are also drawing lessons from the Ukraine conflict and accelerating their efforts to develop new SHORAD capabilities.
In April, Poland's Defense Ministry approved a contract to supply short-range air defense elements under the Narew program.
"We draw conclusions from what is happening beyond our eastern border. Hence, we have significantly accelerated the delivery of the Narew short-range air defense system to the Polish Army," said Mariusz Błaszczak, Poland's defense minister.
Likewise, both China and Taiwan have been making advancements in this field.
Drones and anti-drone capabilities were a unique feature of this year's Zhuhai Air Show, according to China's state-owned media outlet, Global Times, which referred to this duo as 'spear and shield' while noting their importance being highlighted in the ongoing Russia-Ukraine conflict.
China showcased several drones at Zhuhai this year, including the Wing Loong series armed reconnaissance drones, the CH-7 high-altitude long-endurance drone, the Twin-Tailed Scorpion D four-engine large drone, and the WZ-8 high-altitude high-speed reconnaissance drone, etc.
#AirshowChina2022 exploring: The new CH-7 UAV, a high-end stealth combat drone, is on display at Airshow China 2022 in Zhuhai. What's the difference between the new CH-7 and the original one debuted in 2018? Let's look at the video. pic.twitter.com/zuViqq0Bxf

— Global Times (@globaltimesnews) November 9, 2022
After China's Zhuhai Air Show concluded, Taiwan's military equipment manufacturer National Chung-Shan Institute of Science and Technology (NCSIST), also showcased various UAVs with various roles and military responsibilities.
Of these, the most distinctive was the vehicle-launched Chien Hsiang loitering munition, also called the 'kamikaze' or 'suicide' drones that have been widely employed in the ongoing war in Ukraine by both sides.
According to NCSIST, these homegrown anti-radiation loitering munitions are meant to destroy enemy radars stationed at sea, along the coast, or inland. Furthermore, these loitering munitions can also destroy other UAVs.