The drone war between Ukraine and Russia on the frontlines involves competing for not only who acquires the most drones but also who trains the most drone pilots.
Reports from both countries point to their militaries racing to train military personnel and volunteers in the drone activity that has emerged as a specialized professional vocation. 
The EurAsian Times reported last month how Ukraine had acquired hundreds of commercially available drones and repurposed them for military use – from strapping them with explosives for kamikaze roles to tactical surveillance and artillery fire correction.
Russia has also introduced new types of drone systems and enhanced its air defense and already formidable electronic warfare (EW). 
Ukraine's Drone Pilot Training Effort
Ukraine has trained more than 7,000 UAV operators in more than 20 schools. Each private drone manufacturer also has its own training center, according to a TASS report that quoted Minister for Innovation and Science and Technology Mykhailo Fedorov's interview with Ukrinfor. 
The report added that the Ukrainian MoD had announced the formation of companies of shock drone operators, which will be equipped, among other things, with Starlink satellite communication terminals. 
"We have already contracted over 3,800 UAV systems for over 4.1 billion hryvnias (over US$112.1 million). Our goal is to train 10,000 people, so we are moving in this direction," the TASS report quoted Fedorov. 
Fedorov was responding to a question about the 'Army of Drones' project launched by President Volodymyr Zelenskyy last year in July. The global fundraising program sought monetary contributions and accepted people's recreational UAVs to raise a fleet of thousands of such aircraft to be used in the war. 
Ukraine Has An Army Made Of Drones
Fedorov was previously photographed standing before 20 pickup trucks and other Ukrainian military personnel, saying the "pickups, attack copters, and Starlinks were handed over."
"All drones are Ukrainian-made. Private donors purchased equipment for the attack companies of the Army of Drones. The drones will carry out reconnaissance and strike missions," Fedorov was quoted in several Ukrainian Telegram groups. 
On March 30, he tweeted a picture of nearly a hundred Mavic 3T drones from Chinese drone maker DJI. The "shock drone" operators mentioned above and the acquisition of pickup trucks and DJI drones seem to be a part of the same effort. 
The Ukrainian government recently equipped the first three companies with attack drones, which are trained to perform reconnaissance and strike tasks, particularly correcting artillery fire.
"Ukraine has collected more than US$13.6 million for maritime drones, one of which costs about US$273,000. This cost includes the drone itself, video subsystems, communication modules, a warhead, a control station, transportation, storage system, and data center," Fedorov added. 
By "maritime drones," Fedorov must be referring to the kamikaze unmanned surface vehicles (USV) used to strike Russia's Black Sea Fleet in Sevastopol in late October 2022, March 23, and April 24 this year.
This, therefore, possibly becomes a very rare official utterance and spoken confirmation of the USVs, although the government itself publicized promotional videos of the drones being assembled in Ukraine. 
In March, the State Special Communications Service of Ukraine announced an allocation of over US$855 million for buying more drones for the AFU. 
Before that, the defense ministry declared that about US$544 million would be allocated from the budget in 2023 to increase the purchase of UAVs for Ukrainian troops. 
People's Republics Begin Training Drone Pilots
TASS also quoted a military expert from the Luhansk People's Republic (LPR), mid-April, Colonel Vitaly Kiselyov, saying that more than 70 companies of UAV operators had already been trained for the frontlines. Each company would include 50 to 60 personnel.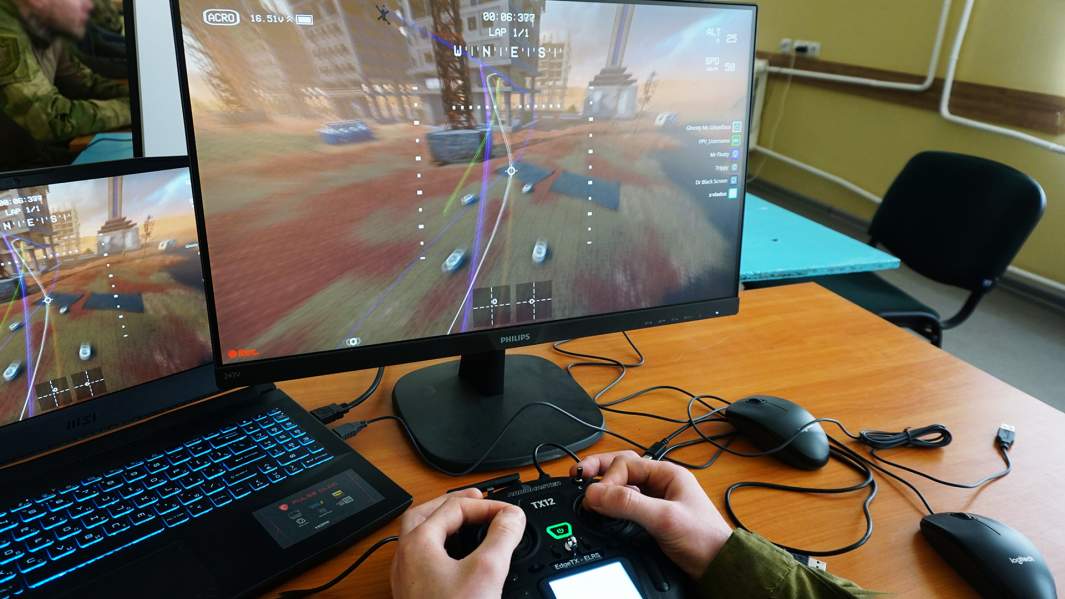 A feature in Izvestia extensively showed how the Donetsk People's Republic (DPR) has been holding specialized drone piloting training courses at the newly created Republican Center for Unmanned Systems. 
Noting "one of the discoveries (in the war) was the effective use of small commercial drones (with a) constant improvement of the technical capabilities of the UAV (and) tactics," the rigorous course also covers battlefield coordination, military strategy, and artillery fire correction. 
Trained by combat-experienced instructors from the DPR's army, the trainees are even taught basic drone hardware, software repair, and ammunition engineering. This is for being able to modify and strap various explosives on commercial UAVs, as has been the trend set by Ukraine. 
"Operators first spend many hours on a realistic computer simulator, then they master a real drone in a special closed room, where it is not affected by the wind, and only then they start training at the training ground," Izvestia said in the report.