According to a report by Kathimerini, a Greek newspaper, Greece is secretly deploying Israeli anti-drone defense technology to defend its Aegean islands in the face of rising security challenges posed by Turkey's drones.
'Miniature Version' Of Bayraktar Drones – US Army To Purchase UAVs That Are Strikingly Similar To Turkish TB2s
"A veritable umbrella against enemy unmanned aerial vehicles is being set up on the islands and in critical locations around the country, according to reports, which say the plan has been implemented over the last two months in complete secrecy," wrote Vassilis Nedos, the Diplomatic-Defense correspondent for Kathimerini on July 1.
The new defense system uses Israeli technology to hamper the flight capability of enemy unmanned aerial vehicles (UAVs), which could involve interference in the flight plan stored in a UAV.
"The purpose is to "blind" threatening drones, so they cannot complete their mission," wrote Nedos.
According to Nedos, the system could effectively counter well-known Turkish-made drones like Bayraktar TB2 and even the more sophisticated ones like ANKA-S.
He further noted that the new anti-UAV system has features similar to those of Israel's Drone Dome system but is adapted to meet Greece's specific requirements and the geographical terrain of the islands in the Aegean Sea and other border areas.
Israel's Drone Dome System
Drone Dome is an end-to-end counter-Unmanned Aerial System (c-UAS) developed by Israel's Rafael Advanced Defense Systems. The system provides all-weather, 360-degree rapid defense against hostile drones.
It comprises sensors and unique artificial intelligence (AI) algorithms to provide a more precise picture of the incoming threat, allowing the system to detect and identify specific threat elements more accurately and engage and neutralize the target faster and more efficiently.
It can neutralize drones by jamming their communications and GPS. It has an invisible 10-kilowatt laser for fully autonomous drones with which it can bring down threats up to 3.22 kilometers away.
Rafael is known to provide its clients with customized versions of the system, as it appears to have done in this case for Greece, according to Nedos.
According to the company's claims, the UK has used the system during a G7 summit in Cornwall, England, to protect world leaders from potential threats.
Greece-Turkey Tensions
Greece has a long-running dispute with its neighbor and NATO ally, Turkey, over territorial claims in the Aegean Sea and energy exploration rights in the eastern Mediterranean.
The Aegean Sea, spanning over two lakh square kilometers, has more than a thousand islands, almost all Greek, and some within two kilometers of mainland Turkey or the Turkish west coast.
Ankara accuses Athens of violating treaties by maintaining a military presence on the Greek islands off the coast of Turkey. In contrast, Greece claims that Turkey has deliberately misinterpreted the treaties, adding that it is acting under international law to defend the islands against Turkish aggression.
Over the past few years, Turkey's drone industry, products, and performance – especially the Bayraktar drones – in various operations and conflicts have resulted in Turkey emerging as a formidable drone power.
The effectiveness and efficiency of Turkish-made drones have decisively influenced the outcome on Syria, Libya, and Azerbaijan battlefields in line with Ankara's interests.
Moreover, in the ongoing Ukraine war, Turkish-made Bayraktars drones appear to have destroyed many Russian air-defense systems, helicopters, supply trucks, and armored vehicles, as per several accounts and evidence from the battlefield in the initial months of the war.
However, there have also been recent reports of the Ukrainian military's reluctance to use TB2 drones due to their vulnerability to Russian air defense systems.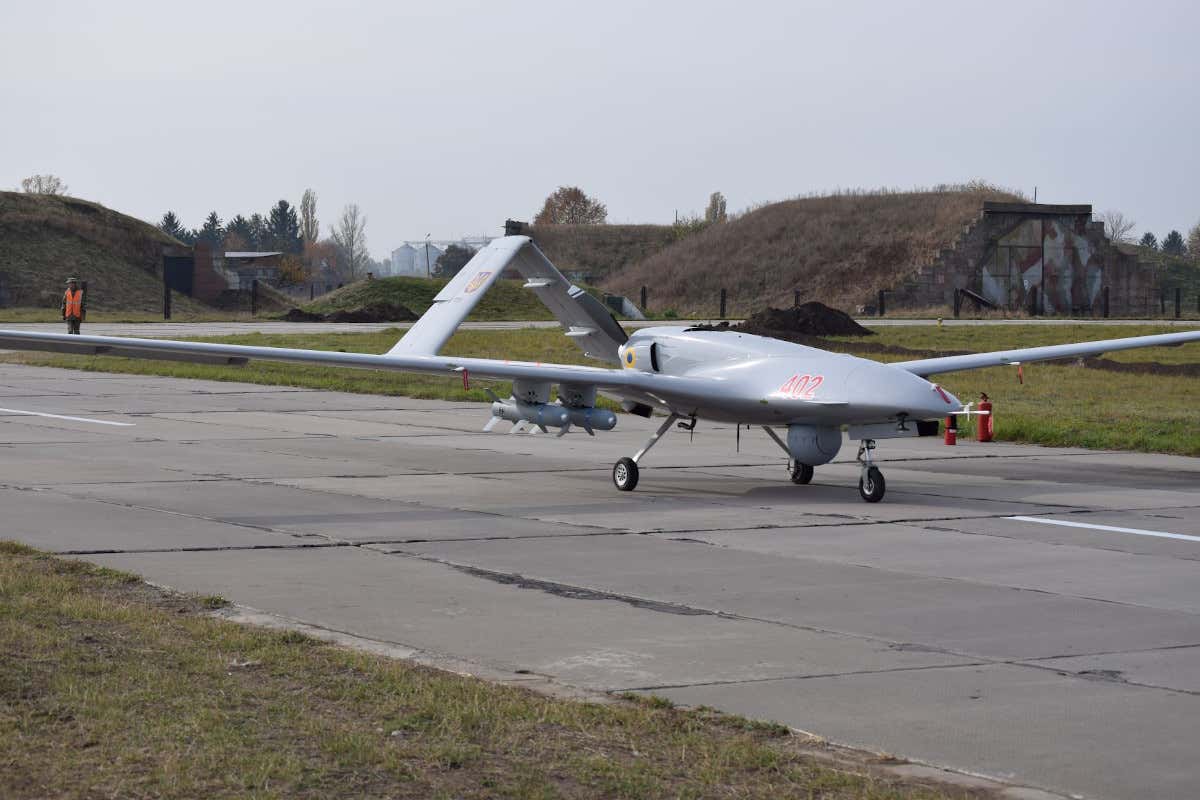 Nevertheless, Greece seems concerned about the challenge of Turkey's large and advanced drone fleet.
In February, retired Greek General Evangelos Yeorgusis wrote an article describing how Turkey's drones flying from the Evros (Meriç) River to the Greek island of Meis and Kastellorizo are causing a 'headache' for Greece.
Yeorgusis noted that Turkey's TB2 drones carry out three to four flights at medium and high altitudes, along the entire length of the western coast, from Evros to Kastellorizo, to closely monitor the movements of Greek warships and defenses on Greek islands in the Aegean Sea.
The Hellenic Air Force (HAF) scrambles F-16s to intercept these drones, but Yeorgusis warned that if Turkey increases the number of drones and the number of flights, the "saturation of the Greek air defense will be a given."
Around the same time Yeorgusis's article came out, the leader of the nationalist Greek Solution party, Kyriakos Velopoulos, questioned the efficacy of advanced fighter jets like Rafale against many Turkish drones.
"What difference would it make if we buy 200 Rafale jets?" he asked. "Turks will surround us with 400 drones."
Therefore, introducing new Israeli c-UAS technology may limit Turkey's ability to use drones to monitor Greece's military movements and perhaps could even provide an advantage in airpower to the HAF in a potential future confrontation with Turkey.