The biggest advantage of India's home-grown Akash missile system is that it can work at "all places" unlike other surface-to-air missiles (SAM) that work only in particular altitudes and climates, former DRDO scientist Ravi Gupta asserted.
-Russia Announces Serial Production Of T-14 Armata Main Battle Tanks
Achieving a major milestone for the 'Make in India' initiative, the Narendra Modi government on December 30 allowed the export of its Akash air defense system besides constituting a committee for faster approvals for the same.
Developed by the state-run Defence Research and Development Organisation (DRDO), the Akash missile system has a range of 25 km and is capable of targetting fighter jets, cruise missiles, drones, and other aerial assets. The missile was inducted in 2014 in Indian Air Force and in 2015 in the Indian Army.
"After its induction in the Services, interest is shown in Akash missile by many friendly countries during International Exhibitions/Def Expo/Aero India. The Cabinet approval will facilitate Indian manufactures to participate in RFI/RFP issued by various countries," the Ministry of Defense said in a statement.
"Besides Akash, there is interest coming in other major platforms like Coastal Surveillance System, Radars and Air platforms," it added.
Media reports suggest that many friendly nations including Vietnam and United Arab Emirates (UAE) have shown interest in buying the surface to the air missile system. 
The UAE possesses one of the most advanced air defense systems including the Russian Pantsir-S1 system for medium-range and American PATRIOT system batteries. It also deploys two US-made Terminal High Altitude Area Defense (THAAD) systems capable of targeting intercontinental ballistic missiles.
The cabinet has also approved export of 96% indigenously made, Akash Missile system. This has been possible because of growth in our manufacturing of defence platforms and missiles. pic.twitter.com/5CC1Vvr8z2

— Nitin Gadkari (@nitin_gadkari) December 30, 2020
Citing US-based Missile Defense Advocacy Alliance, Al Arabiya English said that " the UAE possesses the most advanced missile defense assets in the Gulf region [and it is] the only country outside the United States to deploy a THAAD battery and the first Gulf Cooperation Council (GCC) country to deploy the Patriot PAC-3."
What is so special about Akash Missiles?
While Vietnam could be the first overseas customer of Akash, would the UAE be still interested in procuring the Indian missile system given that it has far advanced weaponry in its arsenal?
Former DRDO scientist Ravi Kumar Gupta told The EurAsian Times said that the kind of versatility that Akash offers is an advantage over other systems. 
He explained that there is much more to exporting systems than just their capabilities. "For example, the consistency in supply lines. When India went to war in 1965, [and during] Kargil war and others, imported defense systems that were bought at exorbitant prices created difficulties for us," he said. "At the time of war, they all started creating problems like stopping the supply of spare parts and ammunition," he added. 
Gupta believes that India has been a major importer of arms which has proved to be a disadvantage on the battlefield. He added that countries aren't allowed to use imported systems against the systems of the adversary if they are purchased from the same country.
"Look at what happened after Balakot. After India shot down Lockheed Martin's F-16 fighter using their vintage Mig-21, the company was up in arms as it was a huge commercial setback for Lockheed Martin.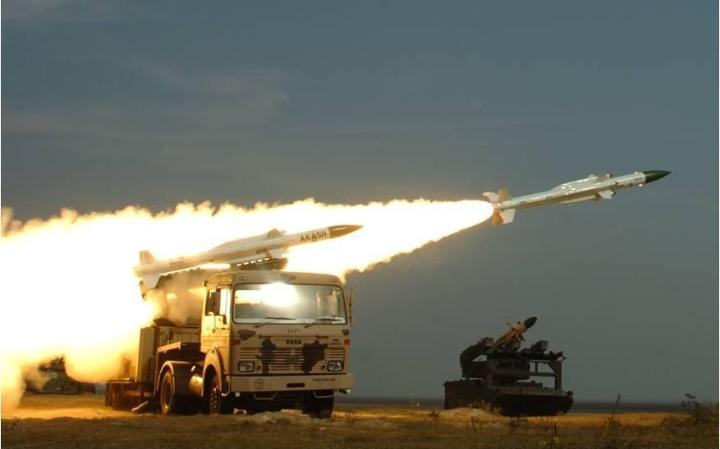 "It is like deliberately and voluntarily twisting our arms if we keep on importing the defense systems. The whole point of purchasing a system is to defend the country in the event of a war and the country should be able to use it the way it wants."
Asked about what makes India different as a defense exporter, Gupta said that India's business ethics are well known around the world.
"I see a very bright future for defense exports for India. Besides low labor cost and abundance of resources, another advantage is India's diversity in terms of climatic condition, topography, and temperatures. They cover pretty much all conditions of battle zones in the world. The battle zone conditions in India are far more diverse and stringent."
Elaborating on Akash's capabilities in comparison to other missile systems on the export market, Gupta noted that it has been designed from scratch. "From the very basics of missile design, the system has been developed. Not just the missile, the entire air defense system including the command control systems, software, logistics is indigenous." This allows India to fine-tune it in a cost-effective manner according to the needs of the buyer, he added.
He said that unlike other surface-to-air missiles (SAM) that work only in particular altitudes and climates, Akash's biggest advantage is that it can work at "all places." Citing an example, he said that if Arjun tanks need to be exported, they have been tested in the Thar desert as well as the high altitude cold climate.
"Every country that has designed such surface to air missiles systems, they have designed it according to their requirements and the topography and climatic conditions of their own country."
Nine friendly countries from Southeast Asia and Africa in touch to grab #AkashMissile systems from India: Govt sources @Mave_Intel @MeghUpdates @IndoPacific_002 https://t.co/IN5G5eFQui

— Rohit Sindhu (@RohitSindhu13) December 30, 2020
The export version of the short-range, surface-to-air Akash Missiles with 96% indigenization will be different from the system currently in service with the Indian armed forces, Defense Minister Rajnath Singh announced on Wednesday.
Gupta concluded with four points that favor Akash and other export-worthy systems from India in comparison to their competitors.
1. The systems are developed for diverse conditions that can withstand extreme conditions anywhere in the world which makes them "most reliable and sturdy."
2. Since the system is fully indigenous, India has the capability to fine-tune it to any of the buyer's requirements in a cost-effective manner with a high degree of effectiveness against the adversary.
3. India is generally considered as a reliable partner and a seller with a high degree of business ethics and commitment.
4. India doesn't try to interfere in other country's internal affairs, which many other countries do when they sell their defense systems. "There are so many countries who sell their system with riders. We don't put any unethical riders so long you aren't attacking me, you are free to use the system as per your needs."
"These things are "very strongly" in favor of Indian defense exports," he said.
Follow EurAsian Times on Google News