A video from the maker of the popular ALTIUS-600 drones, now being delivered to Ukraine, depicts its warhead-loaded armed variant in action, hitting a target.
In the video, the armed variant, ALTIUS-600M, is seen scoring a direct hit on a container target on a range, leading to an impressive fireball. The ALTIUS-600 series of drones has become popular among US military personnel lately.
This purpose-built loitering munition derivative of the ALTIUS-600 was formally announced last year. American firm Anduril Industries now manufactures the ALTIUS-600 series after taking ownership of Area-1, the company that initially developed the drone.
While the type of warhead onboard the drone and its mass are not disclosed, the basic drone is known to have a total weight of 20 to 27 pounds (9.07 to 12.24 kilograms), depending on its payload, which usually weighs between three and seven pounds (1.3-3.1 kilograms).
What is also unclear from the video is how or from what platform the loitering munition was launched. The video, however, includes sequences showing instances of the drone being launched by an MRZR all-terrain vehicle, a UH-60 Black Hawk helicopter, and a ground launcher.
According to Area-I's website, the ALTIUS-600 has a maximum range of 276 miles and an endurance of at least four hours.
The drone's popularity mainly comes from its easy adaptability for different launch platforms. Apart from being air-launched via a Common Launch Tube (CLT), it can also be deployed using various types of launchers on the ground or even at sea.
While the ALTIUS-600M, the armed variant designed for kinetic engagements, is meant to be used for a one-way mission, the other variants of ALTIUS-600 are recoverable and reusable.
According to Anduril, the ALTIUS-600M loitering munition offers "multi-domain launch capability from air, land, and sea [and] extends the reach and survivability of manned assets in deployed environments."
The company claims that the ALTIUS-600M has twice the loitering time and range than loitering munitions currently on offer in the market. It leverages autonomy to allow a single operator to control multiple assets simultaneously.
Apart from the UH-60 chopper mentioned above, the ALTIUS-600 has also been deployed from C-130, AC-130J, P-3, and civilian aircraft.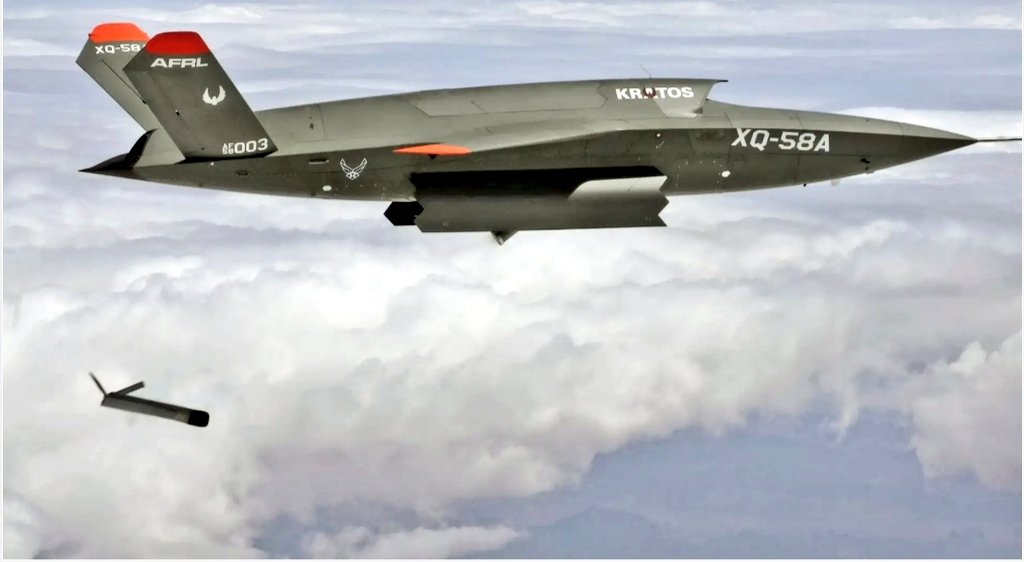 Additionally, the ALTIUS-600 has been launched in the past using other unmanned aerial vehicles (UAVs) as well, such as the US Air Force's stealthy XQ-58A Valkyrie combat drone, which released this loitering munition from its internal weapons bay in 2021.
Networked Swarm Of Drones 
The video also has a section showing how ALTIUS-600s can be operated together as a networked swarm, which the US Army has been testing. Such a swarm could also comprise drones in multiple configurations, enabling the swarming group to cooperate and perform various tasks to realize a broad set of mission objectives.
This is significant, especially considering the number of different payloads the drones can carry for various missions, including surveillance, electronic warfare, signals intelligence, communications relay, cyber warfare, and kinetic engagements, which the ALTIUS-600M could perform.
The ALTIUS-600M could be used as part of a collaborative swarm to strike targets detected by other ALTIUS-600s.
Last year, the US Army performed a networked swarm comprising waves of seven ALTIU-600 drones, marking the largest networked sortie of Air-Launched Effects (ALE) Unmanned Aerial Vehicles (UAVs) of its kind at the time. A single operator controlled the swarm of drones as they hunted and destroyed simulated enemy positions.
In the latest video by Anduril, the networked ALTIUS drones are seen operating together with the US Army AH-64 Apache gunships, an asset that the service is increasingly using as part of its Manned-Unmanned Teaming-Extended (MUMT-X) initiative.
Rotorcrafts can be equipped with ALTIUS drones as stand-in jammers and attack weapons, which could be particularly useful when working against hostile air defense systems. The ALTIUS-600 drones can scout for air defenses located far beyond traditional helicopter weaponry range and neutralize them.
Apart from that, small infantry teams can also deploy a swarm of modular drones for intelligence gathering and precision strikes, among other purposes. Loitering munitions can cause destruction disproportionate to their size. Even a small infantry unit can engage heavier armored vehicles from stand-off distances.
In addition to the ALTIUS-600M, Anduril also has a larger loitering munition, called the ALTIUS-700M, which is considerably bigger, weighing up to 65 pounds (29.48 kilograms) with the warhead weighing around 35 pounds (15.87 kilograms).
Such a drone, with a range of around 500 kilometers, could attack a much wider range of targets, including larger and better-armored vehicles at longer distances.