A Twitter account linked to Iran's Supreme Leader Ayatollah Ali Khamenei was on Friday banned by the microblogging site for posting an image, in which former US President Donald Trump was shown playing golf in the shadow of a giant drone. 
​China's Growing Global Stature As Weapons Producer Threatens Russia's Export Revenues
The image posted on Thursday (January 21), with the caption "Revenge is certain" written in Farsi, suggests a retaliatory attack on Trump for ordering last year's drone strike that killed Iranian General Qassem Soleimani. 
On January 3, 2020, Iran's top commander Major General Qassem Soleimani was on his way to meet Iraqi Prime Minister Adil Abdul-Mahdi in Baghdad, when he was killed in a US drone strike near the Baghdad International Airport. 
Soleimani, an influential figure, was commander of the Quds Force, one of five branches of Iran's Islamic Revolutionary Guard Corps (IRGC), and was considered the second most powerful person of Iran.
Apart from Soleimani, five Iraqi nationals and four other Iranian nationals were also killed in the drone strike.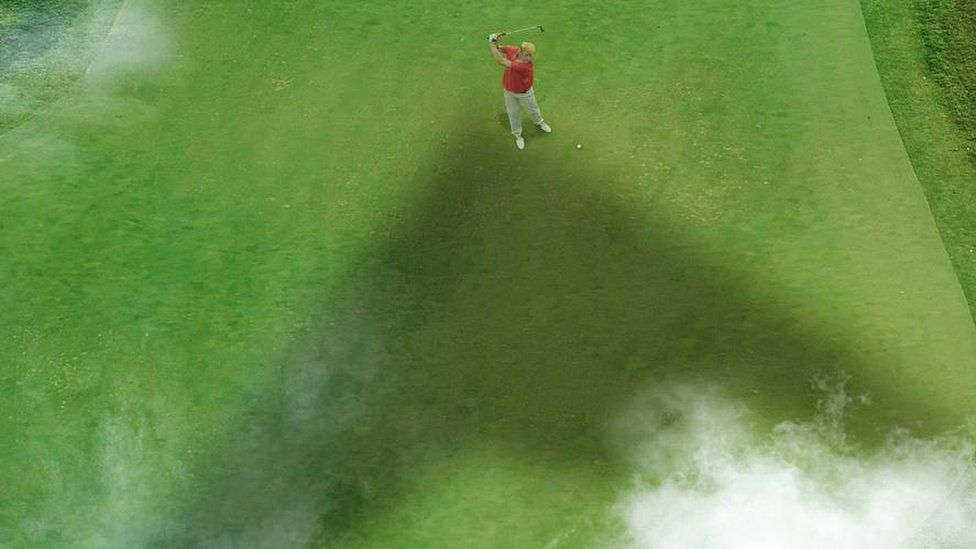 It included the deputy chairman of Iraq's Popular Mobilization Forces (PMF) and commander of the Iran-backed Kata'ib Hezbollah militia, Abu Mahdi al-Muhandis, a person designated as a terrorist by the US and the United Arab Emirates (UAE).
In the aftermath of the strike, then-US Secretary of State Mike Pompeo had stressed that Soleimani had posed an "imminent" threat and that his assassination had "saved American lives".
Trump had issued a statement as well following the strike and took the responsibility for it. 
"At my direction, the United States military successfully executed a flawless precision strike that killed the number-one terrorist anywhere in the world, Qasem Soleimani," said Trump.
Meeting with Martyr General Soleimani's family as well as the organizers of the memorial for the 1st anniversary of the martyrdom of Haj Qasem Soleimani and Abu Mahdi al-Muhandis pic.twitter.com/wvdXxzclrA

— Khamenei.ir (@khamenei_ir) December 16, 2020
The drone strike was met with an immediate retaliation, as just days after the incident, Iran launched a ballistic missile attack on US and coalition forces in Iraq.
While there had been no reports of casualties of US soldiers, over 100 people were treated for traumatic brain injury. 
Despite Trump issuing a strongly-worded threat to the perpetrators of the attack, Washington did not retaliate with any direct military response. 
These incidents, however, contributed to the war-like situation that was building in the Middle-East, especially in view of the one-year anniversary of Soleimani's death. The latest tweet aimed at threatening the former US President is the first since he demitted office earlier this week.
On close inspection, the image posted on Twitter depicts what appears to be the shadow of one of Iran's unmanned aircraft, hovering over Trump and targeting him at his golf course.
Incidentally, on his first day out of the White House, Trump had headed to the Trump International Golf Club, West Palm Beach in Florida.
On Friday, Twitter said it had permanently banned what it called a "fake" account thought to be connected to the office of Iran's supreme leader. 
A Twitter spokesman had said that the tweet had violated the company's "abusive behavior policy," and had violated its "manipulation and spam policy." 
While it is believed that there is no immediate danger to Trump's life, the incident could be a reminder of Venezuelan dictator Nicolas Maduro being the target of a drone strike in 2018. Maduro survived the attack though. 
Trump may not be at the helm anymore, but his role in the assassination of one of Iran's most influential leaders still does not go down well with the country. 
On December 16, 2020, Khamenei, without mentioning Trump, had issued a threat through a tweet, saying, "Those who ordered the murder of General Soleimani as well as those who carried this out should be punished. This revenge will certainly happen at the right time." 
However, soon after, on New Year's Day, Ebrahim Raisi, Chief Justice of Iran, issued a direct threat to Trump. 
"Do not presume that someone, as the president of America, who appeared as a murderer or ordered a murder, maybe immune from justice being carried out. Never, 
"Those who had a role in this assassination and crime will not be safe on Earth," said Raisi.
Esmail Ghaani, who became head of the Quds Force after Soleimani's death, also had sent across his message to Trump.
"It's even possible that there are people inside your home [the United States] that will respond to your crime," he said.
Follow EurAsian Times on Google News