The suicide attack at Karachi University, which killed four, has sent ripples across the world, not just because it targeted Chinese academicians, but also because it was carried out by a woman.
While the world has expressed horror about an educated woman blowing herself up, there is more than that meets the eye.
On April 26, a female suicide bomber targeted a vehicle carrying Confucius Institute staff members, killing three Chinese nationals and their driver.
The banned Majeed Brigade of the Baloch Liberation Army (BLA) eventually claimed responsibility for the incident, declaring that it was the first time they had employed a female suicide bomber.
"Hundreds of highly trained male and female members of the Baloch Liberation Army's Majeed Brigade are ready to carry out deadly attacks in any part of Balochistan and Pakistan," a spokesman for the group, Jeeyand Baloch, said in a statement published in English.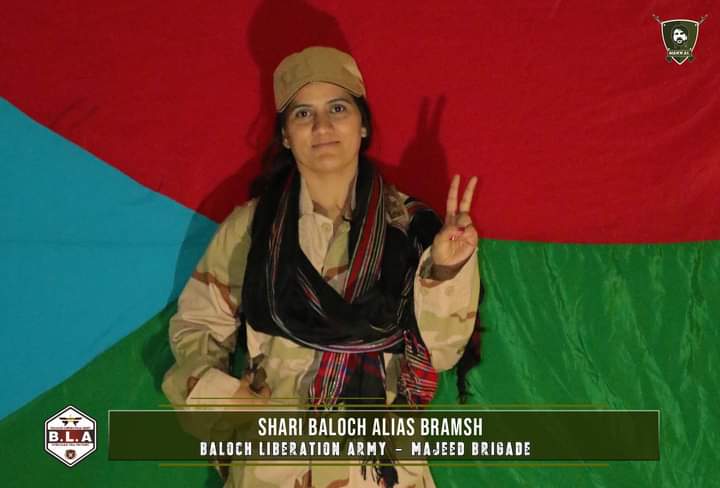 Unless China stops its "exploitation projects" and "occupation of the Pakistani state," the spokesman threatened Beijing with "much stronger" strikes.
Separatists have repeatedly attacked Chinese nationals, businesses, and economic interests in Balochistan, where Beijing is involved in lucrative mining and energy projects. For decades, Baloch separatist insurgents have fought for a larger portion of their province's natural riches, primarily targeting natural gas projects, infrastructure, and security forces.
Baloch Liberation Army ✌
pic.twitter.com/GuPrLqXPa1

— Balochistan Moments | بلوچستان ? (@Balochistan07) April 26, 2022
Having said that, the protagonist of this tragedy is the mother of two young children. Named Shari Baloch, the suicide bomber was an MPhil student, married to a dentist.
As reports of the person who had allegedly carried the attack started to trickle in, the very first question that news channels and ordinary Pakistani citizens asked was: Why would she do it?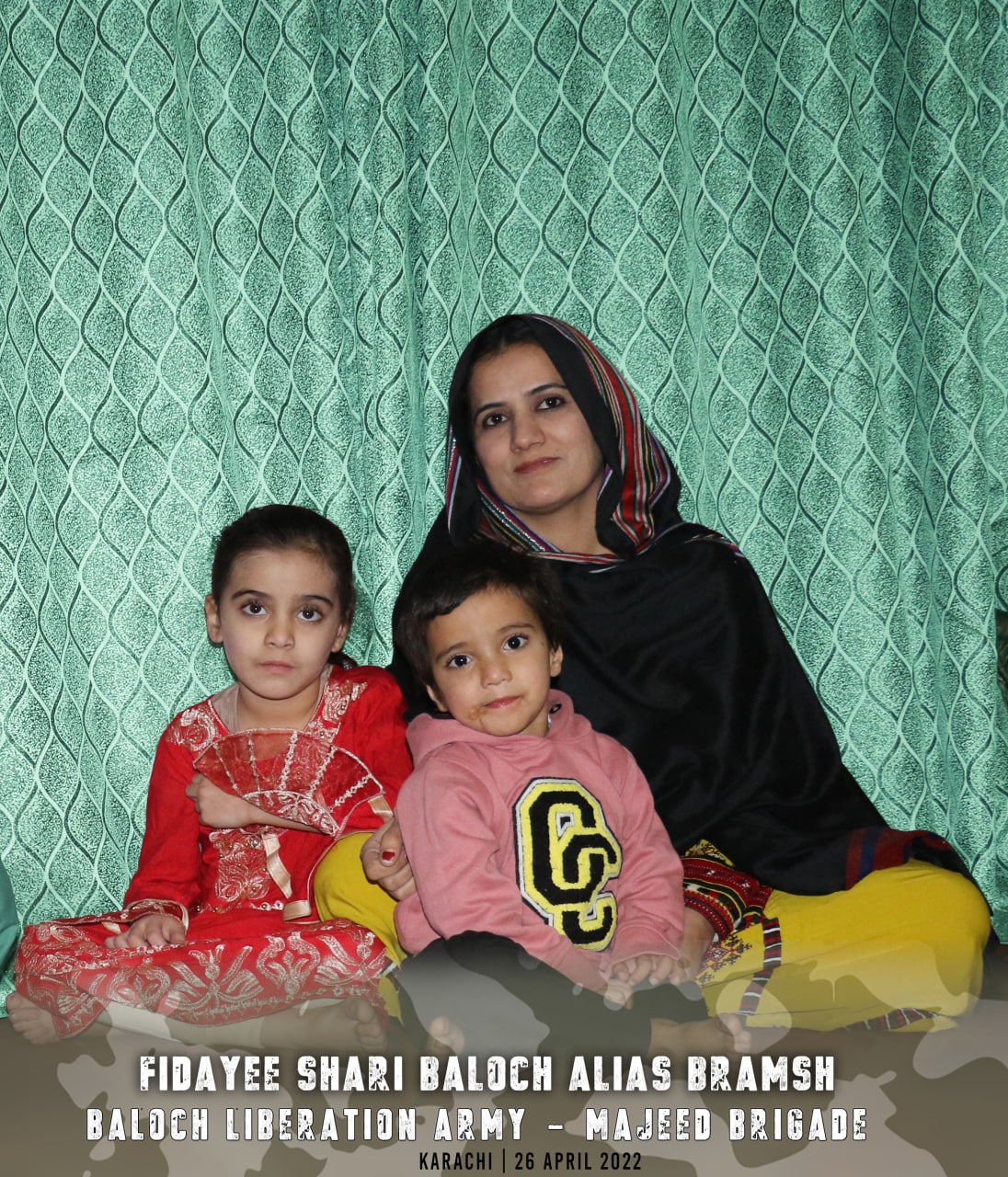 The answer is two-fold: the oppression of the Baloch people at the hands of the Pakistani establishment, a precedent that was flagged by all the political parties unanimously after the blast, and, the ever-growing presence of the Chinese on Baloch territory that threatens the latter's existence.
However, there is a third reason and it is related to Shari Baloch and her tragedy.
Why Did Shari Baloch Blow Herself Up?
Pakistan's mainstream and nationalist political parties called the suicide attack by an educated woman on Chinese nationals a "new and dangerous trend" and urged authorities to treat the incident as a "final wake-up call" and resolve the issue of missing persons as soon as possible as a major confidence-building measure to end the Baloch people's sense of deprivation.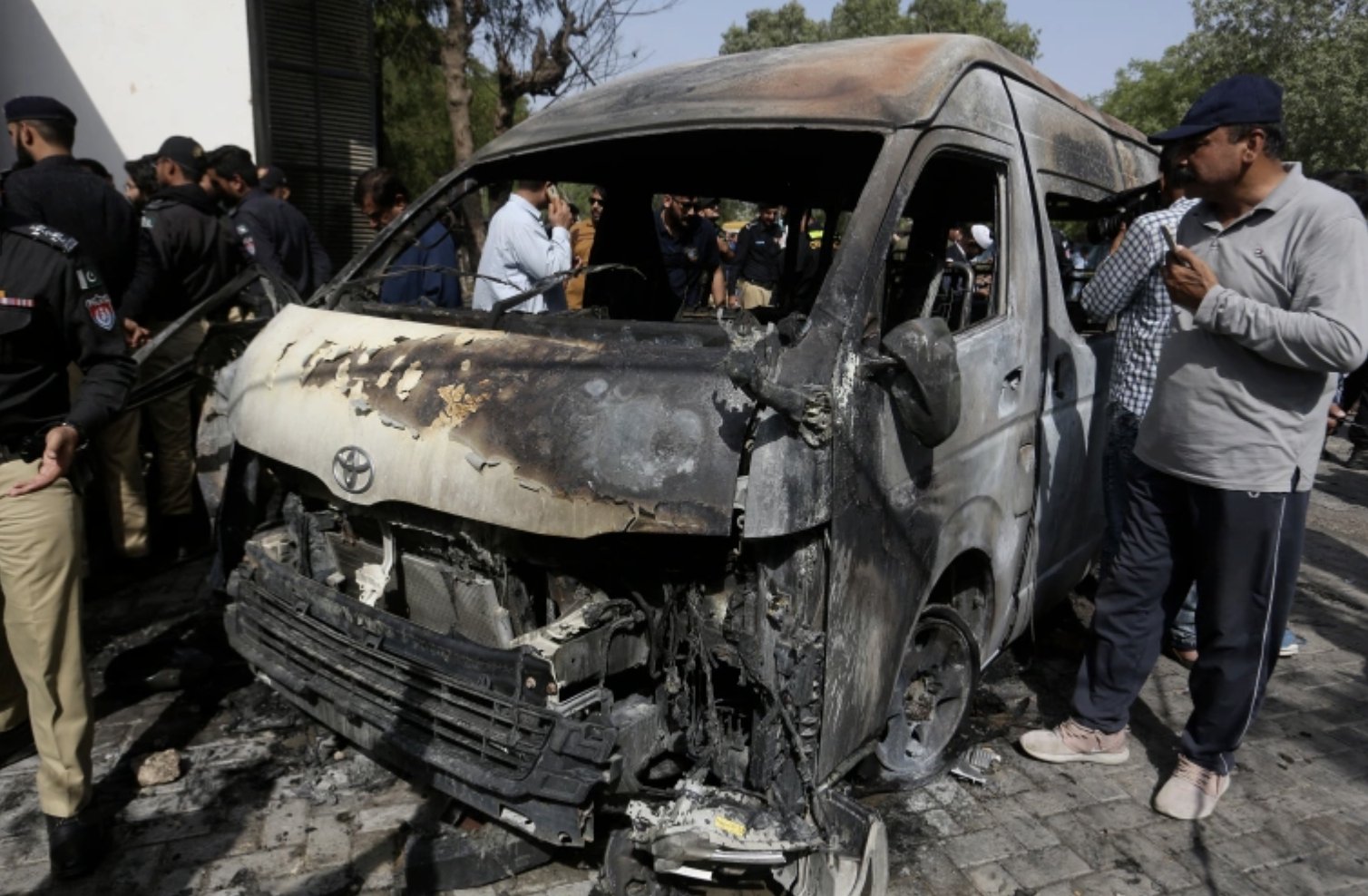 The Pakistan Muslim League-Nawaz (PML-N), the Pakistan People's Party (PPP), and the National Party have all agreed that the solution to Balochistan's problems lay in political discourse rather than military actions. The province has a long history of enforced disappearances.
In Shari Baloch's case, the media has maintained that the suicide bomber came from an educated family and had no connections with the Baloch armed militias. Another report published in Dawn right after the blast suggested that nobody in her family was ever missing or kidnapped which made her an unusual suicide bomber.
However, people from several quarters have claimed that Shari Baloch was also one among the many who had their family members taken away.
#Karachi ,an other CCTV of Fidyaee of Baloch Liberation Army, Shari Baloch #MajeedBrigade#Balochistan #CPEC pic.twitter.com/hxWTjIRSzW

— Bahot Baluch | باہوٹ ? (@BahotBaluch_) April 26, 2022
Sydal Nasar, a senior PML-N leader from Balochistan and a member of the party's central working committee, revealed that the woman who carried out the Karachi suicide attack had been sitting outside the Quetta Press Club for over four years, as many of her family members were among the missing.
Further, netizens on social networking sites have claimed that Shari Baloch's father who was a public servant had gone missing. A Twitter user @NXTBruh said "What Pak Media & Pak Military don't want you to know. Shari Baloch was a teenager when his innocent father was taken away by Pak Uniformed Terrorists, sentenced to 25 yrs in prison by Pak Fauj Kangaroo Court, with no confirmation if he was he was alive or dead."
What Pak Media & Pak Military don't want you to know.
Shari Baloch was a teenager when his innocent father was taken away by Pak Uniformed Terrorists, sentenced to 25 yrs in prison by Pak Fauj Kangaroo Court, with no confirmation if he's alive or dead.#karachiuniversity #Karachi pic.twitter.com/CpXiLVJx4d

— NXT (@NXTBruh) April 27, 2022
In an intriguing development, a news report of Pakistani media nation.com.pk mentioned details of Shari Baloch pleading with the Chief Justice of Pakistan Iftikhar Chaudhry to enable her missing father's release.
When EurAsian Times tried to access the report, it was already deleted but managed to grab a screenshot. However, EurAsian Times could not independently verify the whereabouts of Shari Baloch's father.
According to a 2019 report issued by the Human Rights Commission of Pakistan, 47,000 Baloch people were reported missing, adding that the numbers are contested. Several popular Baloch figures like journalist Sajid Hussain Baloch and activist Karima Baloch had also gone missing before they were killed.
Baloch Disappearances & The New 'China' Factor
The Baloch insurgency is almost as old as the partition of India and the creation of Pakistan. Over the years, the Baloch people have reportedly been reduced to second-class citizens due to their demand for freedom and more rights over their homeland. The atrocities against the Baloch people reached their peak under the rule of Pervez Musharraf.
Ever since many Baloch nationals have been killed or abducted under the charges of 'terrorism'. Since Musharraf opted to join the US's 'War on Terror' after 9/11, Balochistan has been plagued by enforced disappearances. People would be kidnapped or detained illegally and tortured.
In most circumstances, the method of operation is the same. Plainclothesmen (or disguised men), a double-door van, blindfolds, torture, curt questioning, further torture, and ultimately a warning before being freed – or fade to black, said a report of The Wire.
Any attempt to undermine China-Pakistan friendship and cooperation will be shattered by the Chinese and Pakistani people. pic.twitter.com/DAVAzrQ55z

— Spokesperson发言人办公室 (@MFA_China) April 28, 2022
PML-N Senator Mushahid Hussain said the way forward, according to him, was to "stop treating Balochistan as a political plaything, frequently picking, choosing and changing favorites, end the shameful crime of missing persons, ensure benefits of development for local communities and end border harassment and corruption", said in a conversation with Dawn.
Further, the Chinese investment and consequential occupation of Baloch territory have aggravated the conflict between the Baloch nationals and the state of Pakistan.
Balochistan, with its deep-water port of Gwadar, is an important link in China's Belt and Road network of infrastructure and energy projects that stretches from China to the Middle East and beyond.
In April 2021, a suicide bombing at a luxury hotel in Quetta, the provincial capital of Balochistan killed four people and injured hundreds more.
Though more details of the tragic incident will emerge as the investigation unfolds, it appears to be a tell-tale saga of brutal suppression, alienation, and resistance against Chinese and Pakistani oppression.