On September 2, American B-52 bombers flew low above Stockholm's parliament and palace, marking the first time the aircraft had flown over the Swedish capital. This comes as Sweden increases joint military drills with the US in preparation for the Scandinavian country's NATO membership.
Learning From The Best! US Air Force Wants To Master Fighter Jet Dispersal Technique Used By SwAF
Meanwhile, the Swedish Military said that JAS Gripen fighters escorted the two US Air Force aircraft as they flew above the city at about 12:15 p.m. (1015 GMT) on September 2. 
The B-52H Stratofortress is a heavy, long-range bomber with capabilities of performing a wide range of missions. The bomber can travel at high subsonic speeds at altitudes of up to 50,000 feet (15,166.6 meters).
It is capable of carrying nuclear or precision-guided conventional ordnance with top-class precision navigation capability.
According to a military spokeswoman, Therese Fagerstedt, the US bombers have participated in drills in Sweden before, but this was the first time they had flown over the capital city.
"It's the kind of exercise that is even more meaningful now," she said.
Rakt över Humlegården pic.twitter.com/82FPBqsZTC

— Andreas Engstrom (@TKAndreas) September 2, 2022
Following Russia's invasion of Ukraine in May, Sweden and Finland submitted applications to join the NATO alliance. Since then, the US and other Western nations have increased military drills in the region.
Before taking part in naval drills off the coast in June, the USS Kearsarge, a large US navy assault ship, was moored in Stockholm's central harbor.
Last month, US Air Force B-52 bombers trained with Norwegian and Swedish fighter aircraft before landing at RAF Fairford air base in England. The bombers were deployed as part of the Bomber Task Force. 
This kind of exercise highlights the existing solid military ties that exist between NATO and Sweden. The EurAsian Times had earlier reported that four American B-52s deployed from the Minot Air Force Base in North Dakota to Fairford Air Force base in the UK.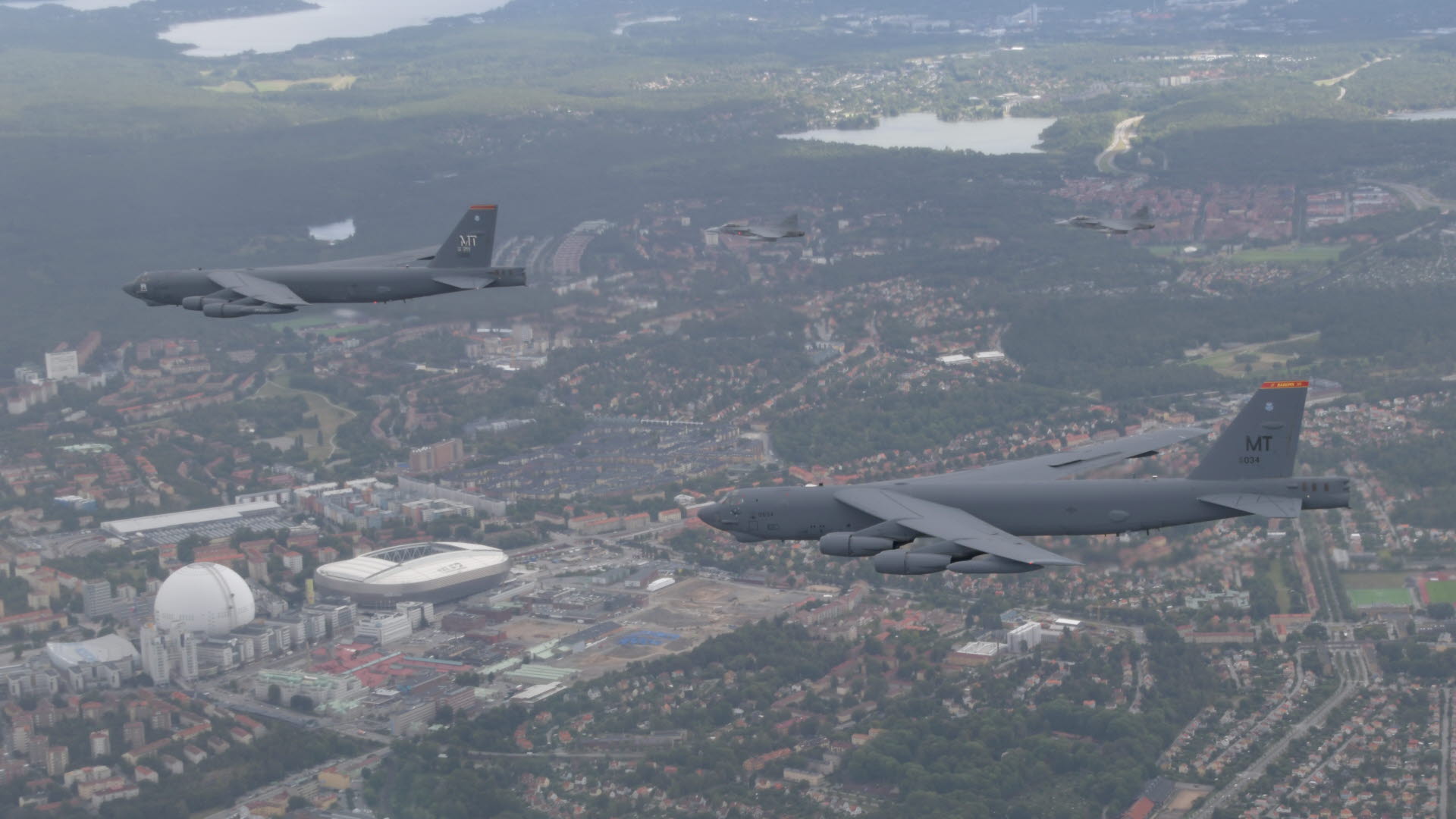 The bombers participated in bomber task force exercises on August 18, west of Andya, North Norway, together with two Swedish JAS Gripen and two Norwegian F-35 fighter aircraft. 
The Swedish JAS 39 Gripen aircraft flew alongside the B-52s as they soared over Swedish airspace and bombed the targets that the Swedish ground forces had identified in the terrain on the Vidsel firing range. American bombers released three GBU-32 munitions.
Given that Sweden could soon join NATO, the B-52-led training exercises were deemed to be crucial.
The Norwegian Air Force is already looking into the potential of building a joint Nordic air operations center. This will make it possible to organize and conduct aerial operations throughout the region effectively. The normally neutral Nordic states are now extremely apprehensive due to Russia's invasion of Ukraine.
French Rafales Escorts B-52S
On August 31, 2022, two US B-52s were escorted by two NATO French Rafales as they integrated with Allied Joint Terminal Attack Controllers (JTACs) from Italy, said NATO in a press statement. 
The B-52s flew from RAF Fairford and cruised over central Europe to operate with French and Italian Special Operations units in air-land integration drills. This integration was crucial for providing training for Allied Close Air Support. 
"NATO bombers, drones, and fighters provide a cohesive and integrated shield for our air posture," said Brigadier General Ömer Nafiz Gülmezoğlu, Deputy Chief of Staff Plans Allied Air Command. "These bomber task force missions pull together the different domains of our air forces into one homogeneous team," he added.
The Allied planes practiced fighter-bomber escort tactics and communications. MQ-9 Reaper also collaborated with air and ground forces, displaying cross-platform integration and control. Before returning to base, the B-52s were air-to-air refueled by a French KC-135. 
Both aircrew and JTACs have participated in live training with various operators and platforms to remain relevant and improve air-land cooperation. The military alliance stated that missions of the Bomber Task Force showcase Allied strengths and dedication to an interdependent Alliance due to the inherent speed, flexibility, and range of strategic bombers.
Early in 2021, B-1Bs moved to central Norway and conducted their first operations from Norwegian territory. Using what is thought to be a useful outpost in the North Atlantic, B-2s first deployed to Iceland in September 2021.
B-52s frequently fly over the Arctic as part of Bomber Task Force deployments.