The sequel to the fighter pilot thriller Top Gun, starring Tom Cruise, will be released on Friday (27 May). During an appearance on The Late Late Show on Monday night, the actor promoted the movie by taking show host James Corden up in a real plane and putting him through some really tough maneuvers.
Before releasing the video, Corden stated that "everything is completely real" and that he "was completely terrified."
Corden boarded a small plane bound for a distant desert after accepting the 59-year-old action star's invitation to meet him at the Hollywood Burbank Airport at 5 a.m.
When they arrived, Tom reminded James of their previous escapade in 2018, in which The Late Late Show host and the Mission Impossible actor jumped 15,000 feet out of a plane.
Tom explained his plans to fly James in a vintage fighter plane in true Top Gun style, leaving him speechless. While looking concerned, the host inquired as to 'who' would be flying them, to which Tom answered, 'I'll fly you in it.'
"But you're not a pilot, you're an actor," James pointed out. Tom quickly responded that he also pilots aircraft. "You also played a lawyer in a Few Good Men," James joked, "but I wouldn't want you to represent me in court."
James went on to express his reservations about flying in a "75-year-old plane" with someone who is not even a professional pilot. 
Eventually, James consented to the fly despite his concerns, noting that even entering the jet was 'terrifying.' When Corden settled in the cockpit, Tom explained the safety procedures, along with how they would have to land safely using a parachute if the engine failed for some reason. 
A DogFight In Maverick Style
As the two finally started their adventure, going down the runway and flying away in the old jet, Corden could be seen screaming. Cruise took the aircraft over the desert and flipped the plane on its side during the flight, while James sarcastically put up a sign that read 'help me.'
After that, another plane flew in beside them. In moments akin to Top Gun: Maverick, Cruise remarked that they were in the middle of a 'dogfight.' The second aircraft started pursuing Tom's plane, and he initiated evasive maneuvers, leaving James shouting and yelling. 
Soon, Cruise ended up giving his friend another surprise as he soared over the top of a mountain, gliding near to the peak. They finished their first flight, and the host expressed surprise that this was Cruise's "idea of a fun day out." 
"The next plane has air conditioning," Cruise said to Corden, indicating that the adventurous activities were not yet ended.
Cruise showed a modern fighter jet and informed him that they would be flying in it next. Tom even arranged a Top Gun training session, saying that they would do some "serious Top Gun stuff."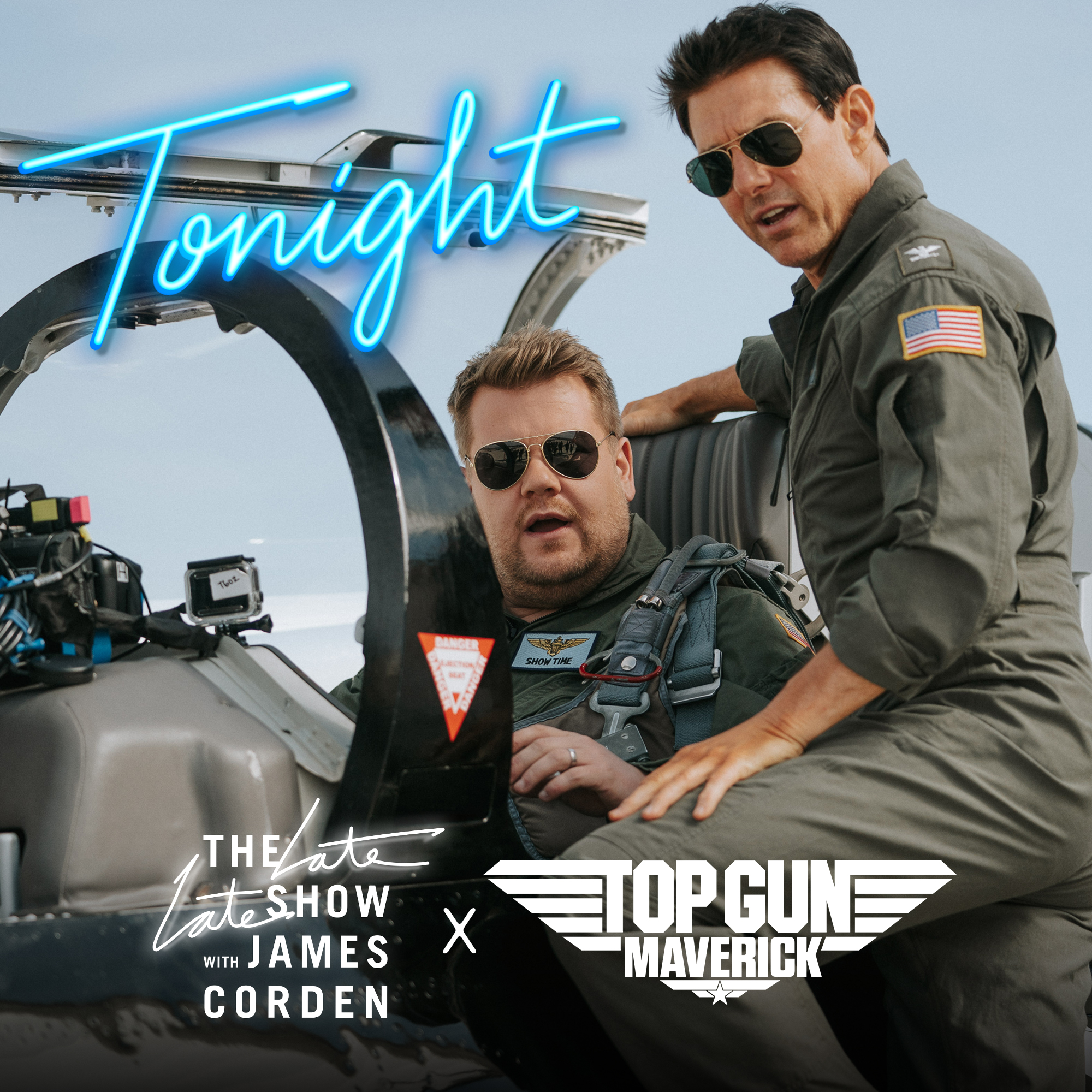 "You are my goose," Cruise told him as they prepared for their next adventure. "You are my goose. When you say I am your Goose, it makes me feel excited and then I realize that Goose dies at the end of the film,"  Corden responded.
In a scene similar to Top Gun: Maverick, the two went on to practice, play volleyball, and share stories over a campfire. Later, James warned the Top Gun star that if he killed him on the following flight, he would haunt him for the rest of his life. The next day, the two were again in the air, this time in the cockpit of a modern fighter jet.
The two sang a few lines of Kenny Loggins' Danger Zone together during the flight, and James seemed to be in a better mood, laughing while Tom pulled stunts. However, James' happy attitude didn't last very long as Cruise piloted the aircraft near the mountainside again.
.@JKCorden, you've officially been inverted by Maverick himself, @TomCruise. pic.twitter.com/iwEecnqDZH

— The Late Late Show with James Corden (@latelateshow) May 24, 2022
"This is the stupidest thing I've ever done," James said. The Daredevil Hollywood star continued to frighten James by flying dangerously near to the peak, with Corden describing the flight as 'crazy.' 
Later in the studio, Corden stated that 24 hours before taping the episode, he contacted Cruise, explaining that he had cold feet and wanted to drop out.
However, Cruise refused and replied to the host, stating, It'll be fine. Nonetheless, early reviews have been overwhelmingly positive for the movie, with one even claiming that the film "improves upon the original in every conceivable way."