The Ukrainian armed forces are set to get their hands on 850 'Black Hornet' micro-drones from the UK and Norway as part of the new $64 million aid package, announced by the caretaker British Prime Minister Boris Johnson during his third visit to Ukraine since the Russian invasion began on February 24.
World's Biggest Naval Power – China Goes On A Rampage! Is Secretly Developing Five More Destroyers To Further Expand Its Navy
The latest commitment by London brings the total British military and financial aid to Ukraine up to more than $2.7 billion since the start of the war.
The Norwegian Defense Ministry, which partnered with Britain on the Black Hornet deal, contributed more than $9 million to the transaction, bringing Norway's total contributions to the British-led fund in support of Ukraine to around $41 million.
Welcome to Kyiv again, dear @BorisJohnson ! New British package of GBP 54 mln including 850 microdrones will significantly help #UAarmy !
We. Shall. Never. Surrender.
????? pic.twitter.com/gyMt0wH6gm

— Defense of Ukraine (@DefenceU) August 24, 2022
The micro-drones are manufactured by an American company, Teledyne FLIR, in Norway and were initially developed by a Norwegian company Prox Dynamics AS, which FLIR acquired in 2016.
British ground troops first used palm-sized unmanned aerial vehicles (UAVs) during the invasion of Afghanistan to scout around corners or over walls to identify hidden threats during a routine patrol in villages and target locations.
A British major who spoke to Daily Mail in 2013 about using Black Hornets in Afghanistan said, "Previously we would have sent soldiers forward to see if any enemy fighters were hiding inside a set of buildings. Now we are deploying Black Hornet to look inside compounds and to clear a route through enemy-held spaces."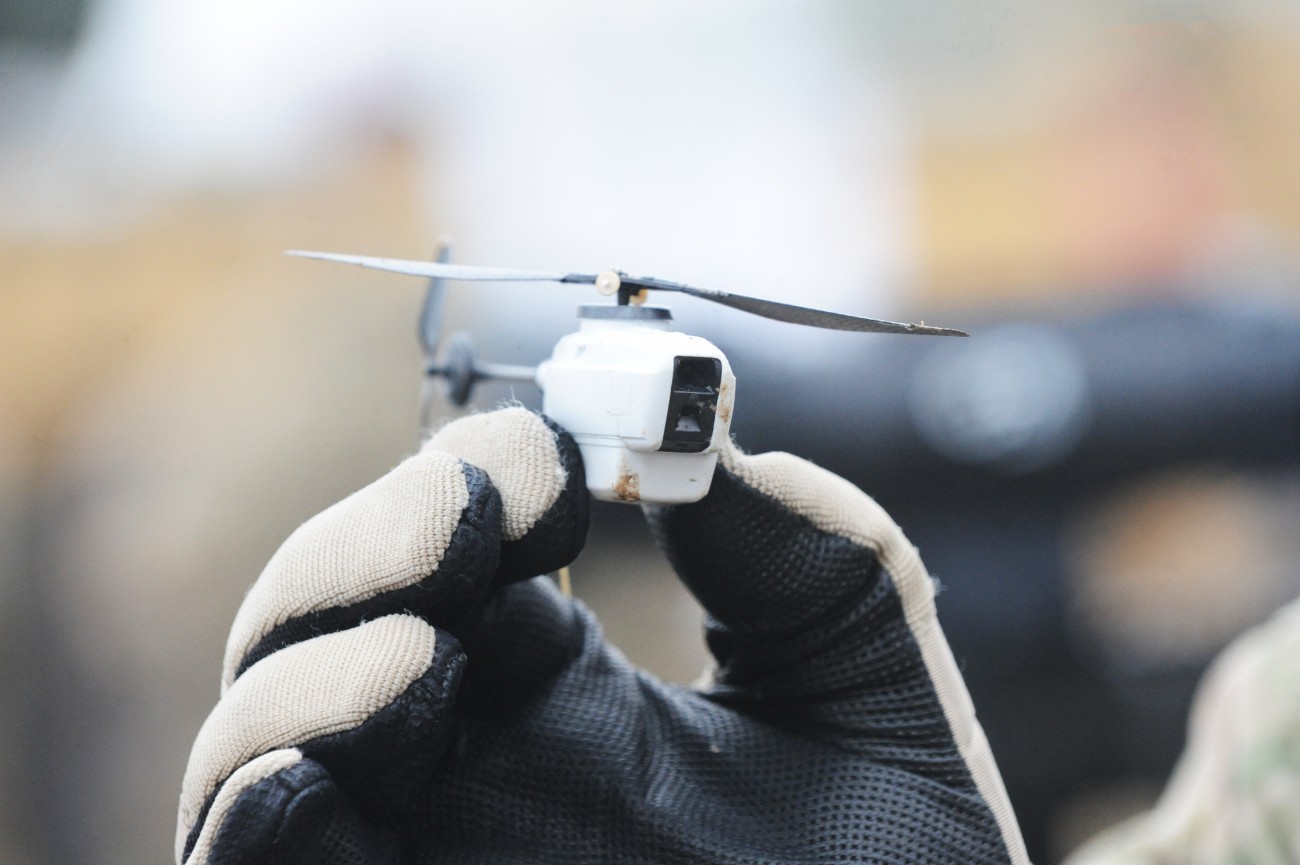 Black Hornet Micro-Drone
Each Black Hornet drone measures around 10×2.5 cm and weighs a mere 16 grams, making it easy for the soldiers to carry around.
The UAV has a range of roughly two kilometers and a maximum speed of around 17.7 kilometers per hour, with a ceiling exceeding 10,000 feet above sea level.
The drone can loiter for around 20 to 25 minutes with a full charge. The drone's battery is rechargeable and can be charged with a wall outlet, a car charger, etc.
The rotors on the drones are said to be very silent, enabling the Black Hornets to fly over enemy positions without being detected.
The Black Hornet has three cameras to capture live video or still imagery, one facing forward, one downward at 45 degrees, and a third aimed straight down.
The images or the videos captured by the cameras are displayed on a handheld seven-inch LCD screen which the operator also uses to control the UAV.
Most importantly, the data gathered by the UAV is not stored on it, which is an advantage for the operator in case the drone is captured.
The entire Black Hornet package weighs around 1.27 kilograms and can be mounted on a soldier's chest. It consists of two drones, a controller, a monitor, and a docking station.
The operator can either use the controller to pilot the drone or input a set of GPS coordinates for the drone to follow.
Also, the Black Hornets are remarkably easy to use, and a soldier can learn to operate one in about 20 minutes.
Game-Changer For Ukraine?
Apart from the UK, the UAV is also operated by the armed forces of the US, France, Germany, Australia, Norway, the Netherlands, and even India. India's elite Special Forces unit National Security Guard acquired the drone in 2018.
A researcher at the German Aerospace Centre told Express.co.uk that the drones are "the very best on the market" and their use in Ukraine will be "game-changing."
The micro-drone will be acquired from Teledyne Flir as a call-off on a framework agreement with the Norwegian Defense Material Agency. The procurement, training, and delivery of the material are done in collaboration and coordination with the British authorities.
"The Norwegian-developed drone is a global market leader. It is used in several allied countries, including the United States and Great Britain," said Norway's Defense Minister Bjørn Arild Gram. "The drone is used for reconnaissance and target identification. It is easy to operate, robust, difficult to detect, and particularly well suited for combat in urban areas."
Gram continued, saying, "the donation marks that we stand by our commitment to continue supporting Ukraine, but it also entails a new direction for how Western countries support their fight. We and our allies have mostly donated from our stocks."
In addition to the Black Hornet drones, Ukraine will receive the 'NightFighter' anti-drone systems from a British company, SteelRock Technologies.
SR NightFighter leading the way in Anti-Drone Tech with fast QRF response solutions @bowleroffroad #Britisharmy #antidrone #counteruav #drones @Proud_Sappers pic.twitter.com/ANtXeoRejX

— SteelRock Technologies (@SteelRockTech) July 24, 2018
Nightfighter is a man-portable counter-UAV system that protects drones through jamming. The system is particularly suitable for protecting smaller patrols, artillery positions, etc.
The UK is also preparing to provide the Ukrainian forces with mine-hunting systems for detecting Russian mines in the waters off its coast. Ukrainian personnel will be trained to use this mine-hunting equipment in British waters in the coming weeks.
So far, the British government has provided Ukraine with M270 MLRS, Brimstone anti-tank missiles, StarStreak anti-air missiles, unmanned logistics drones, artillery rounds, Javelin anti-tank missiles, counter-battery radar systems, and GPS-jamming equipment.