The military balance between the US and China is complex. The rivalry between the two countries is now entering a new phase with each one working to develop sixth-generation fighter aircraft to establish global dominance.
Russia To Induct World's Heaviest Ballistic Missile By 2022 While The US Still Looks To Troubleshoot Its Hypersonic Technology
Both US and China consider each other as their biggest adversary. Expanding their military capability is the best way for them to intimidate the opponent. However, this has also encouraged an arms race where each is trying to undo the other.
Earlier, on February 26, USAF Air Combat Command head Gen. Mark Kelly had stated – "I for one am confident that the technology and the test points have developed to where NGAD technology will get fielded. And I'm confident that the adversaries on the other end of this technology will suffer a very tough day and tough week and tough war.
"What I don't know — and we're working with our great partners — is if our nation will have the courage and the focus to field this capability before someone like the Chinese fields it and uses it against us."
The US NGAD
As reported earlier by The EurAsian Times, the US is developing its sixth-generation 'stealth' fighter aircraft to counter the growing threat of China in the Indo-Pacific.
In June 2021, the US Air Force (USAF) announced that the Next Generation Air Dominance (NGAD) program would be used in 'sixth generation' fighter aircraft in the next 10 years.
The new fighter aircraft will replace the F-22 Raptor and is capable of performing multiple tasks concurrently. According to General Mark D. Kelly, Head of Air Combat, NGAD may be of two variants: one with long-range and payload for the Indo-Pacific and one more oriented to short ranges for any possible battle zones in Europe.
US Air Force Chief of Staff, General Charles Q. Brown Jr., said the sixth-generation fighter "has the capability to perform air-to-surface strikes to ensure its safety first and foremost and to provide options to our Air Force commanders and joint forces."
In September 2020, it was disclosed that the fighter had been designed, developed and tested.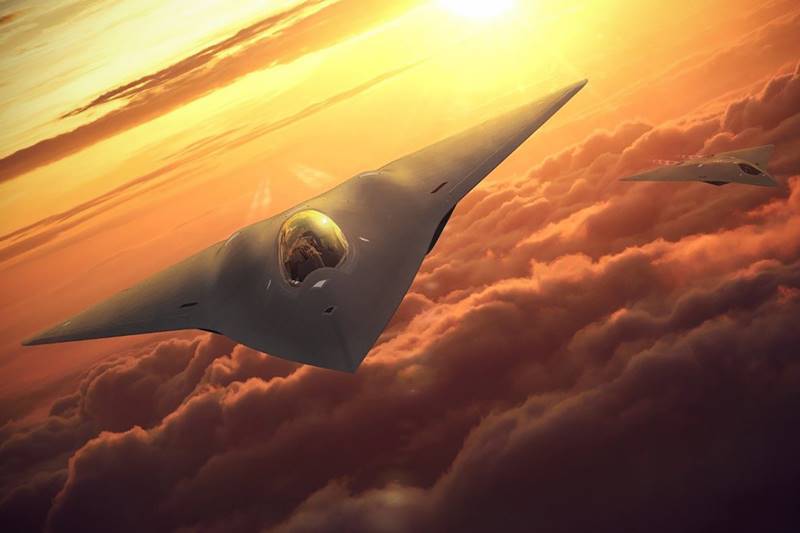 Gen. Brown told in a recent Senate hearing, USAF is developing a "family of systems" under NGAD program to attain air superiority by the 2030s and evolve the propulsion, stealth, and advanced weapon technology. The multi-role stealth fighter remains the pivot of the NGAD program. 
He said that the "sixth-generation fighter will have some air-to-ground capability to ensure, one, that it can survive, but also to provide options for our air component commanders and for the Joint Force". 
Why An 'Inferior' SAAB Gripen Jet Could Beat US' Most Powerful Fighter Aircraft For Indian Air Force Tender?
What Is China Doing?
China is also looking forward to building its own next-generation fighter jets by 2035. Beijing clearly wants to send a signal to the rest of the world that it will build a better sixth-generation stealth jet fighter than the already tested American one.
Reports suggest that Shenyang Aircraft, the company building Chinese sixth-generation fighter aircraft which is a subsidiary of the state-owned Aviation Industry Corporation of China, announced that it is conducting research on "thermal adaptation and integration of structure and function."
"China's sixth-generation fighter will come into being by 2035 or earlier", Wang Haifeng, a chief architect at Chengdu Aircraft Research and Design Institute who also participated in the development of the J-20 and J-10, was quoted as saying by the state-owned Global Times.
The sixth-generation fighter jet (J-25 or J-28) may include the ability to command drones, artificial intelligence, and even higher stealth capability through aerodynamic design.
New technologies, such as laser, adaptive engines, hypersonic weapons, and swarm warfare, might also be integrated with the new aircraft, Wang told Ordnance Industry Science Technology, a Xi'an-based periodical on national defense industries, in January.
China is currently upgrading its J-20 to reduce the gap between J-20 and US F-22 and F-35. According to a report by the Royal United Services Institute, a UK-based defense think tank, the design incorporates many features which have been "copied from the F-22 and F-35, including nose cone shaping, the electro-optical targeting system (EOTS) under the nose, and the side-mounted [diverter less supersonic inlet] intakes".
Therefore, the US not revealing much about its sixth-generation jet may be attributed to the fears about China "stealing" the design and technical details. An insight into external structures might offer some understandings into new generations fighters.
The RUSI study also noted that "the J-20 is no mere imitation and has several design features suggesting a carefully weighted consideration of specific Chinese capability requirements". This makes it essential for the US to speedily upgrade its capabilities.
India-China Border Row: How An Anglophobic Nazi Helped China Build Its Territorial Claims Against India
Other Players In The Race 
Other than the US and China, the UK is also developing its next-generation fighter aircraft. The work on 'Tempest' launched in 2018 with the UK government and four industry partners BAE, Leonardo, MBDA UK, and Rolls-Royce, commencing the initial phases of exploring and developing technology options in a partnership project known as Team Tempest.
These companies will work together to deliver the digital and physical infrastructure of the aircraft. In July 2021, the UK Defence Ministry signed a $347 million deal with Team Tempest, following which the program has entered the concept and assessment phase.
UK Defence Secretary Ben Wallace made an announcement at BAE Systems' Warton facility, calling the deal a "multimillion-pound investment that draws on the knowledge and skills of our UK industry experts."
"Boosting our already world-leading air industry, the contract will sustain thousands of jobs across the UK and will ensure that the UK remains at the top table when it comes to combat air," he added.
US Military Gets Inspired By Tom Cruise's Sci-Fi Movie To Gain Military Advantage Over Key Adversaries
To share the workload on developing the aircraft, the UK has signed a memorandum of understanding in 2020 with Italy and Sweden. In early July, Wallace met Nobuo Kishi, his Japanese counterpart, in Japan where they decided to fast-track bilateral discussions on creating subsystems for the program, involving power and propulsion.
Not just UK, other European countries are working on expanding their air defense capabilities. In February 2020, France and Germany signed a €150-million investment agreement to fund their joint Future Combat Air System (FCAS) project. Spain also officially joined the project in December 2020.
Follow EurAsian Times on Google News