The Taiwanese and French Air Forces recently carried out their annual exchange program at the Chiashan Air Force Base in Hualien, showcasing a compelling demonstration of cooperation and skill-building.
The event on October 14 brought together mixed teams of pilots from both nations. According to a source, pilots from both countries engaged in air tactical exercises against simulated enemy squadrons (unquestionably China), aiming to enhance their capabilities.
During the exchange, the 17th Squadron of the Republic of China Air Force's (RoCAF) 5th Tactical Fighter Wing assumed the role of the simulated enemy, enabling them to participate in aerial tactical combat scenarios and practice various maneuvers. 
The main goal of this exercise was to bolster the aerial combat proficiency of Taiwanese Mirage 2000 and F-16V fighter pilots. It also served as a valuable occasion for the RoCAF to assess its Mirage fighter jets' deployment and operational effectiveness. 
The yearly exchange program holds a vital position in the collaborative endeavors between Taiwan and France, with the shared objective of enhancing the capabilities of their respective air forces. France dispatches active-duty or retired pilots each year to eastern Taiwan for these strategic and tactical exchanges. 
The Mirage fighter jets, essential for Taiwan's air defense, play a pivotal role in high-altitude interception, substantially contributing to the island's security. The French fighter aircraft stands as the backbone of Taiwan's Air Force. 
In 1992, Taiwan bolstered its air defense capabilities by acquiring 60 Dassault Mirage 2000-5 fighter jets, consisting of 48 single-seat interceptors and 12 twin-seat trainers. 
These aircraft were integrated into the Republic of China Air Force (ROCAF) in 1997, becoming a cornerstone in defending the island's airspace sovereignty. 
However, as these Mirage jets are near the latter phase of their operational life cycle, they incur higher maintenance and repair costs.
As a result, in response to China's increasing assertiveness, the Taiwanese Air Force is actively considering extending the service life of its French Mirage-2000 combat jet fleet.
South Korea, US & Japan Conduct First Drills
On October 22, in a landmark move, South Korea, the United States, and Japan jointly conducted an air exercise near the Korean Peninsula. This exercise marked the three nations' collaborative commitment to enhancing security cooperation in response to threats from North Korea. 
The trilateral exercise occurred south of the Korean Peninsula, where South Korean and Japanese air defense identification zones intersect. It featured the participation of a USAF strategic bomber and fighter jets from South Korea, the United States, and Japan.
In a press release, the Japan Air Self-Defense Force disclosed that the exercise included one B-52 and three F-16s from the United States Air Force, along with four F-2s from the Japan Air Self-Defense Force and two F-15Ks from the South Korean Air Force.
Although the US Air Force has previously engaged in individual bilateral exercises with both South Korean and Japanese counterparts in the vicinity of the Korean Peninsula, this event represented a significant milestone as it marked the first instance of all three nations coming together for joint air drills.
The South Korean Air Force explained that this exercise was a tangible demonstration of their commitment to the defense agreements negotiated during the Camp David summit held in August.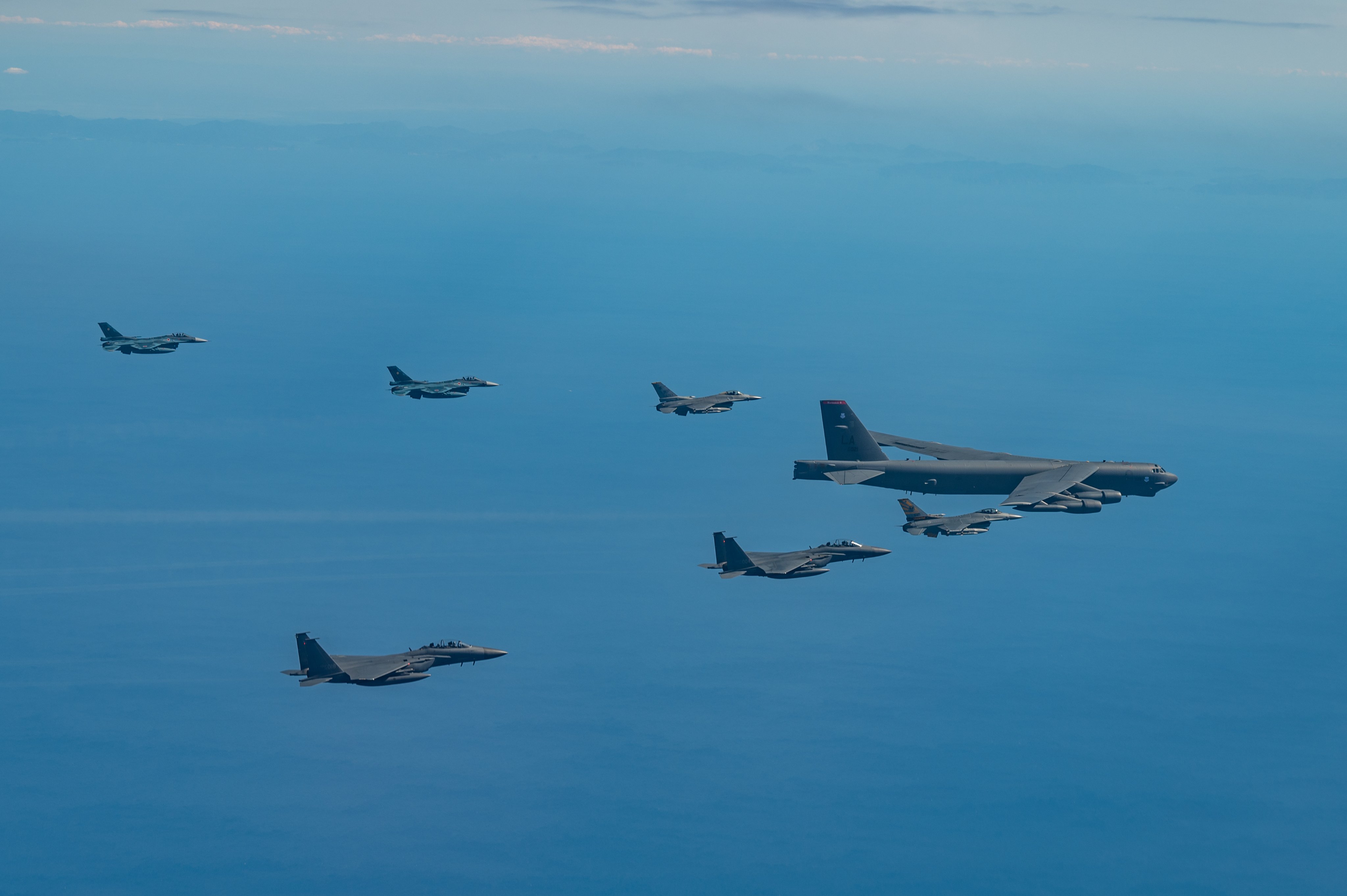 The primary objective was to enhance the collective response capabilities of the three countries in the face of North Korea's ongoing advancements in nuclear and missile threats. 
This recent exercise followed an agreement made during the Camp David summit in August, where President Yoon Suk Yeol of South Korea, US President Joe Biden, and Japanese Prime Minister Fumio Kishida committed to enhancing security cooperation and conducting regular "annual, named, multi-domain trilateral" exercises.
Earlier this month, Seoul, Washington, and Tokyo joined forces for a trilateral maritime interdiction exercise south of the Korean Peninsula for the first time in seven years. 
In response to this ongoing three-way cooperation, North Korea expressed strong disapproval, with its leader Kim Jong-un characterizing it as the "worst actual threat" last month. In conjunction with this stance, the country made constitutional amendments to solidify its nuclear-force development policy.