Pressure along India's de facto border with China (LAC) and Pakistan (LOC) seems to be increasing. Recent developments in geostrategically important locations of the Galwan Valley and Skardu are indicative of collusion between Islamabad and Beijing. 
Gilgit-Baltistan 
Gilgit-Baltistan is a strategically important location from a military perspective. It is open to outflanking moves against Ladakh from the West. G-B is the northernmost territory administered by Pakistan. It is the country's sole territorial frontier with China, where it meets the Xinjiang Autonomous Region.
The China-Pakistan Economic Corridor (CPEC) has made the region a vital spot for both these countries. The region is especially important to China due to the presence of the 3,000 kilometers long Karakoram Highway here. This highway is expected to be China's economic lifeline for international trade.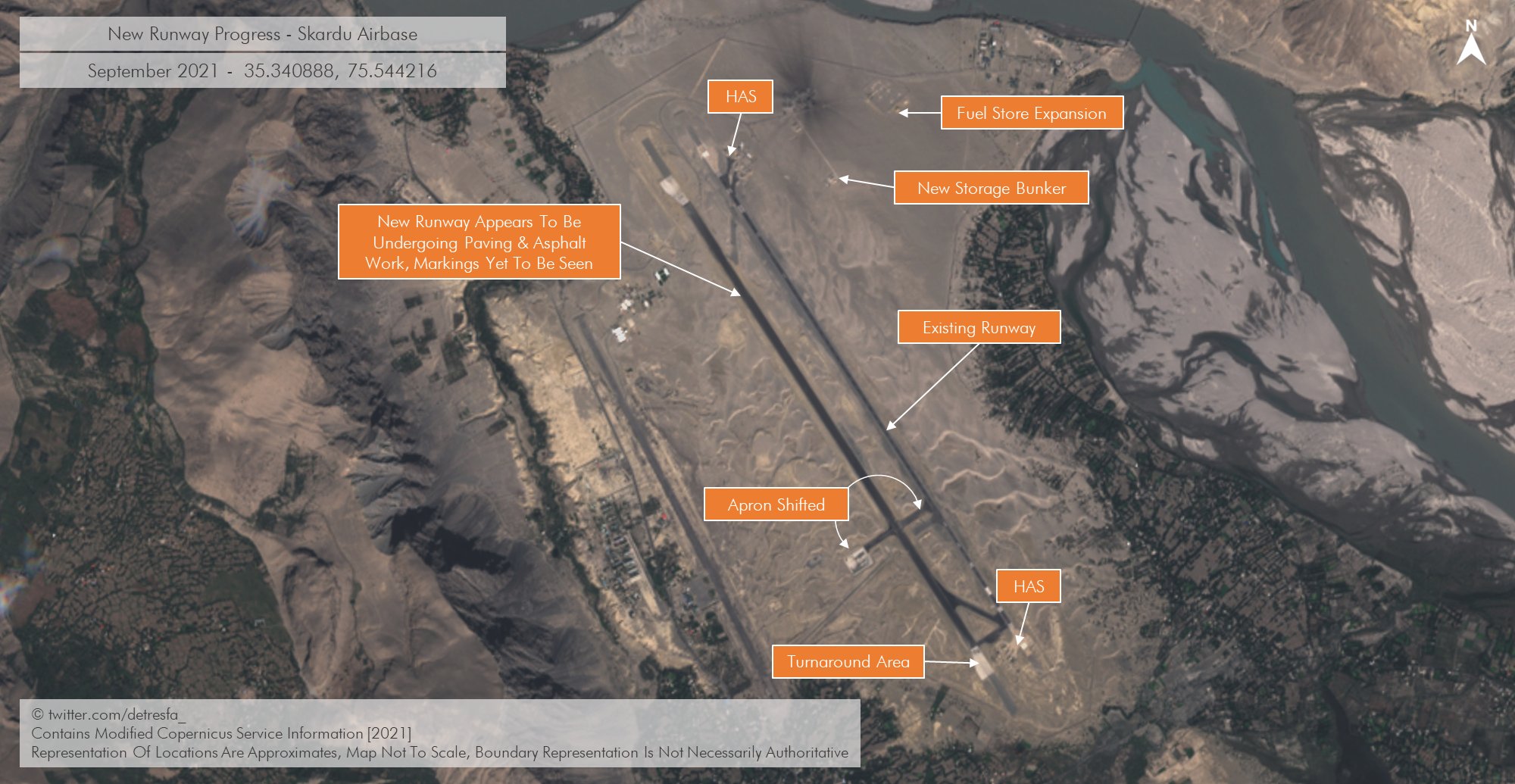 According to experts, India's declaration of its intention to re-take G-B is something that Beijing is extremely displeased with, the signs of which are visible in its ongoing aggression against India on the LAC.
Since 2011, China has reportedly been deploying close to 10,000-15,000 troops in this area. It will be able to bring in more troops from the Xinjiang region by using the Karakoram Highway. More importantly, the Skardu Airfield located here would be crucial in case of an air war against India.
The Skardu Airfield
The Skardu airbase is almost 200 kilometers from both Leh and Srinagar in India. This airbase not only offers Pakistan strategic capability extension in the area but also provides a standpoint to keep an eye on the crucial China-Pakistan Economic Corridor (CPEC) projects.
By 2019, a major base overhaul was ongoing at Skardu Airbase.
Some reports indicate that China has recently deployed around 40 J-10 aircraft in Skardu. The presence of these warplanes could play an important role in the event of an air war with India in eastern Ladakh. Moreover, a Chinese IL-78, which is an aerial refueling aircraft for fighter jets, has also been spotted in Skardu.
There is no doubt that in case a necessity arises, the Skardu base could be used as a launching pad for land operations, as well as an airbase by China, a military expert talking to The EurAsian Times believes.
Skardu airbase could offset the Chinese disadvantage of longer distances of its airbases in Tibet and Kashgar of Xinjiang, the expert who did not wish to reveal his identity, added.
Recent Developments
Intelligence agencies' reports have asserted that Pakistan is moving its fighter aircraft to the forward airbase of Skardu. These agencies have spotted at least three Pakistani C-130 Air Force transport aircraft bringing equipment to the base.
The country is also expected to deploy its JF-17 fighter aircraft here. In the past, the airbase has been used by Pakistan to support its Army operations along the border with India.
More recently, open-source intelligence analyst @detresfa_ posted satellite pictures showing that Pakistan is upgrading the Skardu airbase. The country has almost finished work on a second runway at Skardu.
Recent imagery from Skardu Airbase in #Pakistan highlights considerable work completion on the new runway being prepared on site, the construction is expected to boost #PakistanAirForce operations in the region most likely directed towards #Kashmir, #India pic.twitter.com/4Iz9k7NSBg

— d-atis☠️ (@detresfa_) September 29, 2021
The Galwan Valley conflict
The Galwan valley is a tension-ridden area in eastern Ladakh. It has strategic importance due to its closeness to the crucial link to the Indian Air Force base at Daulat Beg Oldie (DBO)- the world's highest landing ground, close to the LAC. It is an important aerial supply line.
India has been engaged in building border infrastructure in this region. This includes the all-weather Darbul-Shayok-DBO road that is 255 kilometers long. This strategic road runs almost parallel to the LAC and extends up to the base of the Karakoram pass.
Upon completion, this pass is expected to reduce the travel time from Leh to DBO from 48 hours to just six. Road and bridge construction works have recently been speeded up.
Facing eastwards, the control over the Galwan valley provides access to the Aksai Chin plateau. The important Xinjiang-Tibet highway passes through this area.
On June 15 last year, there was a violent clash between the Indian and Chinese armies in the Galwan Valley, resulting in the death of 20 Indian soldiers. The number of casualties that China suffered remains disputed with the official number being around 4 and Indian media claiming over 40.
Our nation is the home of the brave❤️
Flag raising ceremony marks China's 72nd National Day at Galwan Valley??
PLA has deployed Mavic 2 Enterprise drones with high-resolution thermal imaging camera to track down intruding Indian troops before the June 15 clash. pic.twitter.com/VtFKjoJS9i

— Eva 郑 عائشة (@evazhengll) October 1, 2021
This was one of the worst flare-ups in as many decades. The clash led to a military standoff between the two countries. At least 11 rounds of military talks have been conducted to facilitate the disengagement process.
However, this tense situation does not seem to be improving much. Not only did China recently conduct multiple drills at high altitudes in the Tibet region with the latest equipment but it also released a video of a flag-raising ceremony at the Galwan Valley on the occasion of its 72nd National Day.
Additionally, on August 30, more than 100 Chinese troops allegedly transgressed into Indian territory through Uttarakhand. It was reported that the Chinese troops entered more than 5 kilometers into the Indian territory. They did so by crossing the Tun Jun La in the area.
Infrastructure and military build-ups in contested Pakistani and Chinese regions, alongside huge incursions and symbolic gestures such as drills and a flag-raising ceremony, reveal that there is immense pressure building upon New Delhi on both these fronts — China and Pakistan border regions. How that will pan out for India is up to speculation.