Article Republished With Technical Updates
It has been six years since Nepal and China signed a contract to collaborate on six projects under Chinese President Xi Jinping's ambitious Belt and Road Initiative (BRI). But the Himalayan nation has little to show. And to add to its woes, China has started unilaterally claiming infrastructure projects under the rubric of BRI.
China's BRI, the New Silk Road, is a colossal infrastructure project ever conceived. It was launched in 2013 by President Jinping and comprises a vast collection of development and investment initiatives originally to connect East Asia and Europe.
However, it has expanded to Africa, Oceania, and Latin America in a decade, congruent with China's burgeoning economic and political influence.
Nepal entered the Memorandum of Understanding (MoU) with China to facilitate transit transport, logistics, and related infrastructure development through cross-border projects, including railway, road, civil aviation, power grid, information, and communication.
Following the signing of the framework, Nepal had initially listed 35 projects to be implemented under BRI; later, it was whittled down to nine.
Even despite the apprehensions of the Nepalese government about how the projects will be financed – through soft loans or grants, China has moved to unilaterally claim various projects to have been completed under the framework of BRI.
In the latest incident, the People's Republic of China's Ambassador to Nepal, Chen Song, launched WeChat Pay Cross-board Payment Service in Nepal during the first Dragon Boat Race Festival between the two countries in June 2023.
Later in a tweet, Chen Song said: "Warm congratulations on WeChat Pay Cross-border Payment Service Inauguration in Nepal. A new step forward in financial connectivity, one of the five "connectivities" under BRI initiative."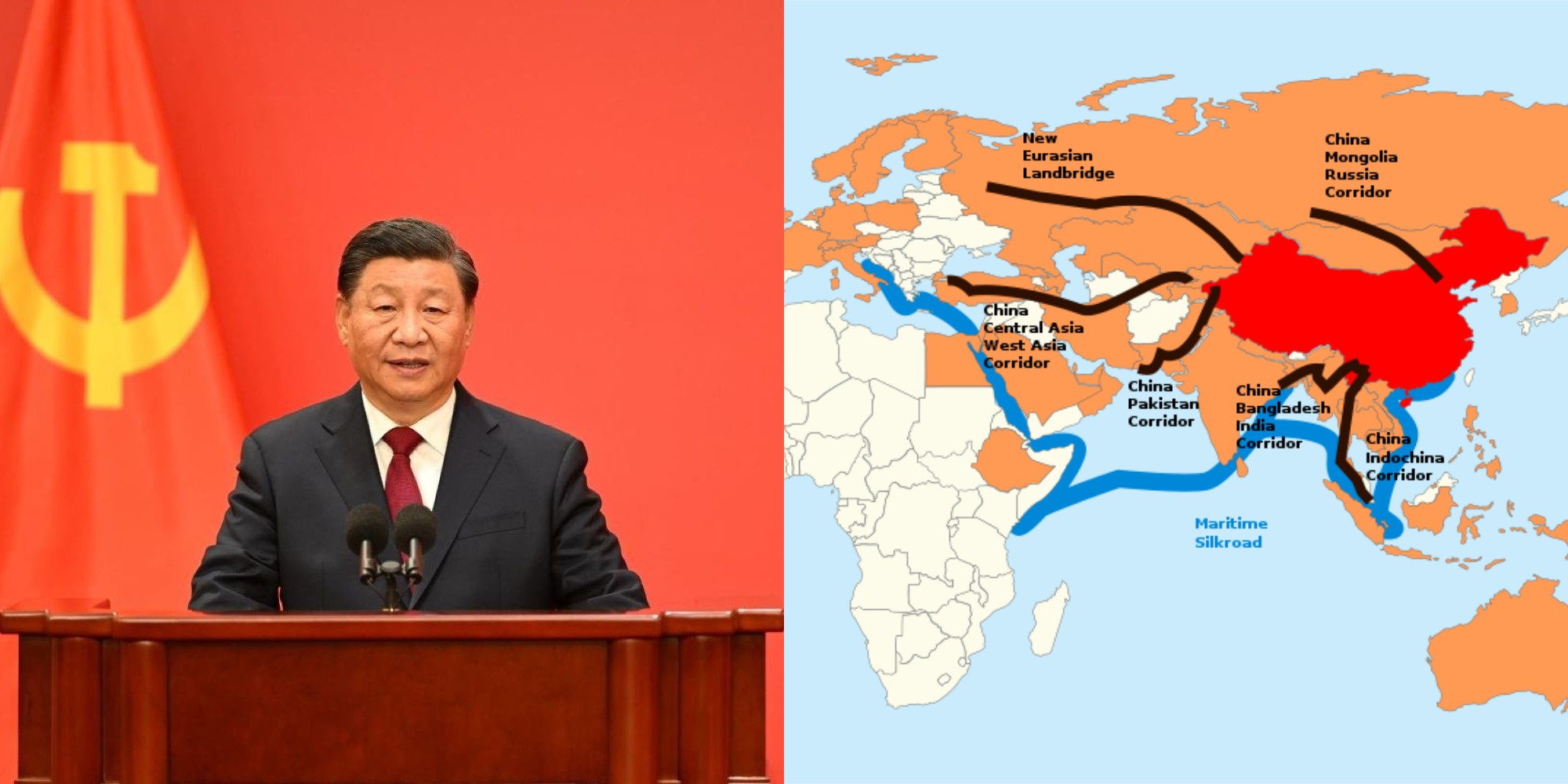 This has created confusion in the power corridors of Kathmandu. In response to the opposition parties' demand for clarification, Foreign Minister NP Saud said: "The project implementation plan of the BRI is at a stage of discussion between Nepal and China. Not a single project in Nepal under the BRI has been executed. The project implementation plan of the BRI is still under consideration." He was quoted by the Kathmandu Post on this.
Former Editor of the Kathmandu Post and senior journalist Sanjeev Satgainya opines that for China, BRI has been "its foreign and regional policy instrument," and it has evolved over the years since its inception.
"Just last month, China adopted its new Foreign Relations Law, which warrants the promotion of BRI as a legal requirement. So, for the Chinese, putting any infrastructure projects it backs under the BRI looks like a policy decision. It also makes more sense for Beijing to repeatedly assert BRI's presence in Nepal in view of the US' renewed engagements with Kathmandu," Satgainya told the EurAsian Times.
Before this, while handing over the Pokhara International Airport to Nepal, the Chinese Embassy had announced on Twitter that "This is the flagship project of China-Nepal BRI cooperation. Warm congratulations to Nepali Gov and Nepali people!"
The Inauguration Ceremony of Pokhara International Airport will be held at 11 a.m. tomorrow. This is the flagship project of China-Nepal BRI cooperation. Warmly congratulates to Nepali Gov and Nepali people! pic.twitter.com/TEjPbE0j4b

— Spokesperson Of Chinese Embassy In Nepal (@PRCSpoxNepal) December 31, 2022
The airport was not listed under the BRI. Nepal received a US$ 215.96 million soft loan from China in 2016, and the contract did not mention the BRI. China's Ambassador to Nepal re-iterated the claim again, making the airport a political hot potato.
India, which has been observing the increasing Chinese geopolitical influence in the country, has been reluctant to open new air routes to this airport. The airport is the only destination for Chinese planes coming from Tibet.
Another international airport built in Nepal, Gautam Buddha International Airport, has also been awaiting new flight route clearance from India. However, the airport has been made by Chinese engineers, if not Chinese money.
"(the Nepalese) Government's priorities are to accommodate all projects for economic development. But project modality, economic transparency, and all other issues must be known to the public in all projects," a Kathmandu-based journalist Birat Gautam told the EurAsian Times.
"In BRI, China says one thing, and the Nepalese government says otherwise," Gautam said while pointing at the dichotomy in the understanding of the project.
There have been three main concerns that Nepal has with China. There has been no clarity about whether the projects will be financed through soft loans or grants. Nepal would prefer grants instead of loans. Secondly, Nepal wants the interest rate to be at par with multilateral funding agencies like the World Bank and the Asian Development Bank. Thirdly, for most projects, China insists on hiring Chinese firms. Nepal wants the projects to be open for competitive bidding.
"Nepal, on its part, as it has already made it clear that it looks forward to granting assistance rather than loans, should display its negotiating heft. Nepal needs to exercise prudence while receiving Chinese assistance—BRI or non-BRI—so as to avoid falling into a debt trap," Satgainya added.
Though Nepal has been asking for grants, speaking to journalists on April 22 this year, the previous Chinese ambassador to Nepal, Hou Yanqi, said the BRI would consist of both grants and commercial loans. "It is based on a cooperative modality that includes grants and commercial cooperation," she said.
Hou clarified that many projects China is currently building in Nepal fall under the BRI framework.
"This [BRI] is a long project. The projects that are being constructed in Nepal under BRI have three modalities. First, it is like Gautam Buddha Airport in Lumbini, where the ADB has invested and the Chinese contractors have worked. Second, the modality of Pokhara Airport where China's commercial loans and grants are there and the construction company is also Chinese," said Hou.
"And the third modality is like the Tribhuvan International Airport in Kathmandu. The responsibility of improving this airport has been given to a Chinese company, and the Nepal government will bear the cost."
BRI Money- A Poisoned Chalice
A whopping 147 countries across the globe have signed up for the massive scheme. However, the countries that have taken large loans to fund infrastructure projects are said to be spiraling down into a debt trap.
China has been lending money for the project close to the market interest rate and, in most cases, has insisted on using Chinese firms and contractors.
Critics of the initiative suggest that China uses the loans to seek geopolitical leverage. A 2021 study analyzed over 100 debt financing contracts China signed with foreign governments.
The borrowing countries were bound with absolute confidentiality, and the contract also contained clauses against restructuring the loan from 22 major creditor nations known as the "Paris Club."
China also retained the right to demand repayment anytime and could use it to strong-arm countries to be in line regarding issues like Taiwan.
India has stayed out of the BRI for this precise reason. At the recently concluded Shanghai Cooperation Organization (SCO), Prime Minister Narendra Modi asserted that connectivity should not come at the cost of countries' sovereignty.
Ritu Sharma has written on defense and foreign affairs for over a decade. She holds a Master's Degree in Conflict Studies and Management of Peace from the University of Erfurt, Germany. Her areas of interest include Asia-Pacific, the South China Sea, and Aviation history.
She can be reached at ritu.sharma (at) mail.com