In a first, Unmanned Aerial Vehicles (UAVs) have been spotted on the People's Liberation Army Navy's (PLAN) aircraft carrier, Shandong. According to reports in Chinese state media, Shangdong is currently at the Dalian Shipyard for maintenance and repairs.
On June 1, Andreas Rupprecht, an expert on Chinese military aviation, shared an image of UAVs on Shandong's deck suggesting that it could be the first time, drones have been spotted on board the aircraft carrier.
In late April, the Chinese state-owned Global Times reported that Shandong was undergoing "its first scheduled maintenance and refurbishment" at the Dalian Shipyard after two years of service "to enhance the flattop's usability".
Before that, in March, the aircraft carrier was reported to have sailed through the Taiwan Straits, near Taiwan's Kinmen island opposite the Chinese mainland city of Xiamen. Reports at the time also noted that there were no aircraft on Shangdong's flight deck.
If I'm not mistaken, then UAVs have been spotted on the Shandong's flight deck for the first time.

The one with the inverted V-tail looks to be the one shown in the third image even if I don't know its type and/or designation … but the other one?? ? pic.twitter.com/GPdnUEkiGk

— @Rupprecht_A (@RupprechtDeino) June 1, 2022
One of the UAVs spotted onboard Shangdong, has an inverted V-shaped tail and it bears resemblance to a vertical takeoff and landing (VTOL) UAV that was reportedly seen onboard the PLAN's Type 075 LHD amphibious assault ship in December, last year.
According to Chinese media reports, it was the CW-40 dual-purpose UAV, designed and developed by the Chinese company JOUAV, which made its first appearance during the 2021 edition of the China International Aviation & Aerospace Exhibition, also known as Zhuhai Airshow.
The UAV was also showcased in March this year at the DSA 2022 defense exhibition in Kuala Lumpur, Malaysia.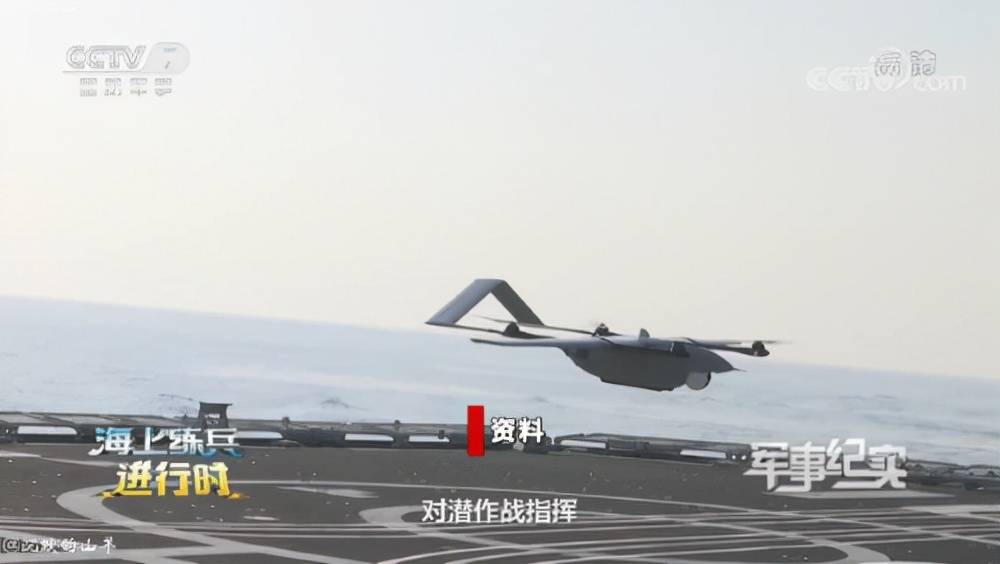 The CW-40 UAV 
The CW-40 is designed to conduct reconnaissance, search and surveillance, participate in rescue operations, ensure security, monitor the environment, prevent forest fires and protect important facilities.
The drone has a fuselage length of 2.3m and a wingspan of 4.6m. It can fly at an altitude of 4000m, has a take-off weight of 45kg, and carries a maximum payload of 10kg.
According to the Chairman of JOUAV, Ren Bin, the CW-40 adopts a domestically made four-stroke EFI engine.
The UAV is equipped with three light photo-electric pods for large areas, and long-distance video surveillance. The full CW-40 system can be assembled and disassembled in 15 minutes, according to claims by JOUAV.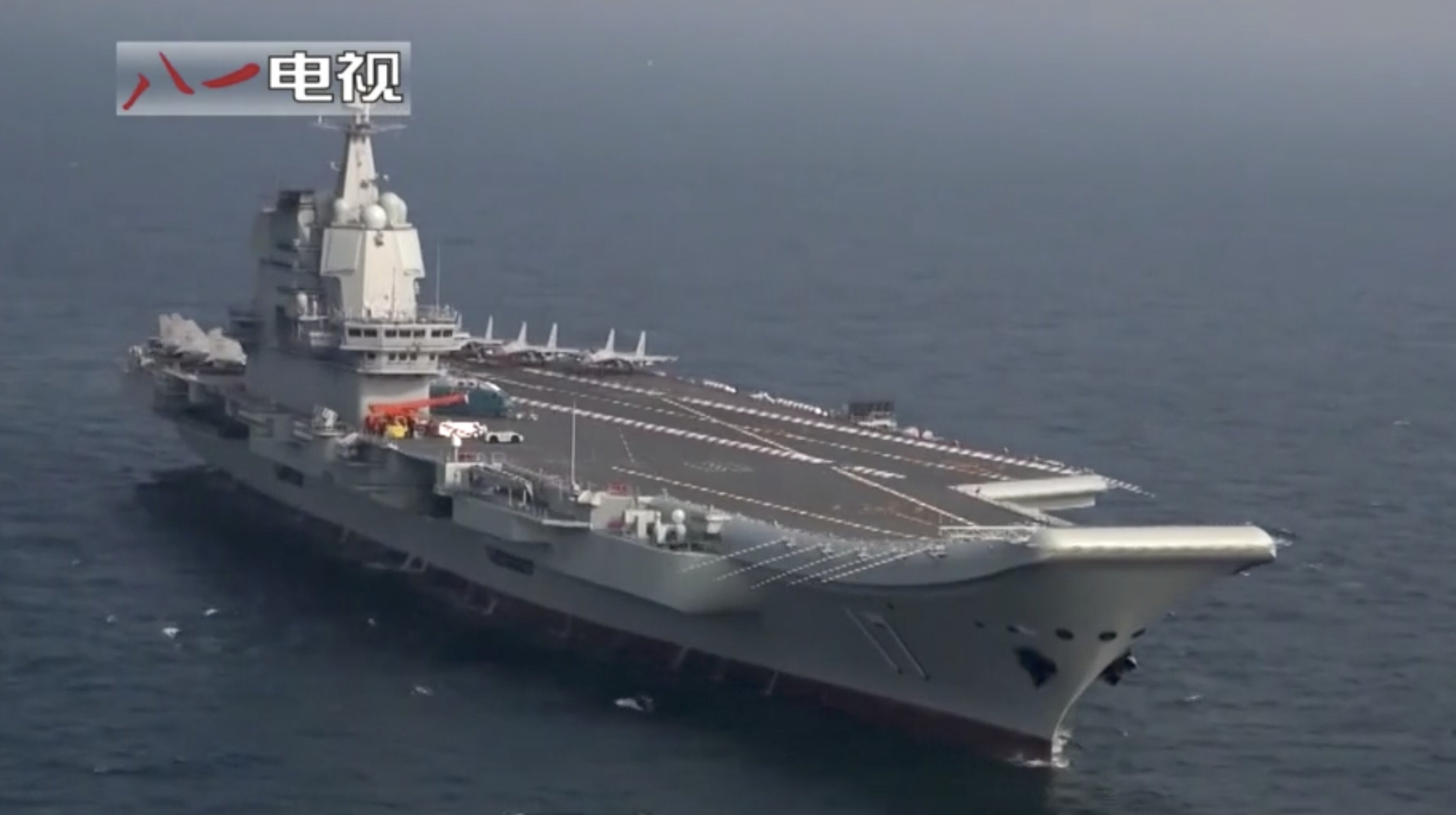 The PLA has been actively advancing its employment of UAVs into its force structure for various purposes, such as intelligence, surveillance, and reconnaissance (ISR) missions, attack purposes, or even as target drones to simulate anti-aircraft combat scenarios.
If the UAV spotted onboard the Shandong is CW-40, then it could fulfill a role similar to the ASN-209 medium-altitude, medium-endurance (MAME) UAV, known as the 'Silver Eagle' which has a range of 200km and a maximum endurance of 10 hours, just like the CW-40.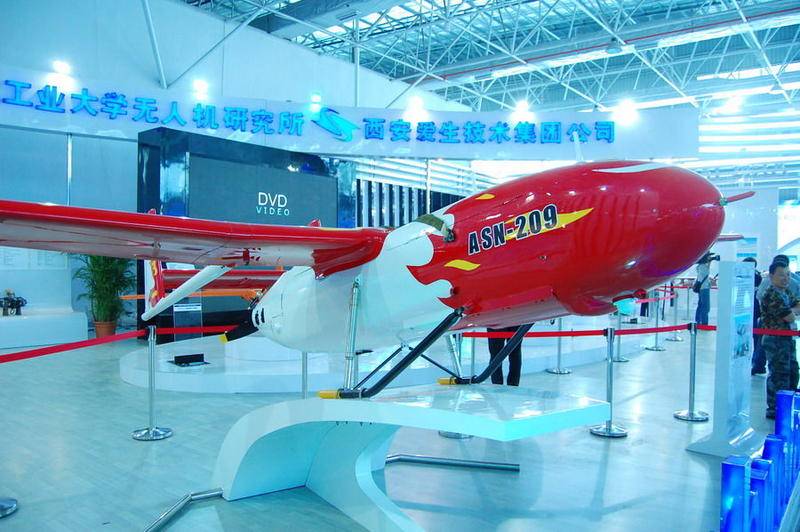 The Sky Eagle is capable of Target Designation, Electronic Intelligence (ELINT), and Electronic Warfare (EW), and can even be used for guiding missiles to the target.
Experts also suggest that PLAN might use this UAV, as a communications relay for accompanying surface or aerial forces in case the satellite communications are compromised.
Chinese PLA Navy Goes Unmanned?
In addition to UAVs, the PLAN is known to have incorporated a wide array of unmanned systems such as unmanned surface and underwater vehicles.
Moreover, the advancements in artificial intelligence in recent years have led China to envision a greater role for unmanned platforms in maritime security and competition for control of sea lanes and marine resources.
Last month, China launched an unmanned ship, named Zhu Hai Yun that can be controlled remotely and navigate autonomously in open water and carry dozens of drones, submersibles, and other vessels for conducting ocean research.
Also, China is currently working on a next-generation assault carrier, known as Type 076 LHD which is being developed as a successor to the Type 075 LHD. It is said to be capable of carrying Unmanned Combat Aerial Vehicles (UCAVs).
Reports suggest that China's stealthy GJ-11 Sharp Sword UCAV may be one of the drones being planned to board the Type 076 LHD, based on a CG simulation released last year by the China Aviation Industry Group at the Zhuhai Airshow.
The GJ-11 UAV is 12.2m long, with a wingspan of 14.4m and a height of 2.7m, and has a maximum takeoff weight of over 10 tons with an estimated payload estimated of around 1.9 tons, and a combat radius of over 1,500km with an endurance of six hours.