The symbol of Chinese prestige and Naval prowess, aircraft carrier Liaoning appears to have some operational limitations, according to a US Navy Commander.
These revelations included the details of an image of China's Liaoning aircraft carrier taken from the USS Mustin guided-missile destroyer during a close encounter in the disputed South China Sea last year.
While recounting the incident, Vice-Admiral Roy Kitchener, the commander of the US Naval Surface Forces, claimed the Chinese carrier was subject to "operating restrictions." The USS Mustin tailed the Liaoning and was able to photograph and observe the aircraft carrier, he claimed. 
He revealed at the annual Surface Navy Association conference on Tuesday that US crew members "realized that at some point all the Chinese escorts sort of backed off" because "there's some operating restrictions that they had around the carrier".
"USS Mustin didn't have those (restrictions)," he said. "They proceeded on in, found a good station, and sat alongside taking pictures and doing other things for quite a bit of time."
The captain and deputy commander of the USS Mustin sat side by side in one snap, watching the Liaoning, which was only a few kilometers away. The photo was extensively circulated throughout the world and perceived as a message to the People's Liberation Army (PLA).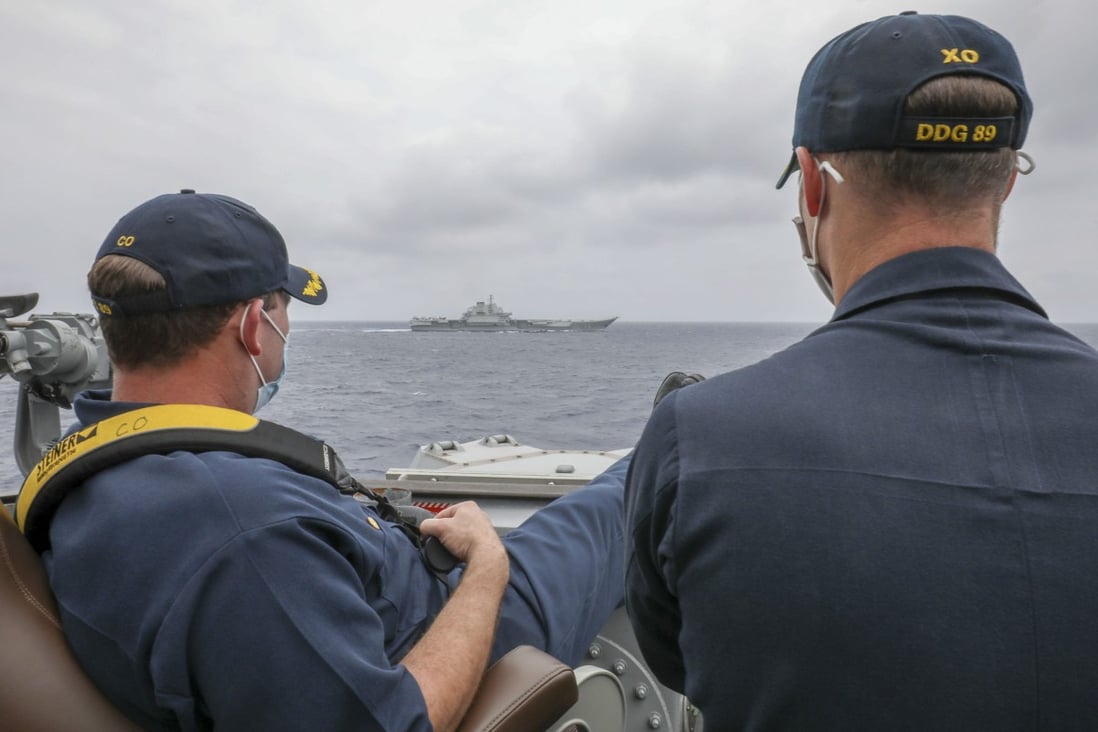 China's Response
While the episode was a clincher for US sailors, it infuriated China, who responded vociferously. Chinese authorities called the activities "very vile" and accused the US of threatening Chinese ships and troops. 
The ease with which US Navy personnel were able to photograph Chinese aircraft carriers was a key point of discussion last year. Lu Li-shih, a former instructor at Taiwan's Naval Academy in Kaohsiung, was quoted by SCMP as saying, "The Liaoning may have been busy with a complicated drill, allowing US officers to take photos."
Meanwhile, Song Zhongping, a former Chinese military instructor, argued that the PLA followed pre-planned voyage routines, but the operational parameters of American crews were more flexible.
"It's very common for warships to sail so close for parallel monitoring in unexpected encounters at high sea," Lu said. "But it's rare for the captain and his deputy to sit together, showing that the Liaoning gave the USS Mustin quite a lot of time to take the picture because of its operating restrictions."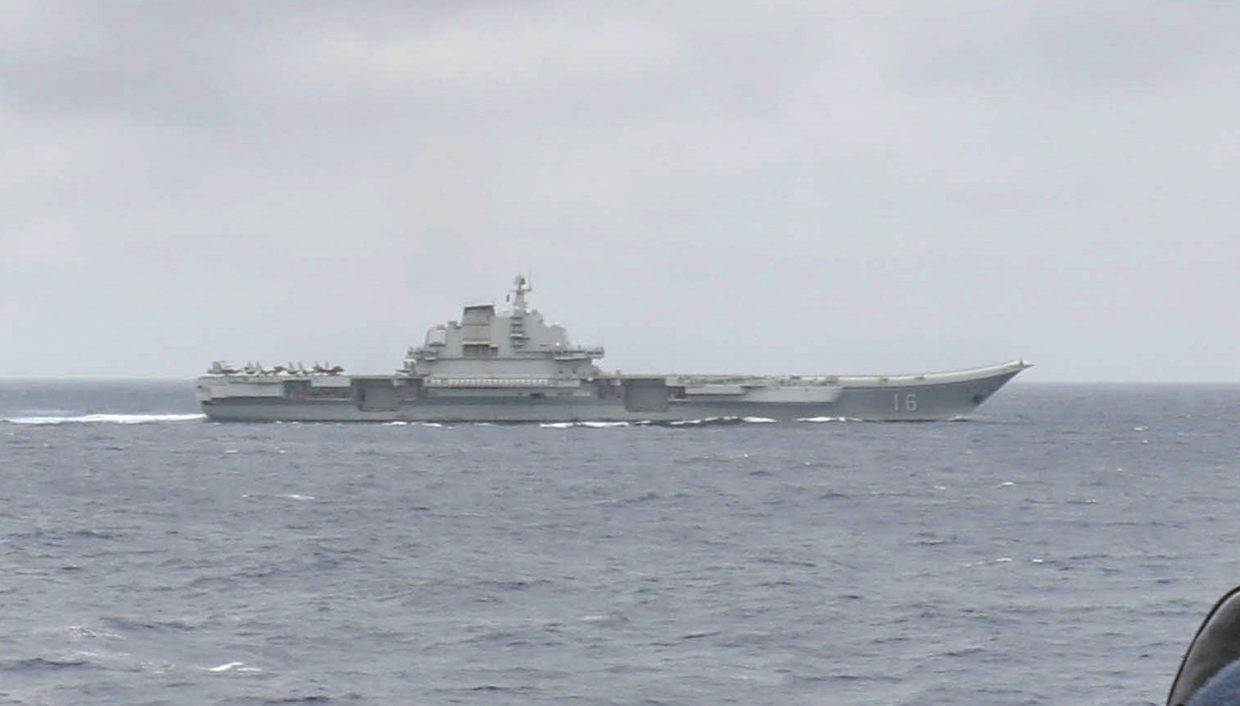 Last year, the shot was picked for a Chinese navy photo gallery to commemorate the navy's 72nd anniversary. It highlighted the Americans' concern about a rising China, Beijing-based military expert Zhou Chenming told SCMP. 
"When we go out now on operations, whether it's East Coast or West Coast, Black Sea, South China Sea, we're there head-to-head with our adversaries," Kitchener said. "They're there. They're present. And we're managing the risk, and our sailors are getting really good at it." The US Navy is used to working alongside other troops, but encounters with Chinese naval troops have escalated in recent years as tensions between the two nations have intensified.
China's Liaoning aircraft carrier
The Liaoning, a Chinese Type 001 aircraft carrier deployed in 2012, is PLAN's first surface force carrier. The ship was renamed the Varyag in 1990.
It was initially designed for the Soviet Navy as a "large aircraft-carrying cruiser." In 1998, a Chinese tourism operator bought the incomplete hull, and three years later, the ship was towed from Ukraine to China, where it underwent major hull, radar, and electronics modernization. 
The Liaoning's air wing marks a substantial step forward in aerial capabilities for the PLAN, although it, like the carrier itself, has limitations. The aircraft onboard the Liaoning are capable and modern, although they are limited largely by the ship's aircraft-launching mechanism.
The carrier air wing includes 24 Shenyang J-15 fighters, six Changhe Z-18F anti-submarine warfare (ASW) helicopters, four Changhe Z-18J airborne early warning helicopters and two Harbin Z-9C rescue helicopters.
This aircraft combination is in keeping with Soviet aircraft carrier doctrine, which calls to provide support for nuclear submarines, big surface combatants, and land-based attack bombers to be supported by aircraft carriers.
Liaoning's air force suffers from a lack of manpower training and experience compared to other countries. In November 2012, Chinese carrier pilots began training aboard the ship, and the PLAN qualified its first air wing of domestically trained J-15 pilots in 2015.