Can Taiwan defend itself against China's military aggression?
This question is in many minds all over the world as US House of Representatives Speaker Nancy Pelosi's visit to the island-nation, which is a democracy of 24 million, has triggered the most acute crisis in the Taiwan Strait in decades.
Faster Than The Fastest Supercomputer, Brain-Cell Powered AI Raises Technical, Ethical & Political Concerns
China is overwhelmingly superior both in personnel and arms, but Taiwan seems confident that it can make the Chinese invasion as difficult and prolonged as possible, thus having enough time to solicit international support, including that of the United States, to thwart Beijing's designs.
Reportedly, 22 Chinese military aircraft had flown into Taiwan's air defense identification zone (ADIZ) and crossed the median line on Thursday as Beijing began its live-fire drills in waters around Taiwan.
Twelve (12 ) People's Liberation Army (PLA) Sukhoi Su-30 fighter planes, eight Shenyang J-11 fighter jets, and two Shenyang J-16 jet fighters were monitored crossing the median line of the Taiwan Strait, according to Taiwan's Defense Ministry (MND).
The PLA fired 11 Dongfeng ballistic missiles from 1:56 p.m. to 4 p.m. on Thursday in waters close to the northern, southern, and eastern parts of the country, according to the MND.
China's military drills, supposed to last for four days, saw even some drones flying very close to Japan. In fact, Japan has lodged a formal protest with China after five projectiles landed in Japan's Exclusive Economic Zone (EEZ).
Beijing has also announced sanctions against Pelosi and her immediate family.
China-Taiwan Possible War
Meanwhile, in a speech on Thursday, Taiwan's President Tsai Ing-wen condemned China's military drills as "irresponsible," saying they marked a "deliberate and continuous escalation of military threats, "adding, " I must emphasize that we do not seek to escalate conflicts or provoke disputes, but we will firmly defend our sovereignty and national safety, as well as safeguarding democracy and freedom.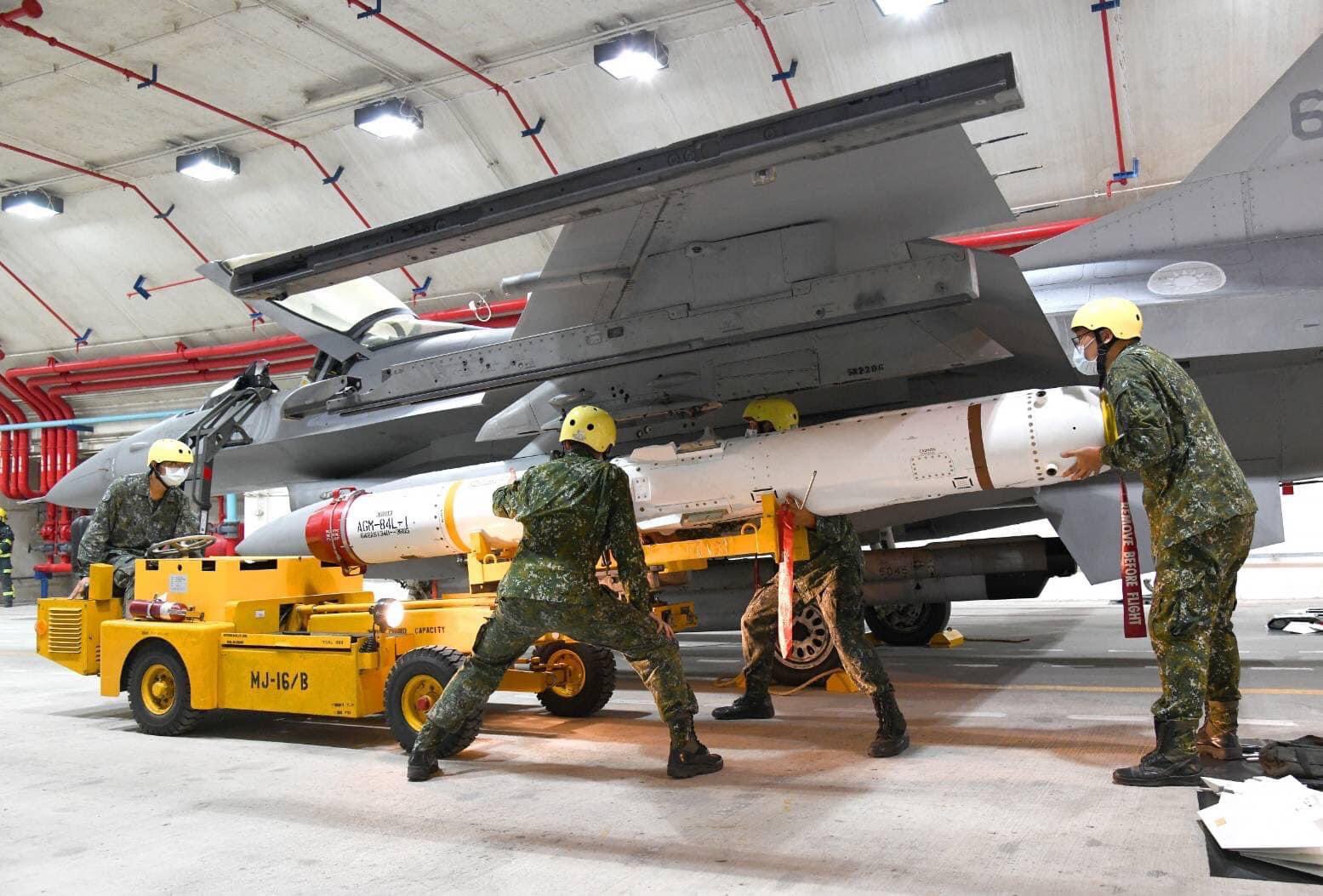 It may be noted that even though China is a gigantic power, tiny Taiwan has not been overawed by it.  Taipei has adopted an asymmetrical warfare method known as the "porcupine strategy," which aims to make the invasion very difficult and costly for the enemy.
Under this strategy, Taiwan has stacked up large inventories of anti-air, anti-tank, and anti-ship weapons and ammunition. That includes unmanned aerial vehicles (UAVs) and low-cost munitions like mobile coastal defense cruise missiles (CDCMs), which have the capacity to destroy China's expensive naval vessels and naval equipment.
It has plenty of stealth fast-attack crafts and miniature missile assault boats that are relatively cheap but highly effective equipment. It also relies on sea mines and fast mine-laying ships that could also complicate the landing operations of the Chinese invading navy.
The main idea here is that it is only through the sea (Taiwan Strait) that China will transport its soldiers, arms, and supplies since airlifts and fleets of planes have limited capacity. And Taiwan can make this sea operation very difficult.
Secondly, Taiwan has also prepared its cities for guerrilla warfare in case the PLA succeeds in getting boots on the ground. Man-portable air-defense systems (MANPADS) and mobile anti-armor weapons, such as high mobility artillery rocket systems (HIMARS), have been created for urban fights.
In fact, buildings in Taipei can be turned into barracks, it is said.
Thirdly, Taiwan also possesses aircraft and anti-ballistic defense systems, which can intercept ballistic rockets and inflict primary damage on invading powers.
It has purchased dozens of advanced fighter jets from the US while manufacturing its own AIDC F-CK-1 Ching-Kuo, dubbed the Indigenous Defense Fighter. Many aircraft are being held in fortified bases, with the pilots being trained to use highways to land if airports are bombed.
Can Taiwan Deter China?
Australian think-tank Lowy Institute has developed Asia Power Index (API), which offers insight into why Taiwan continues to deter annexation by China against seemingly overwhelming odds. The Index also helps explain how Taiwan can maintain deterrence beyond a narrow equation of military power across the Taiwan Strait.
The underlying rationale here is that if it is a smooth military operation, China could overwhelm Taiwan's defenses with relative ease and attain the air superiority and sea control needed to mount a successful amphibious assault and/or blockade.
Then Taiwan's position appears hopeless. But the strategic calculus will change significantly when the API's "alliance force multiplier" is considered. This sub-measure is the ratio of combined allied military capabilities to a nation's autonomous military capability.
And here, that ally is expected to be the United States.
It is true that when the US normalized relations with Communist China, it recognized the "One China Principle." But in 1979, it also legislated the Taiwan Relations Act, which provided the framework for US policy towards Taipei.
The legislation provides the legal rationale for US arms sales to Taiwan. It states that "the United States will make available to Taiwan such defense articles and defense services in such quantity as may be necessary to enable Taiwan to maintain a sufficient self-defense capability."
Accordingly, every US President has sold arms to Taiwan to bolster its defenses. Beyond arms sales, the law establishes how the United States interacts with Taiwan without formal diplomatic relations.
The standard or popular interpretation of this Act is that the US has been maintaining "strategic ambiguity" on the question of defending Taiwan since the legislation talks of arming but not defending Taiwan in case of Chinese aggression. Because Taiwan, so runs the argument, is not an ally in the strict sense of the term.
Taiwan Relations Act
But there are scholars who say that if one studies the Taiwan Relations Act a little deeper, it will be found that "some of the language is framed in a similar way as a defense treaty." In this context,  three features of this Act are particularly noteworthy:
First, it "Reaffirms as a commitment of the United States the preservation of human rights of the people of Taiwan."
Secondly, it "Declares that in furtherance of the principle of maintaining peace and stability in the Western Pacific area, the United States shall make available to Taiwan such defense articles and defense services in such quantity as may be necessary to enable Taiwan to maintain a sufficient self-defense capacity as determined by the President and the Congress.
Such determination of Taiwan's defense needs to be reviewed by United States military authorities in connection with recommendations to the President and the Congress."
Thirdly, it "Directs the President to inform the Congress promptly of threats to the security or the social or economic system of the people on Taiwan, and any danger to the United States interests arising from such threats. (It also) specifies that the President and the Congress shall determine the appropriate action in response to any such danger."
The language above gives enough power and flexibility to the President (and the Congress) to decide the nature of military help, as is the case with any formal defense or security treaty.
Particularly significant here is the sentence –  "the President consulting with Congress on "appropriate action . . . in response to any such danger."
In fact, this is what some experts emphasize to justify what President Biden said in Tokyo on May 23.  When asked in a press conference, "Are you willing to get involved militarily to defend Taiwan if it comes to that?" the  President responded with a clear answer: "Yes . . . that's the commitment we made."
As Thomas J. Shattuck, a non-resident Fellow in the Asia Program at the Foreign Policy Research Institute (FPRI), rightly points out, that was the third time since August 2021 that Biden said something like that.
It was not a gaffe, as the US officials subsequently clarified. "A gaffe would be a sloppy answer to a question one time. Biden has been consistent in his response, using similar or identical language when asked about Taiwan.
His answer is what he believes to be the truth. In short, the President believes that the United States has made a commitment to defend Taiwan", Shattuck argues.
Of course, one can argue how the US will fight along with Taiwan against China? It all depends on the intensity of the Chinese actions. Michael E O'Hanlon of the American think-tank Brookings suggests that the American action could be consistent with the Defense Department's concept of integrated deterrence that US Defense Secretary Lloyd Austin is talking about.
Integrated Deterrence supposedly means that without renouncing the possibility of a direct response to liberate an allied or a friend's territory (in this case, Taiwan), the US could meet China or Russia in a proportionate fashion. This strategy combines military elements with economic warfare.
The military components could feature redeployments during and after a crisis, strengthened forward defenses, and perhaps limited military attacks against the enemy's   assets, "quite possibly in other theaters from where the initial attack occurred."
The instruments of economic warfare could include such offensive elements as sanctions that might evolve and expand with time during a crisis and perhaps beyond. And the sanctions could be applied in conjunction with as many U.S. allies as possible.
Viewed thus, Pelosi is perhaps right when she says that  Taiwan would not be left alone to fight the Chinese aggression.
Author and veteran journalist Prakash Nanda has been commenting on politics, foreign policy on strategic affairs for nearly three decades. A former National Fellow of the Indian Council for Historical Research and recipient of the Seoul Peace Prize Scholarship, he is also a Distinguished Fellow at the Institute of Peace and Conflict Studies. CONTACT: prakash.nanda@hotmail.com