OPED By Vaishali Basu Sharma
Since the Covid-19 pandemic, China has been trying to portray itself as a reliable partner for economic recovery. But just like the Chinese vaccines which have raised questions about efficacy, the country's partnership in economic recovery comes with waste, fraud, and political manipulation.
Furthermore, Beijing has failed to act against the corruption and criminality that Chinese government-affiliated companies habitually use in South Asia to gain an unfair advantage.
Corruption is often a key element of Chinese economic engagement in the region. Estimates suggest that China is responsible for the largest Illicit Financial Flows (IFFs) related to corrupt business practices, by value globally, particularly to developing countries. Chinese nationals are regularly detained in Asian countries on suspicion of involvement in various illegal activities.
How Chinese Apps Duped Indian Borrowers
During the pandemic-induced lockdown, scores of Chinese-owned micro-lending apps started operating in India under very shady terms. Claiming to play fair, Chinese instant-loan apps Momo, CashBus, Timely Cash, Y Cash, Kissht, Robo Cash, Fast Rupee, Cash Mama, and Loan Time were offering payday loans to Indians, targeting borrowers on the lower end of the earnings scale. Many of these apps show more than a million install. Borrowers are charged exorbitant processing fees and interest rates.
In case of failing to make repayments, these Chinese micro-lending apps adopt aggressive recovery campaigns; borrowers are sent official-looking fake documents such as FIRs (Indian police reports), legal notices, court summons, downgrade alerts from credit-scoring services and even signed and stamped warnings from the Reserve Bank of India which really scare these economically underprivileged borrowers who lack basic knowledge about finance.
According to blockchain data platform Chainalysis, Chinese cryptocurrency addresses sent more than $2.2 billion worth of digital tokens to addresses tied to illegal activity such as scams and darknet operations between April 2019 and June 2021.
India's Enforcement Directorate has come across cases wherein black money was being transferred to Chinese nationals converting the Indian rupee into cryptocurrency.
Chinese Illegal Activities In Bangladesh
Recently a Chinese national was apprehended by Indian authorities while trying to enter the country illegally through the Bangladesh border and it was found that he had supplied at least 1,300 Indian SIM cards to his counterparts in China, which were allegedly being used for stealing data and defrauding people and banks.
It has emerged that Chinese nationals opened shell companies and bank accounts, as well as operated dummy mobile phone numbers using these SIM cards. Last year's scam involving malicious Chinese investment apps like Powerbank, Sun Factory, Ezplan was staggering in its scale with over 5 lakh people across India losing over Rs 150 crore.
China proactively seeks engagements in developing countries, approaching public or private stakeholders, timing project completion to coincide with elections in the partner country. As its embezzlement of funds in megaprojects came to fore, the Chinese government was forced to withdraw from financing three infrastructure projects in Bangladesh.
Under a government-to-government (GTG) approved project, China manipulated that it would employ Chinese contractors without any possibility of hiring local contractors. Moreover, these companies increase the amount of expenditure by repeatedly extending the duration of the project on various pretexts.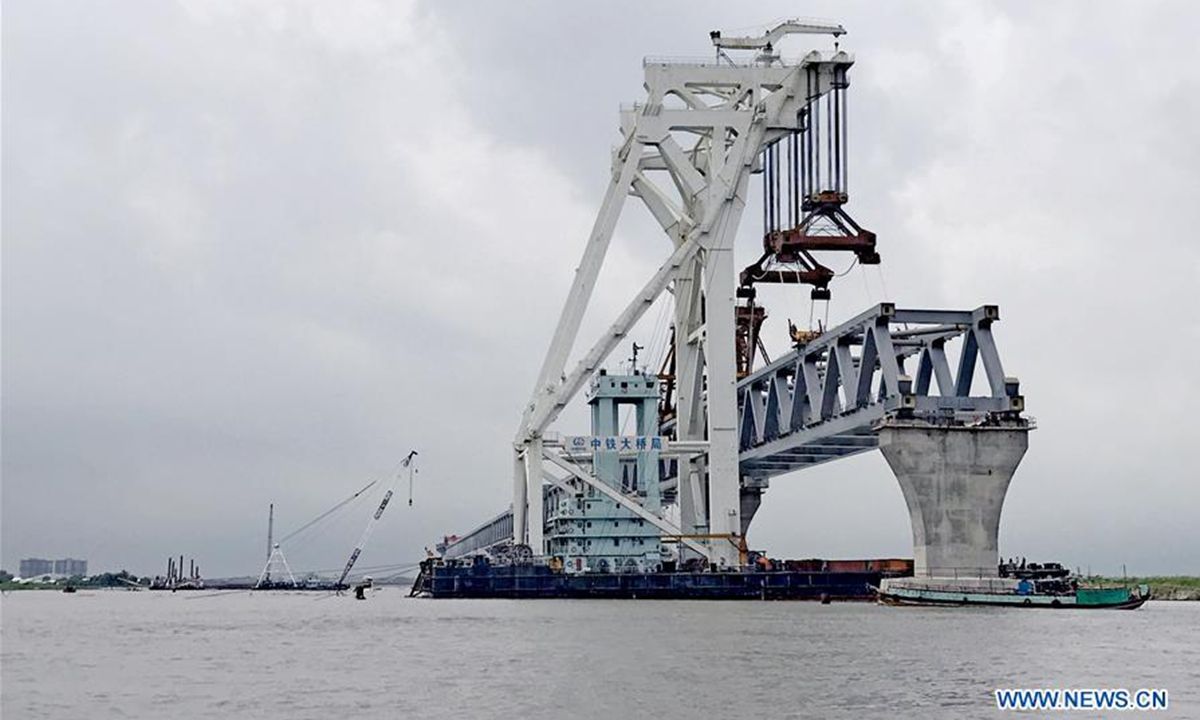 The project involving the construction of railway lines at both ends of the Padma Bridge and of tanks at the bottom of the Karnafuli River in Chittagong are suffering major delays and huge cost overruns, with money spent more than doubling from the original estimate due to repeated extensions.
Chinese companies and workers are notorious for frequently transgressing the environmental and labor standards of the countries in which they operate.
In Bangladesh, coal plant and infrastructure projects are causing widespread displacement of highly populated rural areas and endangering their ecosystem. Inhabitants of the impacted areas have been protesting to stop the relentless seizure of land by the Chinese companies and for better working conditions in the power plants.
Faulty payment, poor labor facility, impracticality, and corruption are characteristic of Chinese projects not just in Bangladesh, but almost anywhere they have entered into infrastructure development.
In a recent case, it was detected that 'bandroll', a thin ribbon wrapped on bidi and cigarettes packets and supposed to be exclusively procured from the Bangladesh government by manufacturing companies, were being illegally printed by a Chinese company, based in Shenzhen.
The Chinese company called 'Digit Anti Fake Company Ltd' (DAFC) supplied counterfeit bandrolls resulting in fraudulent tax evasion of over BD Taka 250 crore for Bangladesh. It was also involved in printing other counterfeit passports, ballot papers, national identity cards, birth registration certificates, etc.
Nepal Too At Receiving End
As the scale of Chinese investment has increased in Nepal, so has their ill-repute for engaging in unscrupulous and nefarious business practices. In December 2019, authorities detained 122 Chinese nationals living illegally in Nepal and involved in financial fraud through electronic transactions.
As the Nepalese law enforcement agencies were conducting investigations,  the Chinese Ministry of Public Security (MPS) exerted influence and post-haste brought back all 122 accused via a special aircraft to Beijing. Chinese nationals have been found to be operating networks of criminals for hacking bank cash machines and gold smuggling in Nepal.
This sort of embezzlement by Chinese nationals, in which the state seems complicit, is not exclusive to Asia. In Africa, the scale of Chinese corruption is widespread and is increasingly being documented. From paying bribes to win contracts to incessant delays in operating and hiding illegal earnings, Chinese corruption takes many forms.
Bloomberg reported the extent of control exercised over Congo's mines by Chinese companies, and how $3 billion in promised infrastructure financing from the Chinese companies, never arrived. In Nambia, four Chinese tycoons reportedly ran a $300 million tax-fraud scheme.
Amazon has permanently banned over 600 Chinese brands across 3,000 different seller accounts. It launched an investigation after the Wall Street Journal alleged that gadget makers like RavPower, part of the Chinese consumer electronics company Sunvalley Group, offered gift cards in exchange for reviews.
Within China also the government's plan to boost the semiconductor industry has in fact led to a series of reckless investments in poorly planned projects, whereby companies "with insufficient knowledge of integrated circuit development have blindly entered into projects." These went bankrupt within a couple of years after swiping multimillion-dollar investments from government organs.
Chinese syndicates and criminals have been extremely efficient in creating loose, flexible multinational structures that often are linked with legitimate business enterprises and thereafter exploiting weaknesses in the law enforcement systems of relatively weaker states.
The PRC is aware that under the ambit of the Belt and Road Initiative (BRI), massive amounts of IFFs are occurring. Why else would Xi Jingping's government pledge a new "Clean BRI" in 2019, promising to promote transparency and integrity, and combat corruption?
However, there hardly seems to be any change to more transparent dealings. In a post-pandemic situation where developing countries too are looking at quick economic recovery, there is a risk of falling prey to illicit financial flows from China.
(The author is an analyst on strategic and economic affairs. She has worked as a consultant with the National Security Council Secretariat for nearly a decade. She tweets at @basu_vaishali). VIEWS PERSONAL
Mail EurAsian Times at: etdesk@eurasiantimes.com