As China's PLA Air Force (PLAAF) showed off its J-6 fighter-turned-drone, military experts draw parallels with the US Air Force's history of converting warplanes such as the F-4 and F-16 into unmanned aerial vehicles (UAVs).
Satellite images indicate that China has converted its 1950s-era J-6 fighter jets into UAVs. Two of China's east coast bases near Taiwan were seen housing a significant number of these fighter jets.
These images, made public by the PLA's Eastern Theatre Command on its Weibo account, were captured during a ceremony marking the commencement of the second phase of a training brigade's cycle.
The particular training brigade photographed has not been identified. The five-digit serial numbers on the J-6s had also been blurred out to prevent identification. The aircraft were left unpainted; however, it was clear in the images that both aircraft had three hardpoints for external storage on each wing.
J-6 — A Vintage Warplane
The Shenyang J-6 is a Chinese fighter aircraft modeled on the Soviet Mikoyan Gurevich MiG-19 interceptor. The piloted version of this aircraft was formally decommissioned from the PLAAF inventory in 2010.
However, despite its retirement, the aircraft had been captured in multiple satellite images of China's strategic airbases situated on its coastal provinces.
Reports emerged in 2013 which suggested that the PLAAF had converted the vintage J-6 fighters into UCAVs. It has been reported that conversion was designed to leverage the obsolete aircraft as a decoy to help carry out Suppression of Enemy Air Defense (SEAD) tactics.
Another intended purpose was to use this warplane as a rudimentary combat drone. Satellite images captured on September 15, 2021, and made available by Planet Labs show 50 J-6 fighters. Nine of the vintage fighters were adjacent to the Liancheng airbase's 7,830-ft long runway.
While updated images from the Xing Ning airbase have not been found, images on Google Earth showing aircraft taxied at the base in March 2013, October 2014, and December 2018.
The J-6s were spotted in various parts of the base based on the pictures taken over the years. These images have indicated that these air assets are not operationally active but have instead been mothballed at the base.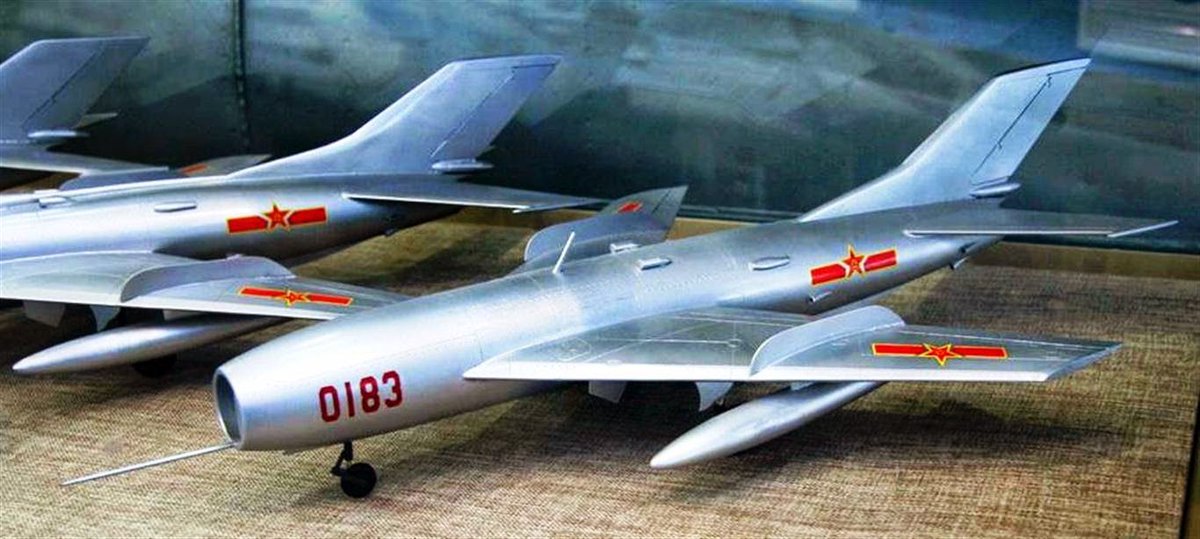 Both the Liancheng and Xing Ning airbases are situated almost 400 km (275 miles) from Taiwan. This places the self-governing island within the J-6's reach. It is poignant to note that Beijing has not publicly acknowledged the conversion of the J-6 fighter jets into combat drones.
What Military Experts Say
When asked about this development, Indian Air Force's Air Vice Marshal Pranay Sinha (Retd) told the EurAsian Times, "It can be used either as a decoy to overwhelm adversary air defenses by their sheer numbers or as a rudimentary unmanned combat aircraft.
It is a vintage MiG-19 class and has no practical purpose other than as stated to be used to overwhelm Taiwan Air Defence systems, provided they can launch them in massive numbers. To me, it is more psychological warfare."
Speaking of J-6s, the PLA's Eastern Theater Command recently released photos showing the PLAAF's J-6 unmanned aircraft conversion. Blurred serials suggest active service; at least 50 can be seen in @planet imagery from September at 1 of 2 bases known to be operating the type pic.twitter.com/HvvMrpnjtB

— Mike Yeo 杨启铭 (@TheBaseLeg) October 20, 2021
Former Vice of Air Staff, Air Marshal Bhushan Gokhale (Retd) said, "The United States has done this many years ago and their utility is multiple, from reconnaissance, SEAD, decoy, a saturation of enemy Air Defence, etc. instead of breaking up airframes into scrap, this is a good option."
J-6s Going The F-16 Way?
Has China copied an American tried-and-tested formula? The US Air Force has long undertaken a similar project to convert its aging F-16 variants and repurpose them as operational drones.
The USAF, however, intended to use these "dronified F-16s"  to test new weapons and air assets, particularly the F-35 Joint Strike Fight. Prior to its refurbishment of F-16s, the service had been catering to this training requirement with its F-4 Phantoms.
The US, however, turned towards the F-16 following a shortage of obsolete F-4 Phantoms to repurpose. The process, according to Woodrow Bellamy, writing for Aviation Today, involves ripping out unnecessary components and replacing them with 3,000 wires, a flight control computer, and a new autopilot.
The planes are also redesignated with the prefix "Q," the military aviation code for unmanned aircraft, making them QF-16s.
The QF-16 is an excellent training tool simulating real-world air combat. According to Popular Mechanics, the aircraft can bank, turn, and kick out flares. It's even capable of landing after an exercise if it isn't shot down, so it can be used repeatedly and train the US and its allies to effectively deal with the 21st-century aerial threats.
The QF-16, as a training resource, gives the USAF and potential foreign customers a far greater combat trainer than the QF-4 which was used for the purpose.
A QF-16 costs $1.32 million, including the research and development (R&D) expenditure.  The QF-16 is to be sold to foreign militaries under the Pentagon's Foreign Military Sales program. Boeing has already committed to delivering 97 QF-16s.
Aritra Banerjee is a defense journalist who has worked in both online and print media. He has laid an emphasis on issues related to military human resources, tactical psychology, military-media relations, professional military education, and combat fitness. He can be reached on email: aritrareporter@gmail.com.