China has been quietly building new airbases, expanding or adding infrastructure to existing ones to turn them into dual-purpose airfields able to simultaneously host civil and military aircraft and mount around-the-clock offensive operations.
---
It is carrying out these activities near its border with two of its main adversaries – India and Taiwan – as tension remains high.
China's massive investment near the LAC is being leveraged by the Chinese People's Liberation Army Air Force (PLAAF), as confirmed by an unusual level of activity in the region. This is besides the deployment in ground-based air defense systems and the development of new fortifications, heliports, and rail tracks.
Across its western provinces bordering India, Beijing has developed new runways that augment the potential of the PLAAF. The appearance of hardened aircraft shelters, underground military infra and amplification of support facilities will help China to prepare for a potential aerial conflict with India, where many experts say IAF holds an edge.
Much of this infrastructure development is focused on boosting the PLAAF and New Delhi is expectedly concerned. According to the Indian Air Force's Chief of the Air Staff Vivek Ram Chaudhari People Liberation Army, Air Force (PLAAF) poses a significant threat to the Indian army and air force assets deployed in eastern Ladakh from airbases in Tibet.
"At the moment, PLAAF combat assets are present at three airbases on their side of the line of actual control but we are fully prepared to meet any eventuality," the air chief said.
He added that operating from bases located on the high-altitude Tibetan plateau, the aircraft won't be able to perform to their full potential because of rarefied air and would be constrained from carrying full weapons and fuel load.
The airbases Chaudhari was referring to are Hotan, Ngari and Shigatse. These are closest to India and are poised for offensive action if and when war breaks out.
Hotan Airbase
This airbase is less than 400 km from Ladakh and it has been very active since the India-China standoff started in April 2020. Facilities have been spruced up and new ones added to cater to the increased inflow of military aircraft, both fixed-wing and rotary­­.
Almost all combat aircraft in PLAAF's arsenal, including the J-20 stealth fighters, have been deployed here at least once. It was a J-20 flying from this airbase which was picked up by radar on the Indian side. If war breaks out, aircraft will be taking off from here to attack Indian positions all along the LAC.
Ngari-Gunsa Airbase
The Ngari airbase/Gunsa airport caters both civilian and military aircraft. It has a 4.5 km runway that can handle every aircraft in PLAAF right from fighter planes to big transport aircraft.
It is strategically located, being very near Ladakh and the states of Uttarakhand and Himachal Pradesh. It is located just 200 km from Pangong Lake, where Indian and Chinese troops are deployed eyeball-to-eyeball.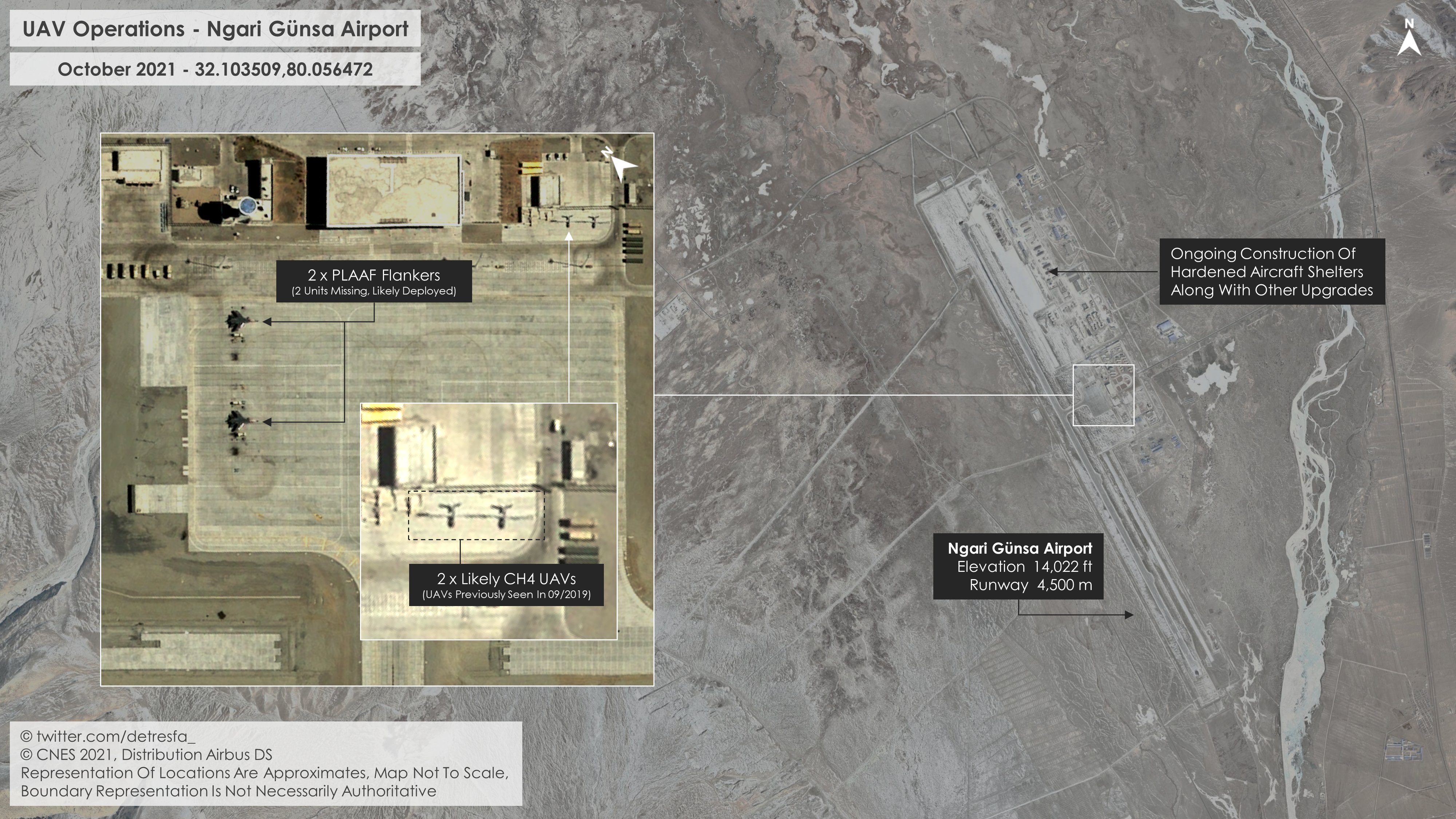 The airport, situated at over 14,000 feet making it the fourth highest in the world, started operations in 2010 but its role as a military airbase was expanded after the 2017 Doklam crisis between India and China.
Setting up of military infrastructure continues. Fighter aircraft like the latest J-16s and its predecessor J-11 are based here. The airbase has 12 hardened shelters to protect aircraft from bombs and missiles.
Shigatse Airbase
It again is a dual-use civilian and military airport located in Shigatse, which is the second-largest city in Tibet after the capital Lhasa. The airport is at a height of nearly 12,500 feet making it one of the highest in the world.
This started off as an airbase in 1973 and only in 2010 civilian aircraft were allowed to use it after it was expanded.
The runway has a length of 5 km making it usable even for the biggest aircraft in the world. This airbase is north of the Indian state of Sikkim and the recent flashpoint of Doklam and gives the Chinese the option to rapidly deploy aircraft to the sensitive region if the need arises.
Additionally, the Chinese airbase at Lhasa is seeing similar expansions to those at Ngari Gunsa, with 24 hardened aircraft shelters under construction as per satellite images.
China Upgrades Airbases Near Taiwan
China is also upgrading three airbases that are located opposite Taiwan as tension continues to rachet up between the two estranged neighbors.
Work on sprucing up infrastructure at these three airbases started in early 2020 and has continued despite the covid-19 pandemic, giving an indication of how important these bases – which are just 160 km to 320 km from Taiwan – are if China launches an invasion to take over Taiwan.
Longtian Airbase
Satellite images show slight expansion of both ends of the runways and new aprons. There is also the construction of new ammunition storage bunkers and four hardened aircraft shelters.
The shelters not only save aircraft from damage and destruction in a counterattack by Taiwanese aircraft or missiles but also hide them from prying eyes and satellites. Administrative buildings and barracks are also taking shape, pointing to an increase in the number of military personnel deployed here.
Huian Airbase
A similar exercise is being carried out at Huian airbase too where munition storage bunkers are being constructed, expansion of runway and aprons is on, pointing to increase in deployment of aircraft. It is likely that these airbases will support air combat assets in the area.
Huian is also seeing the construction of four hardened shelters which will join 24 sunshade shelters already set up there.
Zhangzhou Airbase
A new surface-to-air missile (SAM) site is under construction here, which will be third at the same airbase. There has been an active rotation of equipment, operators and training at all SAM sites located at each of the three airbases.
Though there has been no increase in the number of aircraft deployed at these bases, but improved facilities will no doubt allow a higher tempo of operations which are aimed at not only intimidating Taiwan but also support airborne assault and amphibious operations.
These developments add to the military activity going on along the Taiwan Strait especially the construction of a huge heliport which would support operations like airborne assaults and anti-submarine warfare if China goes to war with Taiwan.
Group Captain Johnson Chacko, KC (Retd) says on India-China border issue – Indian Air Force is a greater threat to China than the Indian Army. Our advantages in the application of airpower are substantially higher. They need to reduce that gap.
Infrastructure is being built for that. We need to analyze the target system and decide which targets form the Centre of Gravity and attack them. Airfields may not be one among them, he told The EurAsian Times.
Air Marshal Bhushan Ghokhale (Retd), former Vice Chief of Air Staff told The EurAsian Times – this was expected in a way because, in absence of such defenses, PLAAF was highly vulnerable.
However, IAF would find answers to deal with this with better weapons. Sustained deployment of the Chinese in the restive regions of Tibet and Xinjiang, be it human resources or military equipment is also not really feasible.