A new photo by China's top law enforcement body juxtaposing the Chinese spacecraft launch with burning pyres of India's cremation grounds took severe criticism online prompting the authorities to delete the post later.
The image, titled "China lighting a fire versus India lighting a fire" showed the launch of Tianhe space module and its fuel burnoff compared with a mass outdoor cremation in India – highlighting the Chinese technological advancement against loss of lives due to the COVID-19 pandemic.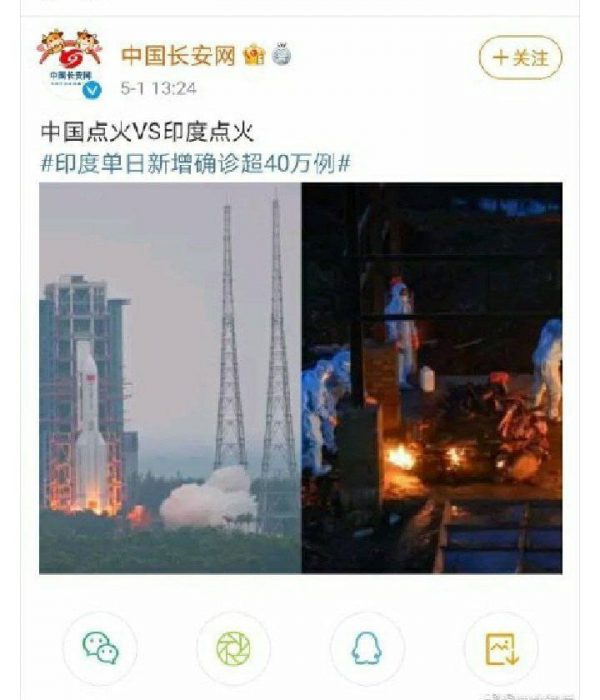 This photo was posted by Communist Party's Central Political and Legal Affairs Commission on its Sina Weibo account, with a hashtag noting that the daily COVID-19 infected tally had surpassed the 4,00,000 mark in India.
However, after this raised concern and attracted criticism, the post was deleted – with many users in China expressing shock and anger over the insensitiveness of the Communist Party.
Despite border issues between India and China, Chinese president Xi Jnping did offer assistance to India as the country faces an acute shortage of medical Oxygen logistics and associated medicines.
Chinese Foreign Ministry spokesman Wang Wenbin also stated that the Chinese Red Cross Society and various governmental and non-governmental organizations are "trying their best to collect the anti-epidemic supplies urgently needed by India, and deliver them to the Indian people as soon as possible."
This has been fueled by the tensions between India and China as both the countries have been engaged in a bitter military standoff at the contentious Himalayan borders of Eastern Ladakh – and despite de-escalation efforts, the situation remains tense.
This border dispute had escalated to multiple unarmed clashes, one of which resulted in the death of 20 Indian and an unspecified number of PLA soldiers – taking the tensions between India and China to a new low since the 1967 Nathu La and Cho La clashes.
China later admitted that it lost four soldiers in the border conflict, a figure Indian commentators called 'deflated numbers'.
After that deadly border clash in the Galwan valley, both sides proliferated deployments against each other including fighter jets, reconnaissance aircraft, UAVs, armored columns and high-power artillery, and even cruise and ballistic missiles.