South East Asia has become a battleground for influence between the US and China, with both countries using all the tools in their arsenal to gain ground in the region.
In a new development, China is courting a staunch US ally – Thailand – by supplying arms and sharing best military practices.
On August 14, the Chinese and Thai Air Forces kicked off the 11-day 'Falcon Strike 2022' drills at Udorn Royal Thai Air Force Base in northern Thailand. This came after a US$380 million deal to buy a Chinese-made S26T Yuan-class submarine for the Royal Thai Navy was revived last week, Hong Kong-based South China Morning Post reported.
This assumes significance as the joint annual exercise between the United States and Thailand, called the 'Cobra Gold,' was scaled down this year with the traditional war games absent from the two-week module. However, they are expected to be back to full-scale next year.
The military drills between China and Thailand also come during increased tensions between Beijing and Washington in the Indo-Pacific. Both sides have upped their deployment and have sharpened their rhetoric on Taiwan. Some experts believe a war in the region could just be a matter of time.
Retaliating to US House Speaker Nancy Pelosi's visit to Taiwan this month, China shut off military communication lines with the US.
The People's Liberation Army conducted extensive live-fire training exercises across the island. On August 15, after another US congressional delegation visited Taipei, the PLA started a fresh set of military drills.
With China's growing influence in the region and a weakening US presence, the latter has taken it upon itself to rekindle its ties with the ASEAN countries that will be of critical strategic value in case of conflict with Beijing.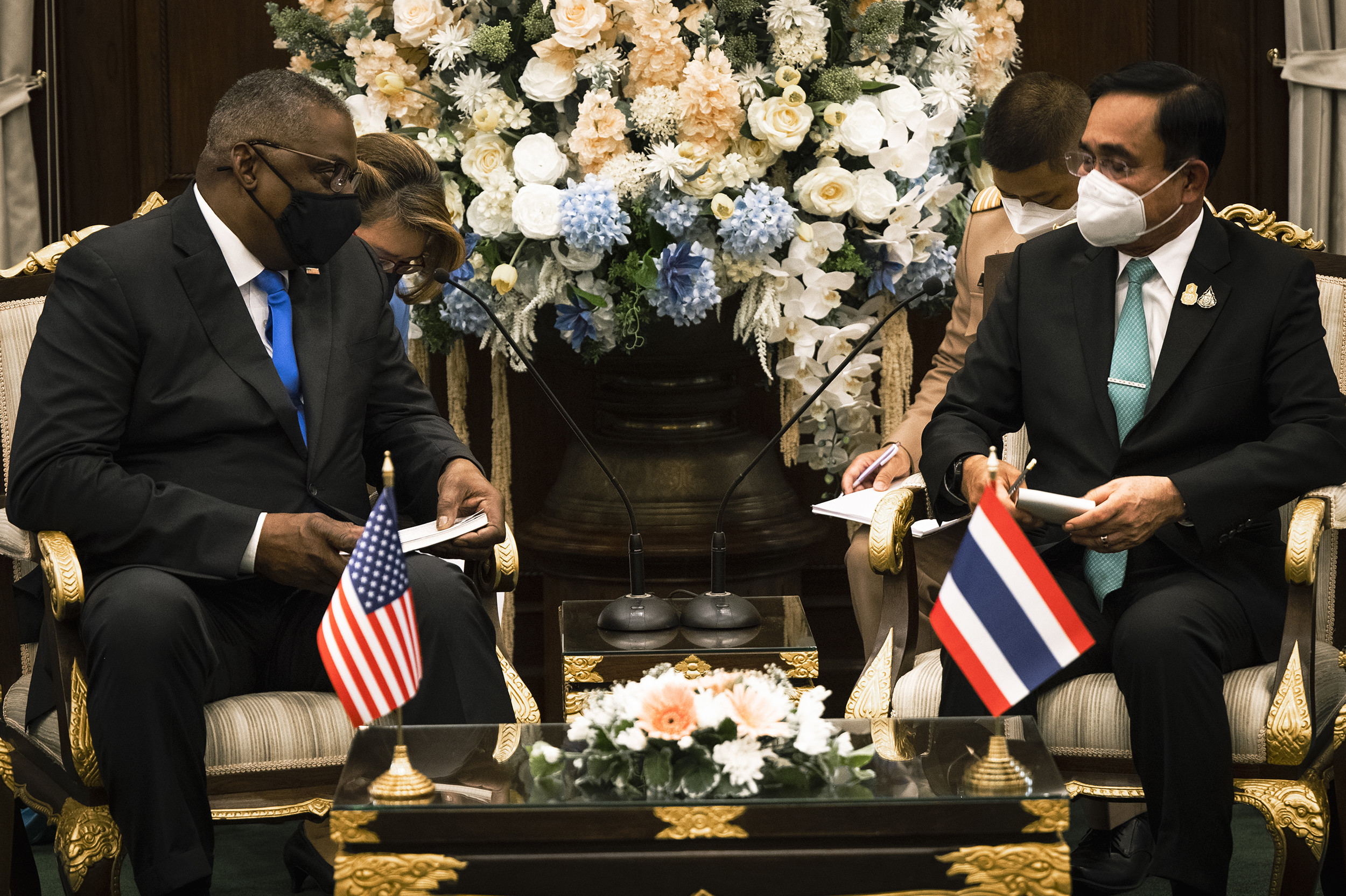 US Defense Secretary Lloyd Austin visited Thailand in June, saying it was part of efforts to strengthen an "unparalleled network of alliances and partnerships" in the region.
Thailand has also signaled that it is ready to join the elite F-35 club. Thailand's House Budget Scrutiny Committee recently approved a budget of 369 million baht ($14.7 million) for the 2023 fiscal year to facilitate the RTAF's procurement of two F-35s (variant A for conventional take-off and landing).
However, the US is still trailing behind China in arms sales to Bangkok.
China's Military Ties With Thailand On A Rise
The first joint training exercise for Falcon Strike took place in 2015. The PLA Air Force brought J-10C fighter jets, JH-7A fighter-bombers, and KJ-500 airborne early warning aircraft for the fifth edition this year.
At the same time, the Royal Thai Air Force provided Saab JAS 39C/D Gripen fighter planes and Saab 340 airborne early warning aircraft built in Sweden, as noted by Chinese state media Global Times.
The two air forces will practice small and large-scale troop deployment operations, air support, and strikes on ground targets. Some incredibly realistic air warfare simulations are anticipated with the aid of airborne early warning aircraft, fighters from both sides, active electronically scanned array radar, and modern air-to-air missiles.
The Falcon Strike military drills between the two have thus come at a reasonable time and follow US military drills with Indonesia at China's doorsteps. The US also recently concluded its RIMPAC military drills with an emphasis on 'Free and Open Indo Pacific.'
In recent years, China has somewhat surpassed the US as Thailand's primary arms supplier, giving the country's governing military junta everything from VT-4 main battle tanks to a Type 071E amphibious dock ship.
The People's Liberation Army Navy (PLAN) currently has five vessels of the Type 071 class commissioned in its fleet, with three more on the way. Thailand became the first export customer of the vessel.
Not just that, the Yuan-class submarine deal stuck in limbo due to Thailand's objections to China's home-grown engines has been revived. China has offered reverse-engineered Chinese-made engines certified by German MTU.
The Biggest Deal Is Back On Track!
The Royal Thai Navy said it might accept a Chinese-made engine for the S26T diesel-electric submarine it ordered from China Shipbuilding & Offshore International Co (CSOC) – replacing the originally specified German-made MTU396 diesel engine – if the substitute meets requirements.
EurAsian Times had earlier reported that Thailand's Prime Minister, Prayut Chan-o-cha, had warned in April that the planned procurement deal with China could be shelved if Beijing could not fit the German engines specified in the original purchase agreement. With the deal back on track, the cooperation is set for a new high.
The Royal Thai Navy will now conduct a complete evaluation by September 15 after receiving the specifications for an upgraded version of the CHD620 diesel engine from the Chinese shipbuilder.
Vice-Admiral Pokkrong Monthatphalin, a spokesperson for RTN, said earlier this month that the sale might proceed if the parameters are adequate and a sample engine passes more testing.
Further, according to Zhang Mingliang, a professor of Southeast Asian studies at Jinan University in Guangzhou, Bangkok deepened its military connections with Beijing partly because the Americans disapproved of the present junta and the coup that put it in power in 2014.
While the US has spoken against the human rights violations in Thailand, China has been a complicit friend.