Given the lessons arising from the US' diplomatic history where the commercial interests have a central role in foreign policy, will President Joe Biden be able to sustain the present tough economic stance against China, the world's second-largest economy?
This is a question that many foreign policy analysts are weighing on following Biden's call to his Chinese counterpart Xi Jinping on September 10 in what is said to be a bid to reset the strained US-China relations.
There are reports that many American business leaders have been putting pressure on the White House to remove tariffs on the Chinese products so that it will be easy for them "to rely on factories in China instead of making investments in the US or elsewhere. And they want assurances that they can do business with a financially important market".
Biden Vs Business Lobby
These business leaders are upset that the Biden Administration continues with the previous Trump regime's confrontational policies, including high tariffs on Chinese goods, export-controls, and bans.
These policies have particularly hurt the US technology giants such as Qualcomm, Intel, and Google. In early August, influential US business groups sent a letter to US Treasury Janet Louise Yellen and US Trade Representative Katherin Tai urging the administration to restart trade talks with China and cut tariffs on imported Chinese goods.
The letter also included the US Chamber of Commerce and the Business Roundtable as well as groups representing sectors of the economy with close business ties to China, such as the Pharmaceutical Research and Manufacturers of America, the Semiconductor Industry Association, and the American Farm Bureau Federation.
Historically speaking, the business pressure on the American Presidents works, more often than not. US foreign policy has invariably favored the cause of open markets for American business, be it surplus wheat or oil or automobiles or airplanes.
Business expansion abroad is often seen as an extension of the American frontier, part of what is said to be "the nation's manifest destiny".
Holding US Foreign Policy To Ransom 
Among many reasons or factors that have been cited by the scholars for the influence of business in US foreign policy, five are particularly noteworthy:
First, many a time corporate leaders, lawyers, and investment bankers do join the highest levels of government as Secretaries. Some of the prominent names in this regard include Elihu Root, Thomas Lamont, Dean Acheson, Robert McNamara, Donald Regan, and Rex Wayne Tillerson. Besides, as the US Constitution gives Congress control over trade policy, there have been always continuous and unlimited opportunities for business lobbying.
Secondly, in this age of globalization, the health of the American economy is more closely linked to foreign markets than was the case in the past. Globalized production has lowered labor costs. The country can no longer generate enough growth, jobs, profits, and savings from domestic sources. More than one-third of America's economic growth now derives from exports.
So viewed, it is said that since China's entry into the World Trade Organization in 2001, profit margins in America have been more than 22% above their 50-year trend. And the companies engaging in trade with China have not benefitted alone; those investing in the communist country have also gained.
Thirdly, economic restrictions or sanctions have not exactly worked. In fact, they have made the matters worse, with strained relations with allies and more antagonized adversaries, not to speak of the economic hardship on innocent civilians.
The US has imposed decades-long sanctions on Belarus, Cuba, Russia, Syria, and Zimbabwe, and North Korea, with little to show in the way of tangible results. These countries have opted to endure economic pain in lieu of making concessions to US demands.
Fourthly, and this is a corollary of the above point, the targeted countries have either found a way out to find alternatives to the US in other countries or retaliated by making the American allies suffer in the process. Russia counter-sanctioned European food imports to stimulate domestic production.
Similarly, the sanctioned countries can go to Airbus, if Boeing stops business. If AT&T imposes sanctions, Alcatel can always help. Samsung can replace Apple.
Fifthly, there is that conventional wisdom that engaging with rising countries like China and introducing capitalist elements into its state-controlled economy will invariably benefit. It will make these countries "responsible" and accountable to the established international order.
And in the long run, it will induce the Chinese leaders "to fully open and privatize the state-directed economy; to liberalize its authoritarian regime; and eventually to become a "responsible stakeholders" upholding the international order.
However, that has not exactly happened. Engaging with China and helping it in the process to be enriched has not led Beijing to appreciate a gradual convergence with the pluralistic West.
Critics point out how China's authoritarian rulers have not believed in co-existence and worked always for re-establishing hegemony over others. They have displayed their military muscles against India and Taiwan. They have unleashed oppression on ethnic and religious minorities. They have been indifferent to international norms and obligations. They have suppressed information on the COVID-19 pandemic born in Wuhan.
Similarly, though China originally promised to open up its vast market, today it bars companies from some industries and forces them into joint ventures with partners that steal their intellectual property.
Beijing's 'Made in China 2025' plan envisions that foreign firms are excluded from new areas such as artificial intelligence. As a result, except for some automobile giants like General Motors and a few tech-hardware stars, most of the American companies are not able to compete in the Chinese market. Even big ones like Amazon and Goldman Sachs have either flopped or been largely excluded as participants in the Chinese economy.
China Exploiting US Economy
On the contrary, China is exploiting America's open economy, critics point out. According to a report, Chinese firms have raised $13bn in America so far this year, and $76bn over the past decade.
Around 400 Chinese companies have American listings, roughly twice as many as in 2016. In that period their combined stock market value has shot up from less than $400bn to $1.7trn.
Analysts like Matt Pottinger, therefore, argue that the way China exploits vital aspects of American and other free societies and weaponizes them in the service of Chinese ambitions, it is nothing but self-destructive habits of important US institutions, especially in finance and technology, to cling to habits acquired through decades of "engagement", an approach to China that led Washington to prioritize economic cooperation and trade above all else.
Now it is time "to pull Wall Street and Silicon Valley back onside, convert the United States' vulnerabilities into strengths, and mitigate the harmful effects of Beijing's political warfare. That must begin with bolder steps to stem the flow of US capital into China's so-called military-civil fusion enterprises", he argues.
Those who call for stern economic measures, including sanctions, against China make essentially three points.
One, they are not convinced by the theory that tough economic actions have never worked in US foreign policy. All told, global terrorism has been contained to a large extent because of the cracking down on terrorist financing and money laundering. During the Obama Administration, sanctions against Iran drove the country to negotiate a deal restricting its nuclear program in return for the lifting of some sanctions.
Similarly, when the Trump administration threatened to raise tariffs and shut down the US-Mexican border to compel Mexico to interdict Central American migrants, the Mexican government deployed its new National Guard to restrict the flow.
Two, the theory that the sanctioned country can always find easy alternatives cannot be valid all the time, as, with regard to China, there is now an emerging global consensus that its hegemonistic ambitions and behaviors constitute a threat to global order, peace, and security.
That explains why despite China being its biggest trading partner (trade of $243bn last year), Germany's enthusiasm for doing business with Beijing has now abated. German Chancellor Angela Dorothea Merkel, who was earlier hesitant to ban Huawei, a Chinese firm, from bidding for contracts to build Germany's fifth-generation telecoms networks, is now having second thoughts under the pressure of the European Union Parliament.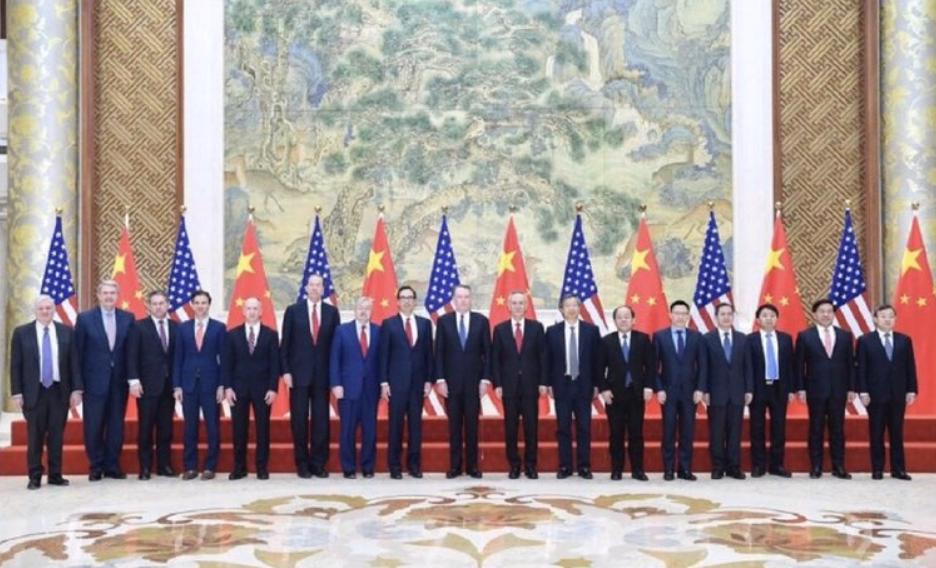 Three, if tough economic retaliation and sanctions are self-defeating, then how is it that China itself is utilizing its economic might as a weapon against other countries? China is said to have used an array of measures to punish Canada, Norway, the Philippines, Japan, and South Korea.
The most aggressive of Chinese economic coercion has been against Australia after the latter proposed that the World Health Organization should investigate the origins of the COVID-19 pandemic. China soon began restricting imports of Australian beef, barley, wine, coal, and lobster.
Beijing also released a list of 14 so-called "disputes" that are, in effect, political demands made of the Australian government—including that Canberra repeal laws designed to counter China's covert influence operations in Australia, muzzle the Australian press by suppressing criticism of Beijing and make concessions to China's territorial claims over the South China Sea.
It is against this background that many analysts would like the Biden Administration to continue, like its predecessor, the economic pressure on China.
They urge President Biden not to succumb to the powerful private interests in the United States, whom they describe as "Wolf warriors of Wall Street" because of their lobbying for Chinese policies and undercutting the country's ability to confront China.
Author and veteran journalist Prakash Nanda has been commenting on politics, foreign policy on strategic affairs for nearly three decades. A former National Fellow of the Indian Council for Historical Research and recipient of the Seoul Peace Prize Scholarship, he is also a Distinguished Fellow at the Institute of Peace and Conflict Studies. CONTACT: prakash.nanda@hotmail.com