After more than a year of the border standoff between India and China in the Ladakh sector, the two nuclear-armed neighbors continue to position more men and material with no concrete progress on disengagement in sight.
Alarm Bells Ring In Beijing Over US' Proposed Defense Budget Aimed At Countering China
Bloomberg News reported that India has deployed an additional 50,000 troops along the Line of Actual Control (LAC) with China, in what it is being termed as the country's "offensive posture".
China hit back, slamming New Delhi for "increasing the military presence and encroaching upon Chinese territory".
With an increase of more than 40% from last year, close to 200,000 Indian troops now remain focused on the border areas from Ladakh to Arunachal Pradesh.
Meanwhile, India's Defense Minister Rajnath Singh is on a three-day visit to Ladakh to review security and reinforcements at the frontiers while inaugurating critical infrastructure projects in high-altitude areas along the LAC.
According to the Defense Ministry, Singh inaugurated the 50m steel bridge between Leh-Loma road that connects to critical forward areas in eastern Ladakh.
Defence Minister @rajnathsingh dedicates 12 roads to nation, built by BRO in Northern and Eastern border areas

Defence Minister e-inaugurates a 20-kilometre long double lane Kimin-Potin road, along with 9 other roads in Arunachal Pradesh and one each in Ladakh & Jammu & Kashmir. pic.twitter.com/Vhu17NVdWl

— All India Radio News (@airnewsalerts) June 17, 2021
Singh also inaugurated 29 frontier bridges in Arunachal Pradesh along with 12 critical border roads, one of them connecting the town of Kimin to Assam's Potin, built by the Border Roads Organization (BRO).
India's Deterrence
India's increased military activity along the LAC comes in the wake of Chinese buildings, helipads, barracks, and bunkers.
Reports also suggest that China has deployed S-400 missiles along the LAC along with T-15 light-weight tanks. China is also raising a mountain brigade by training local Tibetans to counter Indian soldiers, who are better prepared for high-altitude warfare, as many experts suggest.
ThePrint reported that India's logistics-related expenditure last year alone has seen an increase of 46 percent from the allocated amount for 2020-2021 for the entire Northern Command area.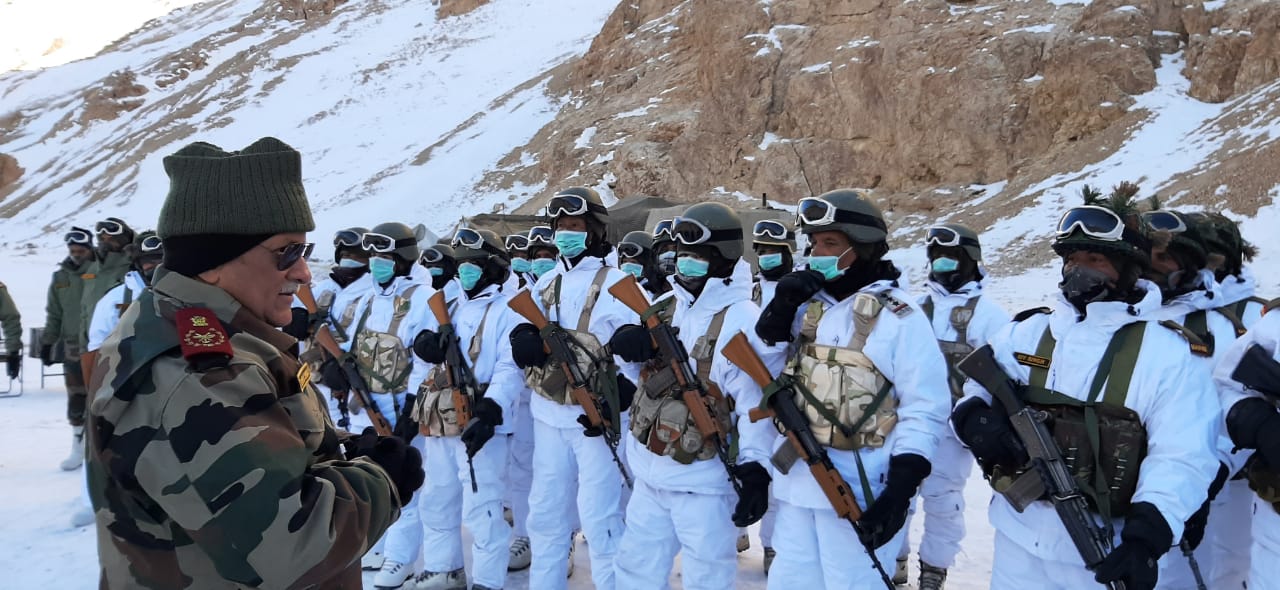 The deployment of additional troops signals two possible strategies for the Indian armed forces. One is that more troops give a better leeway to attack and seize Chinese territory in case of a border flare-up, what is termed as "offensive defense" by military experts.
The other possibility is India enhancing its deterrence capabilities in the wake of one year of the violent Galwan clash in which 20 Indian soldiers were killed.
The harsh winters saw reduced military activity as disengagement talks progressed. With clear skies and a rise in temperature, the additional troops are a necessity in blocking any Chinese incursion, which took place around this time (June) last year.
Beijing's Reaction
The redeployment of Indian troops has set alarm bells ringing in Beijing, as it continues to blame New Delhi for "increasing the military presence and encroaching upon Chinese territory".
"[This] is the root cause of the tense situation along the borders," Chinese Foreign Ministry spokesperson Zhao Lijian recently said at a media briefing in Beijing.
China's state-mouthpiece Global Times published an editorial, calling India's policy "hardline and assertive" amid ongoing border tensions between the two neighbors. Nitpicking on India's "weaknesses", the daily said India is no match for China, militarily and economically.
Great to see the @indiannavy and Air Force come together with the @USNavy to conduct joint integrated sea and air engagements to strengthen our #USIndiaDefense partnership. https://t.co/Puqn3fUj43 pic.twitter.com/sq0qbYfDpT

— U.S. Embassy India (@USAndIndia) June 25, 2021
Accusing the US of pushing India away from China, the op-ed questioned the intentions of the "QUAD mechanism," in trying to make India an "ally."
"They want to create a dragon-elephant rivalry, in which China and India are hostile against each other and consume each other in the long run," the article said.
The Third Element — Pakistan
In another report, Global Times noted the strong bilateral relationship with Pakistan which is "based on trust", referring to the comments made by Pakistani Prime Minister Imran Khan during an online press conference on June 29.
Khan also criticized US efforts in building a "regional alliance" and cautioned India's tilt towards the Western world as a counterbalance to China, "is going to be very detrimental for India".
This jarring tone is visible in other anti-India propaganda messages spreading in Beijing.
"China and India need to make good use of each other's strengths and progress together. They should never fall into a border standoff and needless competition pushed by the West. That would be a nightmare for India," the Global Times op-ed said.
Along with the China-Pakistan Economic Corridor (CPEC), China has proven to be the strongest ally of Pakistan in providing financial and political aid by raising the disputed Kashmir issue at the international forums.
The bonhomie between the two raises concerns for India, which continues to face threats of a two-front war. The role of suspected Pakistani terrorists in a recent drone attack at the Jammu Air Force has added to the unease of security agencies.
Pakistan-based terror group Jaish-e-Mohammed (JeM) might have been behind the attack at the Air Force station in Jammu, which was triggered by drones — in a first such incident of its kind in the country.https://t.co/qCyCnT8wFm

— News18 (@CNNnews18) June 28, 2021
Meanwhile, India has been involved in backchannel diplomacy to ease the impasse with Pakistan, to keep the military resources and energy directed towards China.
READ MORE
Watch: The Ultimate Dogfight Between US & Russian Fighter Jets Over A 'Top-Secret' Air Base In Nevada
---
30 Times Faster Than Speed Of Sound: Is China Really Winning The Hypersonic Race With Its JF-22 Wind Tunnel?
---