The border tension between India and Pakistan has become a cause of concern for China as any unrest in the Jammu and Kashmir region could directly impact the $50-billion China-Pakistan Economic Corridor (CPEC) corridor, part of Beijing's ambitious Belt and Road Initiative. 
Double Trouble: Massive Russian Transport Aircraft Skids Off The Runway After Engine Failure: Watch
"China is a third-party country that has certain economic projects, mostly infrastructure, in the disputed region," an editorial in China's state-owned media, Global Times, said.
It stated that Beijing has constantly made efforts to develop the region and "its economy through triangular cooperation with India and Pakistan".
"The Kashmir region needs economic development, and India and Pakistan need to guarantee the safety of third-party projects there, otherwise it will be hard for the local economy to reach outside help and investment," it said.
Chinese concerns have surfaced after Pakistan released a dossier on 14 November claiming it has proof that India has been behind the terror attacks in the country. Inter-Services Public Relations (ISPR) Director General Maj Gen Babar Iftikhar and Foreign Minister Shah Mahmood Qureshi released the document, which alleged that "the Indian intelligence agencies are patronizing banned outfits such as Tehreek-i-Taliban Pakistan (TTP), Balochistan Liberation Army (BLA) and Jamaatul Ahrar (JuA)".
Pakistani newspaper The Dawn quoted the foreign minister as saying: "A clear correlation could be seen between the announcement of the China Pakistan Economic Corridor (CPEC) and terrorist attacks in Balochistan".
On 15 November, India's External Affairs Ministry dismissed the allegations as Pakistan's "desperate attempt" to divert attention from internal problems.
"The press conference was a deliberate attempt on the part of the Pakistani establishment to shift focus from its internal political and economic failures. It also seeks to justify cross-border terrorism, including ceasefire violations and infiltration across the LoC and the International Border," Ministry spokesperson Anurag Srivastava said.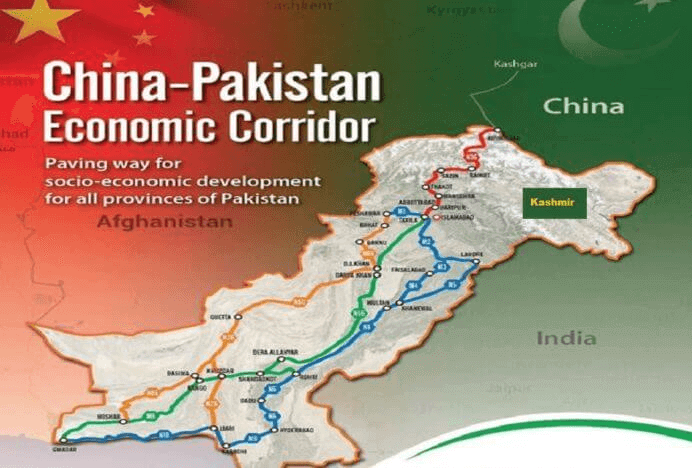 The Chinese state media has said, they are unsure of the allegations made by Pakistan but Beijing will be keeping a close eye on the developments because of CPEC. "If Chinese projects are also targeted in the regional conflict, there will be even fewer opportunities for the region to attract investment and obtain aid," it said.
Beijing has often raised concerns over the instability in Balochistan and Pakistan-occupied Kashmir since the major CPEC projects run through these regions.
It has been suggested that Pakistan decided to declare Gilgit-Baltistan as a province following the meeting of Pakistan Army chief, Gen Qamar Bajwa and Chief of the Inter-Services Intelligence (ISI) Lt Gen Faiz Hameed with 15 key opposition leaders last month on the issue of CPEC.
The region is strategically important for China as it provides the sole overland access to the strategic waters of the Middle East, a gateway to China's oil imports via the Karakorum Highway.
Since India claims the region to be part of Jammu and Kashmir, China has been concerned about the region's status.
The year 2020 has witnessed the highest levels of firing along the 742-km Line of Control since the signing of the 2003 India-Pakistan ceasefire agreement. Pakistan has committed a record number of 4,052 ceasefire violations this year alone.
Six civilians, four Indian Army personnel and a Border Security Force jawan have been killed in the firing from the Pakistani side across three sectors in past three days. Pakistan has claimed that one of their soldiers and five civilians were killed in cross-border shelling. India had summoned the Pakistan diplomat following the incident.
India claims that Pakistan resorting to unprovoked firing is aimed at helping terrorists infiltrate into its territory. The tensions have further soared with the heated exchange of words between the leaders of the neighboring countries.
Pakistan Prime Minister Imran Khan said in a series of tweets: "Let there be no doubt anywhere that we know how to defend our country and will continue to do so with our combined national resolve".
We have provided irrefutable evidence of India's state sponsored terrorism inside Pak. Details of financial & material support & Indian state's direct involvement in terrorism have been given to the world which, in the face of this evidence, cannot remain indifferent or silent.

— Imran Khan (@ImranKhanPTI) November 14, 2020
Indian Prime Minister Narendra Modi, without naming any country, warned its neighbor that India will give a befitting reply. Modi said this during his address to Indian soldiers at Longewala post in Rajasthan's Jaisalmer on 14 November.
Some more glimpses from Longewala earlier today. pic.twitter.com/aZQaRHTlxi

— Narendra Modi (@narendramodi) November 14, 2020
Border tensions between India and Pakistan have escalated since New Delhi last year abrogated Article 370, stripping Jammu and Kashmir of its special status. Pakistan, along with China, has made efforts to raise the matter at the international platforms such as the UN Security Council, where member states have termed it as a bilateral matter.