The pictures of outgoing US President Donald Trump's supporters unleashing havoc in Capitol Hill have gone viral and Chinese media has used this opportunity to ridicule America. The state-owned media has accused the US press and politicians of double standards when it comes to unrest in their own country.
Qaher-313: How Powerful Is Iran's Fifth-Gen' Fighter Jet That Looks To Challenge US' F-35, F-22 Raptors?
On Wednesday, as the US Congress held a joint session to finalize certification of Joe Biden's presidential election victory, pro-Trump protesters breached the US Capitol building, clashing with law enforcement personnel and indulging in arson and looting.
China's state-owned Global Times has shared a series of pictures while comparing the scene of protests in Washington to that of Hong Kong. GT has drawn a contrast between statements of the US leaders on the Hong Kong protesters and those in Washinton.
The Chinese tabloid also recalled the 1814 invasion of Washington by the British and how the Capitol was torched after a victory over the American forces.
Nancy Pelosi, Speaker of the US House of Representatives, had termed Hong Kong protests as "a beautiful sight to behold". GT has taken a jibe at the American politician after a picture of one of the Trump supporters sitting behind her desk went viral and asked if it's a sight to behold or not.
The report also cited a comment by a Chinese netizen: "Now, this beautiful sight is taking place in the US. Pelosi can enjoy the beautiful sight – even at her office desk! For such a long time, US politicians called rioters 'freedom fighters' in other countries. Now, they finally have retribution!"
.@SpeakerPelosi once referred to the Hong Kong riots as "a beautiful sight to behold" — it remains yet to be seen whether she will say the same about the recent developments in Capitol Hill. pic.twitter.com/91iXDzYpcO

— Global Times (@globaltimesnews) January 7, 2021
The GT report claims that Chinese social media users have made sarcastic comments, using terms like "Karma," "retribution" and "deserving".
In another set of pictures, GT has compared Secretary of State Mike Pompeo's comments on Hong Kong protests and his comments on the protesters storming the Capitol. The Chinese media has recalled how Hong Kong's pro-democracy protesters were labeled as "heroes sending a message to the world", while the same protesters in DC were called out.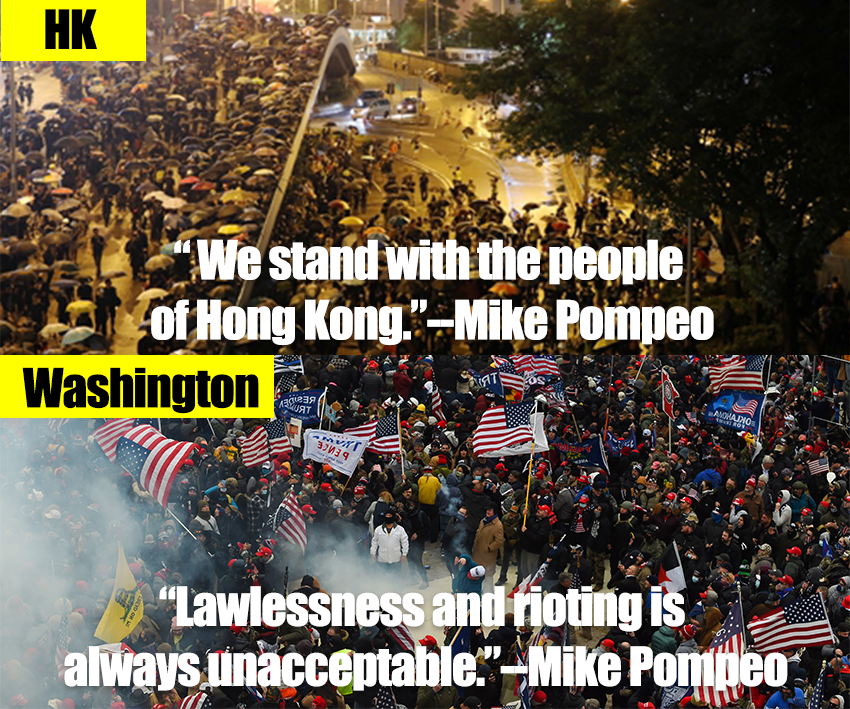 Chinese netizens, the report said, have come out with a slogan to liberate the US. They have also reportedly raised "five demands" including "recognizing the Democratic Party cheated in the presidential election and denying that Biden is the new president; revoking the definition of violence; revoking the charges against the protesters; establishing a commission to investigate police violence and holding a second presidential election to ensure justice and fairness".
After Twitter suspended Donald Trump's account for 12 hours, Chinese social media users questioned if it was not "hurting freedom of speech", the GT reported said.
Shen Yi, a professor at the School of International Relations and Public Affairs of Fudan University, told GT that the bubbles of "democracy" and "freedom" and "universal values" have been burst.
GT also quoted Tom Fowdy, a British political and international relations analyst, as saying that the Western media has double standards when it comes to unrest in its own country while they encourage protests in other countries for "political purposes".
Follow EurAsian Times on Google