After media reports stated that China has deployed J-20 stealth fighter jets near the India-China border, Chinese state media, Global Times (GT), has clarified that the People's Liberation Army (PLA) has not announced any J-20 deployment at Hotan Airbase.
After Banning Chinese Drones, Pentagon Approves Five US Firms For Drone Manufacturing
The Hotan airbase lies about 200 miles from Ladakh where the Indian and Chinese troops were engaged in a brutal clash, killing 20 Indian soldiers and an unconfirmed number on the Chinese side. Both sides are working to resolve the standoff, however, the process has been sluggish. 
Speaking to Chinese military aviation expert Fu Qianshao, the tabloid stated that since J-20 is a long-range heavy fighter jet and if deployed in Hotan can potentially cover many areas in Central and South Asia.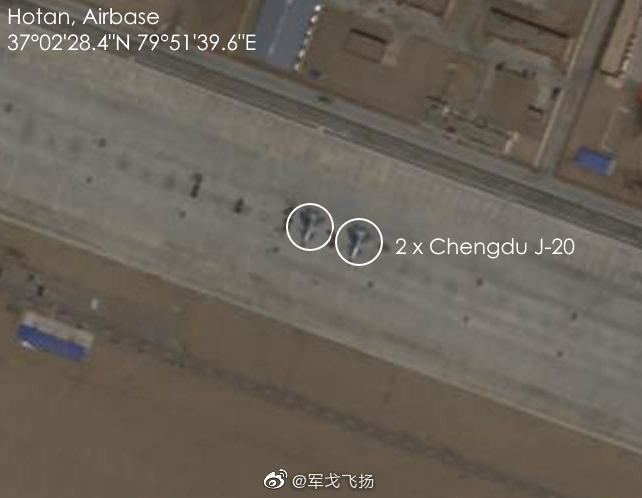 "But foreign media should not over-interpret its possible presence in a flashpoint region, as it is likely part of normal training on a long-distance flight and environment adaptation," Fu said. "China is a large country with many airfields in various terrains and under different climate conditions, and the J-20 needs to fly in more regions to adapt," he added. 
After Banning Chinese Drones, Pentagon Approves Five US Firms For Drone Manufacturing
The tabloid also stated that the Chinese J-20 is the most advanced stealth fighter jet, comparable to the likes of the US' F-22 and F-35. Further comparing the J-20s with the newly acquired India's Rafale jets, GT quoted unnamed Chinese military experts who said that "the Rafale is only a third-plus generation fighter jet, and does not stand much of a chance against stealth, fourth-generation one like the J-20."
Israel-UAE 'Historical Pact' Betrayal Of Jerusalem's Al-Aqsa Mosque, Palestinian Cause – Experts
The media reports also added that PLA along with two J-20 has also deployed other warplanes including H-6 bombers, to airports in Xinjiang. The tabloid has echoed the sentiments of Chinese Foreign Ministry spokesperson Zhao Lijian, who last week said that China is willing to work with India to enhance mutual political trust, properly manage differences, strengthen pragmatic cooperation, and safeguard the overall development of bilateral ties.
India and China have had several rounds of military and diplomatic talks, however, there is still a long way to go before total disengagement on the Line of Actual Control (LAC).