In a move that lays the ground for NATO to employ commercial tankers for fuel replenishment at sea, the British Royal Navy's auxiliary ship Tidesurge on 11 May linked up with the US-flagged commercial tanker MT Maersk Peary in Lyme Bay to see whether oil could be transferred between the two vessels.
The Royal Fleet Auxiliary (RFA) supports Royal Navy warships on missions across the world. It teamed up with the US Military Sealift Command (MSC), which boarded the Peary for the testing.
The refueling rig from Tidesurge was successfully moved across to the Peary. It then connected up with a replenishment station as part of the Replenishment at Sea (RAS) test, said the service in the press release. 
"Replenishment at sea from a commercial tanker to a fleet replenishment oiler can ensure our navies remain supplied and supported in a contested environment when port visits for resupply can't be accomplished," said Captain Douglas Jaarsma, the US MSC Exchange Officer with the RFA. 
Though no fuel was exchanged, the successful connection demonstrated the civilian tanker's capacity to connect with a military vessel. This development could be employed to keep warships afloat if the fleet's auxiliary tankers cannot replenish supplies by docking.
The Royal Navy highlighted that during the Falklands conflict 40 years ago when it depended heavily on commercial tankers to keep a task force afloat 9,000 miles from the UK. However, in recent years, neither assistance nor training has been required. 
"This exciting trial is the first step for the Royal Navy in developing an organic national capability to consolidate fleet replenishment oilers from commercial vessels. It has delivered assurance to both nations that the ability to work together remains a key tenet," said Captain Sam Shattock, the RFA Chief Operator.
Why Is This Capability Critical For The Military? 
The flexibility of Navy warships to operate at sea for prolonged campaigns is critical to persistent presence, and being resupplied on station by the Navy's Logistics fleet, which transports fuel, ammunition, and supplies to the fleet at sea, is critical to those extended patrols.
Major naval powers have relied mainly on their logistical ships, which include oilers, munitions ships, and supply ships, to replenish fleet forces. However, long-range precision strike weapons might now strike some of those depots, putting the entire supply chain at risk.
The US Navy, for example, has a sizable Combat Logistics Force (CLF) fleet, but it may not be sufficient in a contested environment. As these weapons' range and precision improve, the necessity for backup from massive supply depots and large resupply ships becomes increasingly critical.
At sea, the Navy can pump fuels from commercial oil tankers to CLF vessels. Instead of going to a supply depot to replenish, the CLF ships can remain closer to the fleet.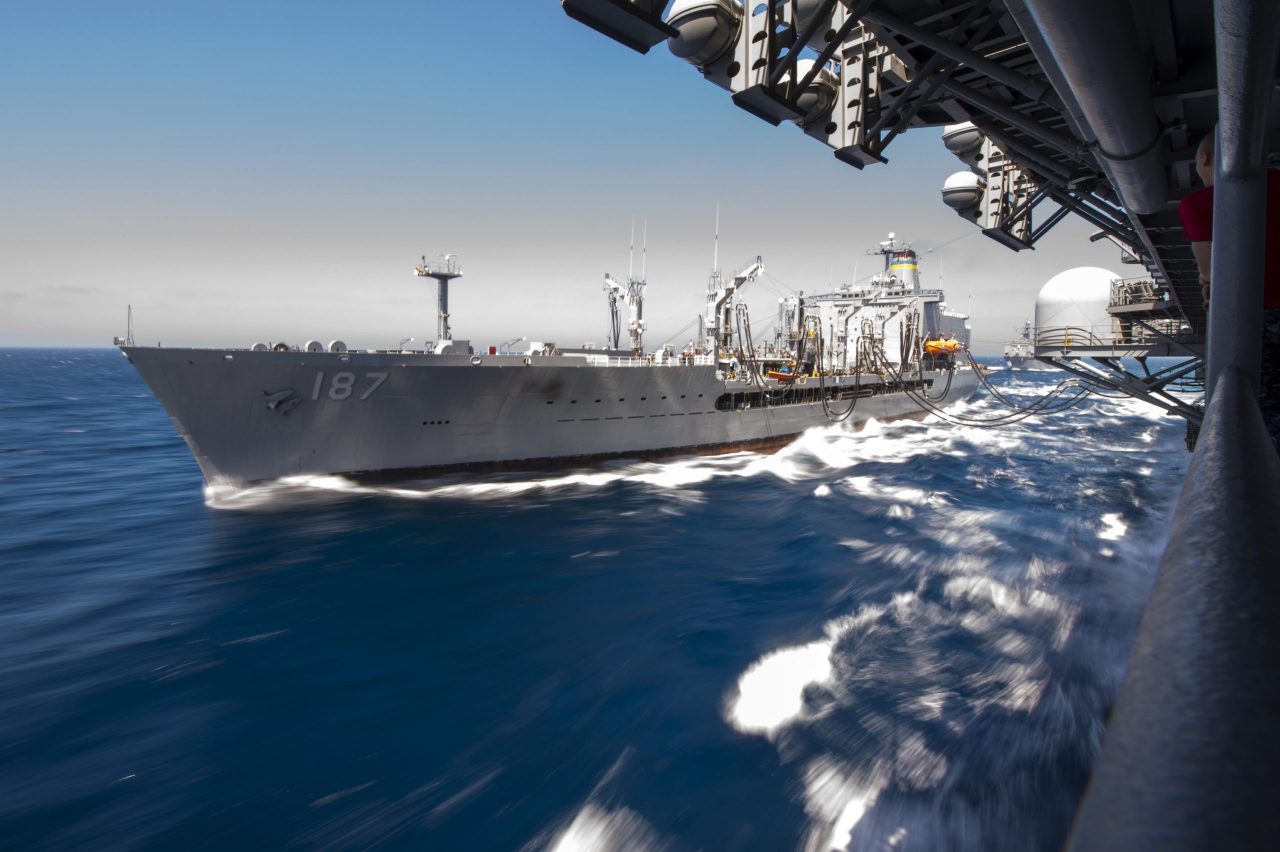 In 2015, the US-flagged commercial tanker M/V Maersk Peary refueled the Henry J. Kaiser-class fleet replenishment oilers USNS Rappahannock (T-AO 204) and USNS Tippecanoe (T-AO 199) at sea, under charter to MSC. This ability is known as consolidated cargo replenishment at sea (CONSOL). 
Although this capability has only been used a few times, it gives operators additional flexibility and options for refueling the fleet. Normally, Military Sealift Command's leased tankers would bring fuel to the Navy's Defense Fuel Support Points throughout the world, where CLF ships would pick up fuel and supplies to circulate to the fleet.
Military Sealift Command's Kaiser-class oilers supply customer ships at sea with fuel, fleet cargo, and provisions while they are at sea. They can transport up to 180,000 barrels of fuel oil and jet fuel, enough to sustain a carrier strike group for many days.
The CONSOL capability is designed to restock a ship that can refresh battleships at sea. Fueling CLF ships eliminates the need for them to return to a port to refuel. Minimizing round-trips to the depot lowers costs and increases time on station for fleet assistance.