The Croatian Air Force has officially taken delivery of its first Dassault Aviation Rafale F3R fighter aircraft at the French Air Force base in Mont-de-Marsan.
The October 2, 2023, handover marked the transfer of ownership from the French Republic to the Republic of Croatia. 
The first aircraft, with the tail number 170, is a dual-seat configuration and will serve as a training platform for the Croatian Air Force (Hrvatsko Ratno Zrakoplovstvo) pilots.
Numerous prominent Croatian dignitaries witnessed the ceremony, including Defence Minister Mario Banožić and a delegation from the Croatian Armed Forces led by Chief of General Staff Admiral Robert Hranj. 
A delegation from the French armed forces and the Ministry of Defense, led by General Luc de Rancourt, Inspector of the Armed Forces for Combat Aviation, was present at the ceremony.
Generacijski uspjeh @VladaRH: 🇭🇷 službeno preuzela vlasništvo nad 1️⃣. Rafaleom od 🇨🇵 .Ovim povijesnim iskorakom, uvođenjem u #HRZ borbenih aviona 4️⃣. generacije 🇭🇷 je učinila povijesno jačanje ukupne borbene moći #HV. 🇨🇵🤝🇭🇷✈️ #CRORafale
@Armee_de_lair @FranceenCroatie pic.twitter.com/Pug6G1bi5p

— MORH/MoD Croatia (@MORH_OSRH) October 2, 2023
Following the official reception ceremony of the Rafale aircraft in France, Croatian pilots flew to the Bordeaux Training Center. Croatian Air Force pilots and maintenance crew would get additional training at this facility.
Defense Minister Mario Banožić said, "I want to emphasize that the modernization of the Croatian Air Force will ensure that no one in this part of Europe will have a stronger, more modern and powerful air force."
Croatia's procurement comprises 12 second-hand Rafale F3R fighters — ten single-seater Rafale C and two twin-seater Rafale B fighter aircraft — all sourced from the French Air and Space Force.
The package includes weapon systems, spare parts, logistical support, a simulator, and comprehensive training services. An agreement worth EUR 1.15 billion (equivalent to US$ 1.21 billion) was formally inked in November 2021, with scheduled payments spanning 2021 through 2026. 
Croatia's Procurement Of Rafale Fighters
Croatia's acquisition of the 12 Rafale fighter jets was prompted by the urgent need to replace its aging MiG-21 Bis/UMD interceptors. The country's Air Force currently operates nearly 12 MiG-21s.
Croatia's MiG-21s had previously undergone a limited upgrade as part of an agreement signed in 2013 in Ukraine, intending to extend their operational service until 2024.
Croatia's search for a suitable replacement for its aging MiG-21s has been a protracted journey. The Croatian Ministry of Defense initially commenced selecting new fighter jets in mid-2015. 
However, this effort faced a setback when a new Croatian government assumed office in late 2016, necessitating the restart of the selection process. 
Croatia tried in 2019 to acquire a squadron of second-hand Western fighters to address its predicament. Various offers were considered, including French Mirage 2000s, US F-16 Block 70/72s, Italian Eurofighters (second-hand Tranche 1), and second-hand F-16s from Norway, Greece, or Israel. 
Israel's bid, offering 12 used Barak F-16 C/Ds, was initially chosen as the winning proposal. However, the United States intervened by blocking the transaction, denying Israel the necessary export permit to resell the F-16s to a third country.
The US insisted on removing all indigenous modifications from the aircraft before their sale to Croatia. Given that the Barak F-16s had undergone extensive modifications, including integrating indigenous avionics and weapons, complying with this requirement would have been a substantial and complex process.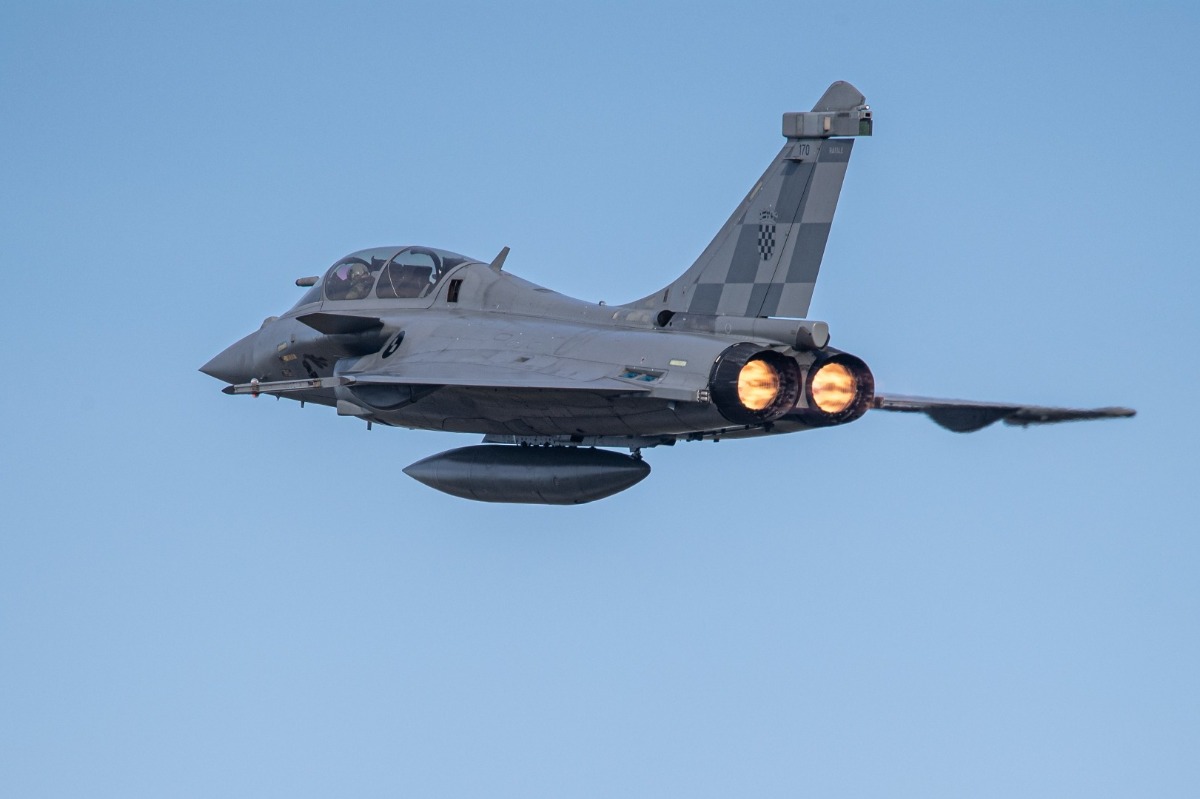 Consequently, Croatia was compelled to restart its search for suitable fighter aircraft. Ultimately, in mid-2021, Croatia selected the offer presented by Dassault and the French Government, opting for a dozen Rafale F3R fighters, including ten single-seat and two twin-seat aircraft, sourced from the French Air and Space Force inventory.
The Croatian Air Force and Air Defence (AFAD) have plans to operate the Rafale fighter aircraft until the early 2050s, indicating their long-term commitment to these aircraft for their air defense and operational needs.
Meanwhile, Commander of the Croatian Air Force, Brigadier General Michael Križanec, stated, "These will be the 4+ generation aircraft that position us as credible NATO partners, a European member, in a position that we had until now in other branches this new position of ours will bring us new tasks, but also certain new values in that society, which we will further try to develop with our allies and partners through further modernization and equipping of all three branches." 
The new development marks the official and legal transfer of the first Rafale fighter aircraft, which is set to join the Croatian Air Force and will be followed by the arrival of the other five aircraft in Croatia at the outset of the second quarter of 2024.