The Royal Saudi Arabian Air Force (RSAF) is likely to receive AIM-120 missiles from the US for its F-15 (SA) fighters which are the most advanced variant of the F-15E Strike Eagle.
A total of 280 AIM-120C air-to-air missiles will be delivered to Saudi Arabia as part of a $650 million defense deal.
China Racing Ahead Of US Navy At Breakneck Speed; Building 20 Warships Per Year In 17 Shipyards – Top Official
The Pentagon on November 4 confirmed that the US State Department has given its consent for the potential missile sale. Now, the US Congress has to put its stamp of approval on the same.
This comes in response to a request by Riyadh to purchase 280 AIM-120C-7/C-8 Advanced Medium-Range Air-to-Air Missiles (AMRAAM) and 596 LAU-128 Missile Rail Launchers which had been stuck in a policy limbo.
It would provide Royal Saudi Air Force with the missiles along with logistical services, technical support, and spare parts required for operating such advanced munitions. Raytheon Technologies will be the principal contractor of this deal.
Washington Delaying Deal?
Earlier this year, the Biden administration had placed the deal on indefinite hold as a result of a policy decision to mitigate violence in Yemen, resulting in an unprecedented humanitarian crisis.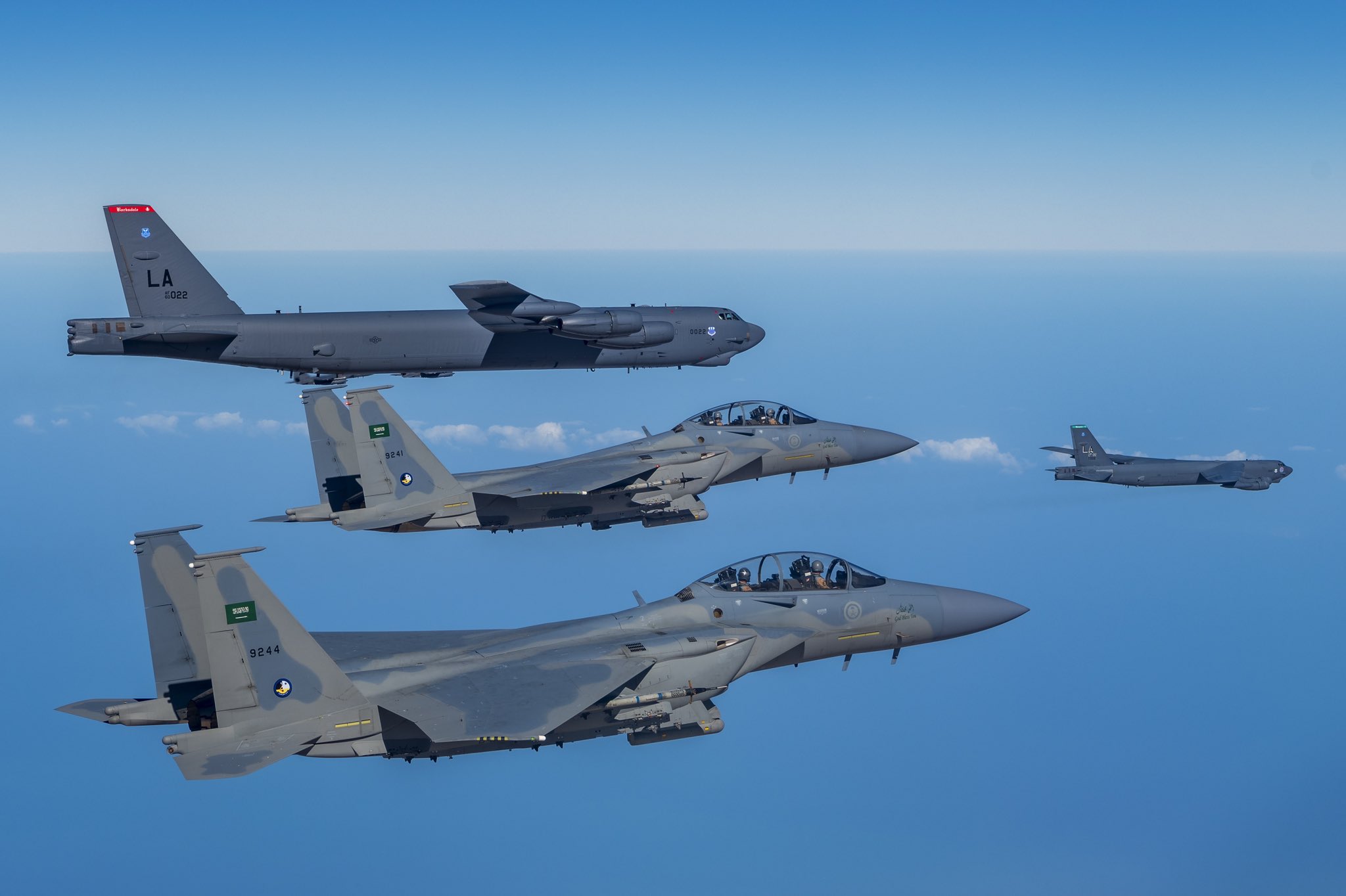 A US State Department spokesperson told the press that the approval of the sale comes in response to a spurt in cross-border violence perpetrated by Houthi rebels (Iranian proxy) over the past year.
These missiles would arm Saudi Arabia's Eurofighter Typhoon, F-15C/D, F-15S and F-I5SA. The State Department spokesperson went on to explain that the missile had successfully been deployed to eliminate hostile drones which posed a risk to both Saudi civilians and American troops deployed there.
"Pushing Law Of Physics" – Northrop Grumman's New Long-Range Stealth Fighter Aircraft Breaks Cover?
The official maintained that the missiles are "not used to engage ground targets". The official went on to stress that the sale "is fully consistent with the administration's pledge to lead with diplomacy to end the conflict in Yemen while also ensuring Saudi Arabia has the means to defend itself from Iranian-backed Houthi air attacks".
Congress has been notified of the sale by the Defense Security Cooperation Agency (DSCA). However, these notifications do not mean the sale is final. It is only after Congress gives it the go-ahead, can actual negotiations commence. The final price and quantities will then be decided.
Big Boost For Saudi F-15s
This deal follows a longstanding albeit controversial defense cooperation between Washington and Riyadh. The United States has remained a long-time supplier of F-15s to the Royal Saudi Air Force. The US and Saudi Arabia had reached an agreement worth $30 billion for F-15s in 2011.
Block IV Upgrade: F-35s Could Fall Behind Chinese Stealth Fighters If US Delays Modernization Plans
Former Assistant Secretary of State for Political-Military Affairs Andrew Shapiro had said that the mammoth fighter jet deal included 84 F-15SA aircraft along with the "modernization" of 70 existing fighters, besides "munitions, spare parts, training, maintenance and logistics".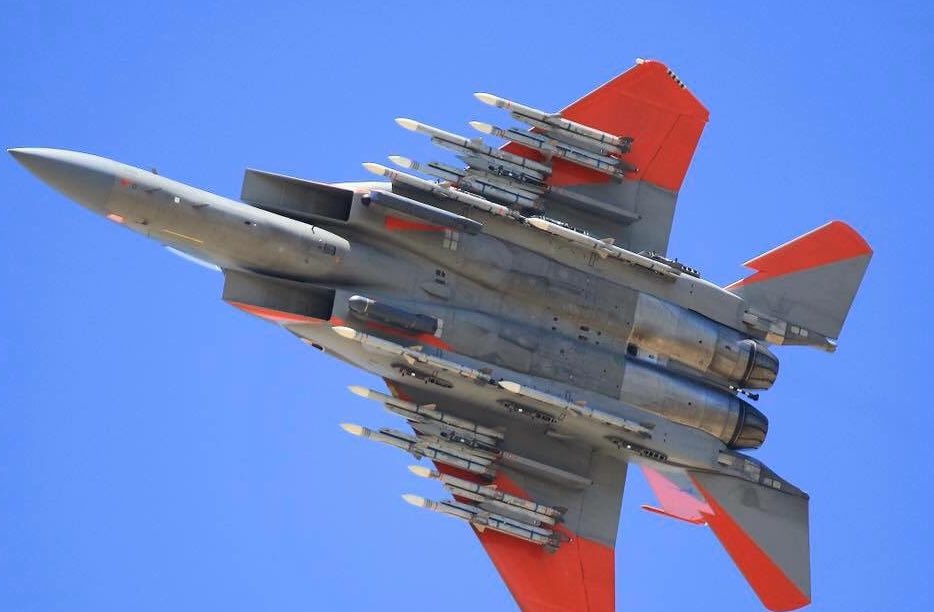 Boeing aerospace was awarded a whopping $9.8 billion contract to modernize and carry out design work on the Royal Saudi Air Force's F-15 fleet. This materialized last month when RSAF used its F-15s Strike Eagles (which it received as part of the contract) to fire harpoon missiles.
This demonstration of Saudi firepower was part of a drill known as the Naseem Al Bahr XIII. The exercise saw a series of "bilateral maritime maneuvers" with Pakistan.
The  F-15SA fighters in operation by RSAF successfully demonstrated the undefeated F-15 fighter platform's ability to knock out warships and other maritime assets with its AGM-84 Harpoon anti-ship missiles. This was seen as one of the more lesser-known operational capabilities of the Eagle.
F-35 Stealth Jet Or Eurofighter Typhoon? Spain In A Bind Over Replacement Of Aging US-Origin F-18 Hornets
The RSAF exercises further indicated that it was capable of using its F-15s to strike strategic naval targets from a considerable range. This capacity was demonstrated by RSAF by flying its Harpoon-armed F-15 jets from Saudi Arabia to a location off the coast of Pakistan with tanker support without having to stop.
The F-15SA and its subsequent upgrades of the Strike Eagle can carry a vast array of ordnance, ranging from precision-guided missiles to types of sophisticated munitions. However, F-15s have rarely carried Harpoon anti-ship missiles.
Saudi Arabia is the only F-15 operator apart from South Korea, to have successfully integrated the Harpoon into its Eagle fleet.
AIM-120 AMRAAM
The AIM-120 AMRAAM is a new generation all-weather missile manufactured by Raytheon. Its primary operators are the US Air Force (USAF) and the US Navy besides American allies like Saudi Arabia.
The AIM-120 is a derivative of the Sparrow range of missiles, however, is considerably lighter, compact, and more agile than its parent range of missiles.
The overall length of the AIM-120 at 3.6 meters, its diameter at 17.7 centimeters, and its wingspan at 52.5cm. The 150.7 kilogram AIM-120 missile has a guidance system consisting of an active radar terminal/inertial midcourse and has an operational range varying between 20 nautical miles and 30 nautical miles.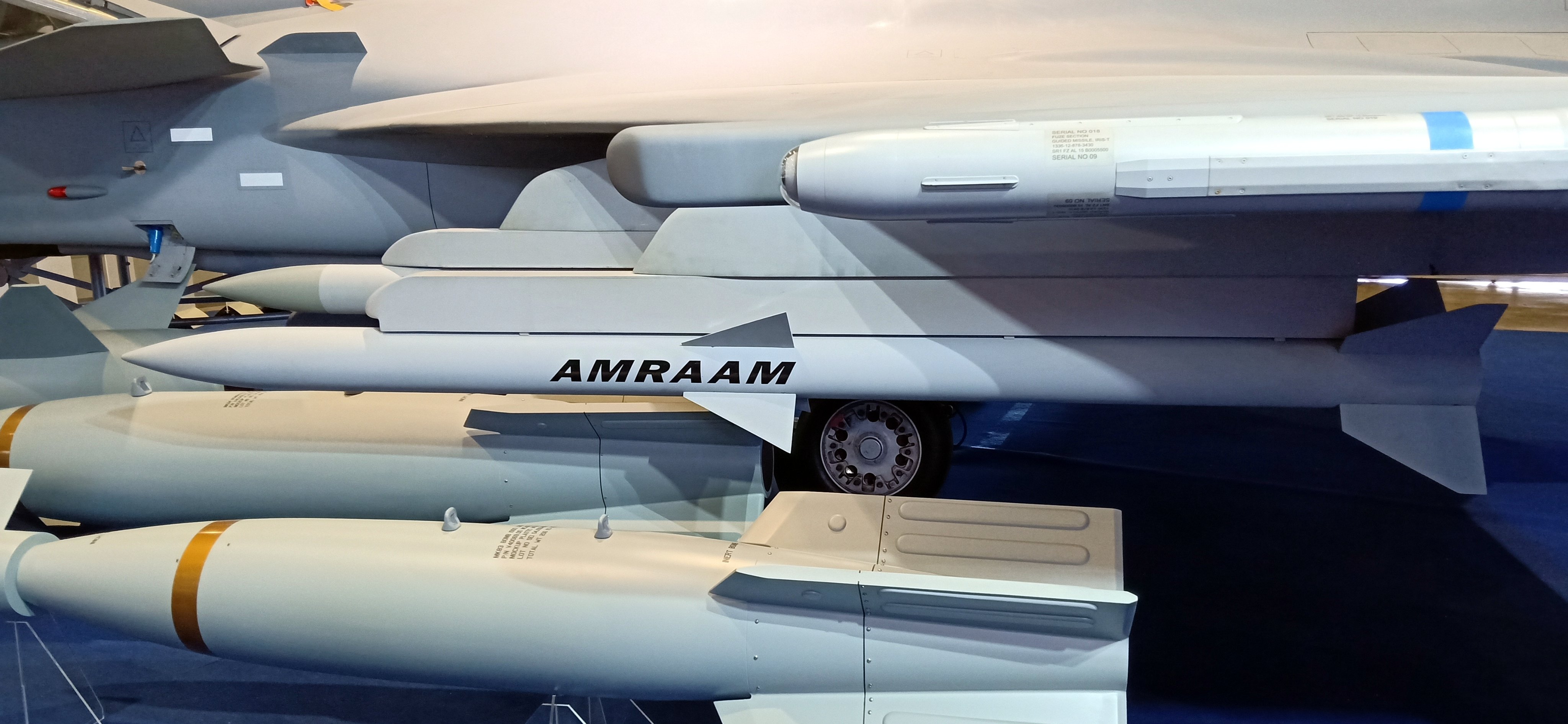 According to data collated by Air Force Technology, 36 countries are in possession of the AIM-120. The AIM-120 has completed over 1.8 million captive-carry hours along with 2,900 live firings.
The AMRAAM has successfully been integrated with fighter jets like the F-15, F-16, F/A-18, F 22, Typhoon, Gripen, Tornado, Harrier, F-4, and the F-35 Joint Strike Fighter. This potential induction is a logical step towards bolstering the airpower capabilities of RSAF's F-15 fleet.
Tejas Mk-2 – India's New SuperFighter Is Now One Of Top 4 Light Combat Aircraft In The World Along With 'Idol' Saab Gripen
The Marvin Engineering Company website describes the LAU-128 as a part of the Missile Rail Launcher (MRL) family which also includes the LAU-127 and LAU-129.
It was initially designed for the carriage and release of AIM-9 Sidewinder or AIM-120 AMRAAM missiles but has been subsequently adapted to integrate with similar-sized non-American munitions including Derby and Python which are compatible with rail launchers.
It requires the use of an ADU-552 (Missile Launcher Adapter) to provide sufficient missile stabilizer wing clearance for launch. Its variants include the LAU-128A/A/, LAU-128B/A, and LAU-128D/A.
The LAU-128B/A, in particular, includes the AN/ALE-58 BOL Countermeasures Dispenser integrated into the launcher. Its overall length is 106 inches, its width is 3.62 inches, its height is 6.06 inches, and its weight is 87 pounds. The LAU-128 can be fitted on the F-15A/B/C/D/E variants.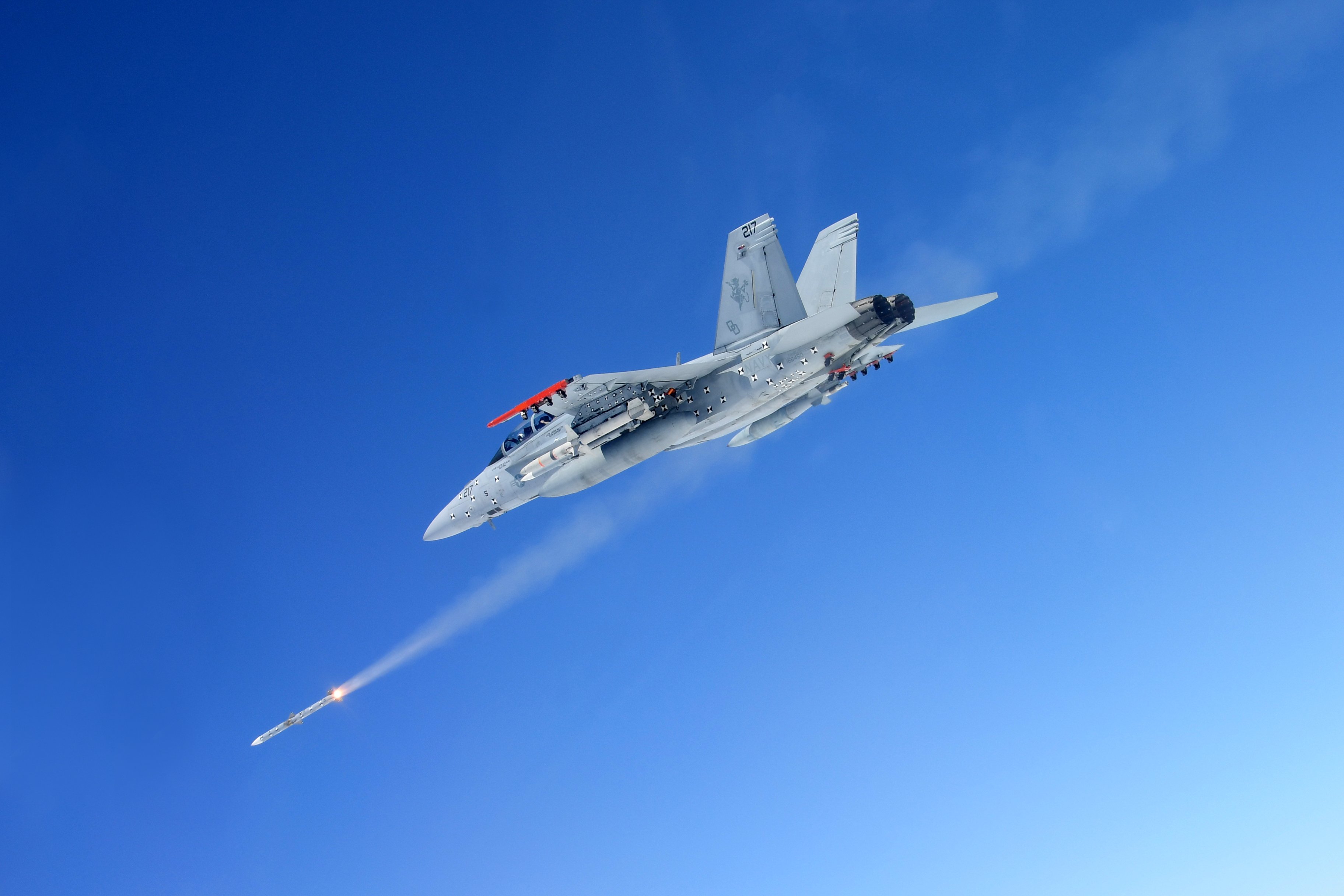 Like the Saudi deal, Washington had approved a potential sale of 120 AIM-120C-7/C-8 AMRAAMs, along with containers, spares and support equipment to South Korea in 2019.
Then in February 2020, the US State Department cleared the sale of 118 AIM-120C-7/C-8 missiles as part of an integrated air defense weapon system (IADWS) to India.
Iranian Proxies May Be Targetted
Saudi Arabia and Iran are in the midst of a regional power struggle. The conflict in Yemen remains a focal point of what has been described as a "Middle-Eastern cold war". Iran's alleged backing of Houthi rebels has been met with overwhelming firepower by the RSAF.
Recent media reports indicate that the Battle of Marib, which is another bloody chapter in the civil war,  could be reaching a key point.
The developments are believed to have major implications for both Saudi Arabia and Iran. Geographically, Marib's location is hundreds of kilometers away from the Saudi border. But its potential capture by Iranian proxies will be seen as a symbolic defeat for Riyadh.
Eurofighter Typhoon Zooms Ahead Of French Rafale As The 'Most Sought-After' Fighter Jet In The Middle East
According to a recent report by the Jerusalem Post, the Houthis claimed that RSAF had launched 159 airstrikes in response to which they retaliated 86 times.
The rebels also claimed that their missile unit carried out 47 operations of which 31 were within occupied territories in Yemen, while the remaining 16 were carried out on Saudi soil.
The rebel group said they had operated 141 drones as part of its offensives against the Saudis. There were indications of Iranian support to the Houthis. The procurement of the AIM-120 from Washington may give RSAF an edge in its air war, however, concerns about potential collateral damage would remain.
Aritra Banerjee is a defense journalist who has worked in both online and print media. He has laid an emphasis on issues related to military human resources, tactical psychology, military-media relations, professional military education, and combat fitness. He can be reached on email: aritrareporter@gmail.com.