As the Chinese PLA Navy prepares to commemorate its 73rd anniversary this weekend, the People's Liberation Army has broadcast video footage of amphibious assault landings and island-control drills involving marines and other special battle forces.
This comes as the PLA Navy recently released a video of their advanced YJ-21, or Eagle Strike-21, hypersonic anti-ship missile. The missile was launched by the country's largest destroyer, the Type 055. 
State-owned China Central Television (CCTV) broadcast video of at least a dozen ZTD-05 amphibious assault vehicles dispatching marines to attack a mock enemy camp during a recent island seizure drill, the report said.
Soon after the marines knocked out all critical military equipment, airborne soldiers arrived in the area from Z-8 transport helicopters.  
Beijing has also posted several other videos. Other CCTV reports appeared to have a spotlight on Taipei, with nearly all airborne troops in the Eastern and Southern theater commands  (which would be in charge of a "Taiwan reunification" war) getting dropped by transport planes into unknown locations at night for infiltration and control drills.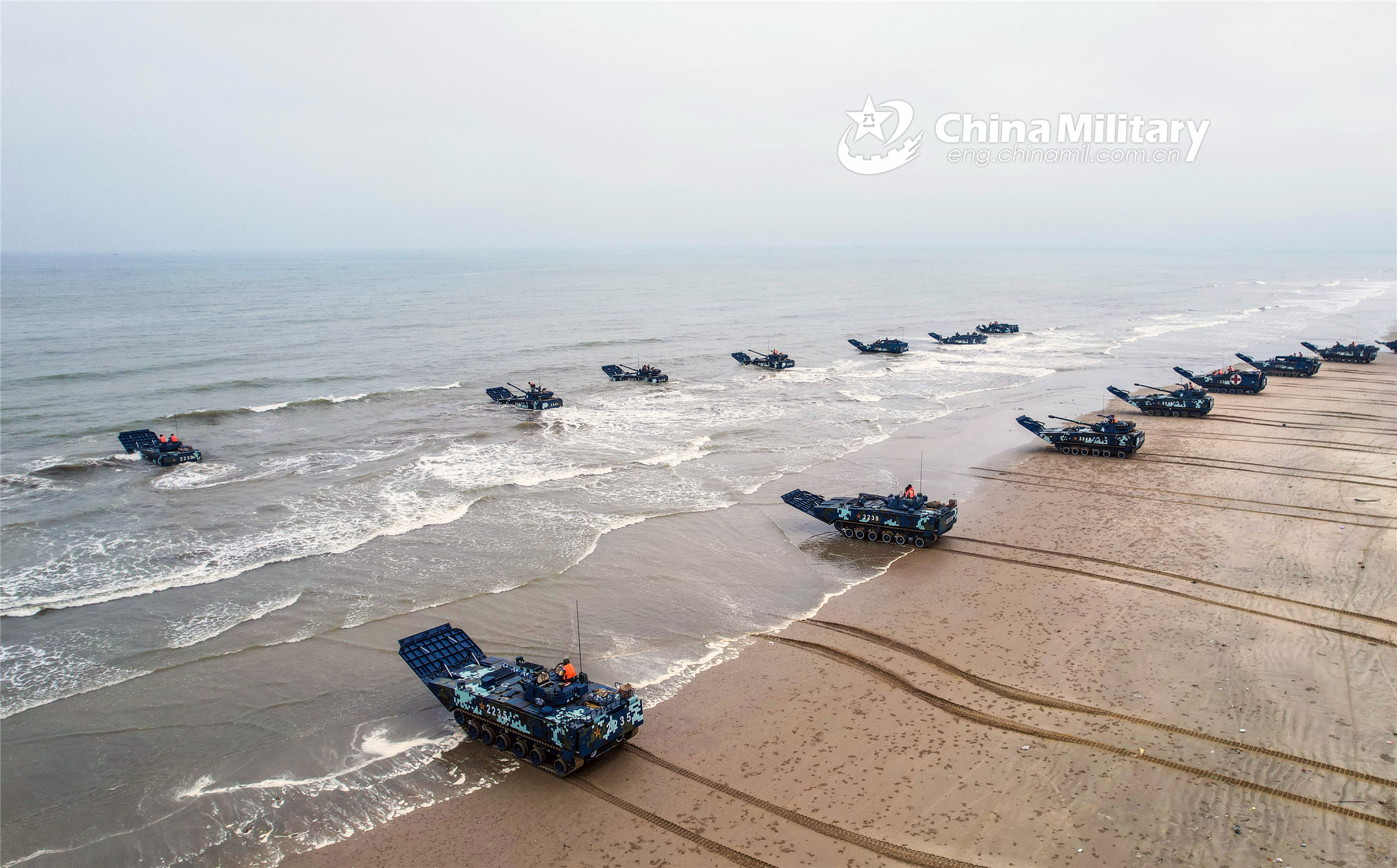 According to CCTV, dozens of disguised airborne troops were dropped by helicopter to approach an "enemy base" for close-in surveillance during a recent exercise. The paratroopers were said to employ sophisticated technology to communicate with army aviation counterparts using confidential digital communication protocols.
The exercise concluded with armed helicopters carrying out full-scale strikes to decimate all of the enemy's key military assets, steered by intelligence provided by the paratroopers. 
"It's very easy to be spotted [by enemies] if we let aerial surveillance aircraft take close-in reconnaissance tasks in a single one-unit strategy," Li Jianjun, a pilot with the 74th Army Group based in Huizhou, Guangdong province told the Chinese media. 
The combined operation drills, according to Li, would assist the aviation team to improve combat capability by allowing airborne forces to analyze hostile objectives and stage precise attacks. 
China Learning from Ukraine-Russia War?
China has been revamping its military force with zeal in recent years. However, following Russia's massive damage in Ukraine, experts predict that leader Xi Jinping will carefully parse the shortcomings exposed by the invasion of Ukraine as they may relate to the People's Liberation Army and his plans for Taiwan's self-government.
Furthermore, experts point out that China hasn't fought a major fight in a long time, with its last serious involvement taking place in 1979 against Vietnam. The fact that there are more unknown factors that come into play in any such battle than they may have expected is a wake-up call for (China's) Central Military Commission.
The most recent drills appear to have been carried out after a thorough analysis of the Ukraine conflict.
Shanghai-based military analyst Ni Lexiong told the SCMP that "The specific role of paratroopers in the PLA's recent joint operation training indicated the mainland had learned from the performance of Russia's military, which had let its airborne force lead the "full-scale military operation" during its invasion of Ukraine."
"The failure of Russian elite airborne troops to control Kyiv in a few days, which caused the endless Ukraine war, has provided a valuable reference for the PLA in its combat preparation for a Taiwan contingency," Ni said.
On Wednesday, China's Defense Minister Wei Fenghe warned his American counterpart Lloyd Austin in a phone chat not to misjudge Beijing's commitment or willingness to protect its national interests and dignity in the Taiwan dispute. 
China claims Taiwan as its own and has not ruled out invading the island with military force. In October, Xi again reiterated that "reunification of the nation must be realized, and will be realized."
Zhou Chenming, a researcher at the Yuan Wang military science and technology think tank in Beijing also told the SCMP that the videos and amphibious assault drills were intended to warn Taiwan's ruling party. 
Taiwan's ruling party, according to him, was aiming to equate the self-ruled island to the geopolitical situation in Ukraine, hoping that the US would offer the same military assistance if Beijing opted to seize it by force.
CCTV said in a series of documentaries to commemorate the 73rd anniversary of the PLA Navy's founding on Saturday that the PLA Marine Corps and its affiliated special troops had evolved into an all-weather, multirole special amphibious fighting force capable of fighting in highlands, jungles, water, and other extreme environments Over the past decade.