India and Australia held their first 2+2 ministerial dialogue last week. Among the host of issues discussed by the two nations, defense and intelligence cooperation remained a key focus. This was in the backdrop of a joint Indo-Pacific strategy to contain Chinese expansion in the region.
The bilateral meeting was seen as yet another step towards bolstering the Quadrilateral Security Dialogue or QUAD, which China has termed as 'Asian NATO'.
New Delhi's reluctant approach towards the US, Australia and Japan has long been perceived as the weak link within QUAD. However bilateral efforts over the past few years have been aimed at bridging this gap.
In 2018, Washington held its first 2+2 dialogue with New Delhi. The following year saw Tokyo follow suit with its first 2+2 dialogue with New Delhi. The bilateral meeting between India and Australia last week continues to lay the foundation of growing collaboration between QUAD nations.
China's Concern
An opinion piece by Lin Minwang published in China's state-owned Global Times cited some of Beijing's growing geopolitical concerns over New Delhi's growing ties with Australia, the US, and Japan.
The op-ed broached upon evolutions in bilateral relations between India and the aforementioned nations since the Cold War, during which they were in "opposite camps" as "it [India] was closer to the Soviet Union".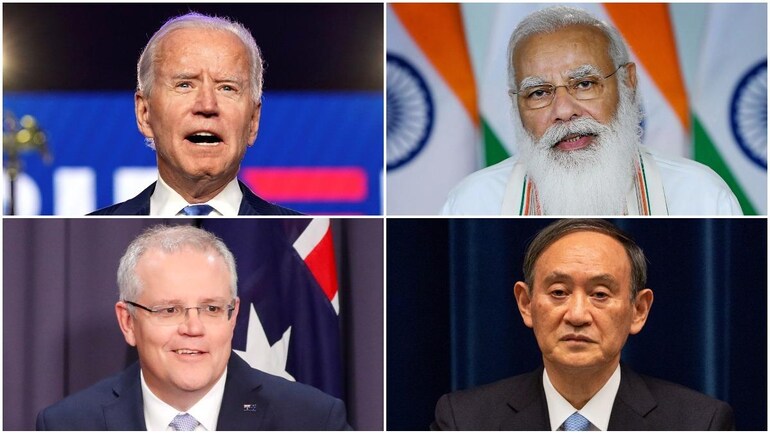 Joint defense cooperation between QUAD nations has received a boost with a series of military exercises, and individual participation in each nation's domestic war games.
However, given the covert nature of intelligence gathering, collaboration in this domain has remained vague. The Global Times article is indicative of Beijing's mounting concern over New Delhi joining the 'Five-Eyes' alliance.
'Five-Eyes' Alliance
The Five-Eyes alliance is an intelligence-sharing arrangement between the US, the UK, Canada, Australia, and New Zealand. It evolved during the Cold War as a mechanism to monitor developments within the erstwhile Soviet Union.
The group has reportedly been able to successfully share classified intelligence between Western powers for decades.
While New Delhi has not formally joined the Five Eyes alliance yet, it has established its own intelligence-sharing protocols with the five members. This development combined with India's enhanced military-maritime intelligence-gathering capabilities may help India monitor Chinese activities.
Intelligence analyst Colonel NN Bhatia (Retd) told the EurAsian Times — "Firstly, one must understand what intelligence is and what the distinction between it and information is. Information is raw input and aplenty. The real challenge for an intelligence professional is to sift through mounds of data, identify, isolate, and collate it into what we call actionable intelligence.
"Only then it does have any value to the end-user. The infrastructure be it at the local, national or multinational level needs to be able to provide actionable intelligence in real-time, otherwise, it is mere history."
When asked about what New Delhi might bring to the Five-Eyes pact, the analyst said, "India has the wherewithal of gathering intelligence in all its forms be it, human intelligence, technical intelligence and satellite intelligence.
We also share intelligence with friendly countries on a reciprocal basis. We have some of the best space programs found in any developing nation, in fact as good as any developed country," Col. Bhatia said.
"All we need or lack is being proactive as a basic human trait. This is not reflective of a deficiency in resources. Even a developed country like the US with all the resources and sources faces these challenges.
On the one hand, it tracked and killed Osama Bin Laden but could not predict the Talibanization of Afghanistan. We may have all the inputs and information but processing it to real-time actionable intelligence is the real skill."
"Intelligence officers must ensure while collecting intelligence that they end up collecting a lot of garbage; if they don't process inputs effectively then the output will be garbage instead of intelligence which is actionable. This holds in good stead for a multi-nation intelligence sharing approach as well. The core principle remains [the same]," Bhatia added.
Prime Minister @narendramodi to visit USA for Quad Leaders' Summit and High-level Segment of the 76th Session of the United Nations General Assembly.

Press release ➡️ https://t.co/BxCyVxkqHa

— Arindam Bagchi (@MEAIndia) September 14, 2021
Syed Ali Abbas, a defense analyst said, "Since recent geopolitical development in the region, and especially after the Indo-China standoff in the Galwan valley last year, India has been getting closer to the US and its allies in the Asian region.
"Meanwhile, countries like Australia, the US, and Japan are already trying to build a regional bloc to confront China, and, in this sense, India is a natural ally.
So, India has robust, intelligence gathering capabilities against China, and it can help the US and its allies to provide intelligence on China. This position makes India a favorable option to be placed in Five-eyes Alliance," added the Rawalpindi-based analyst.
Is India Joining The Alliance?
Some analysts say it's unlikely that India will directly join the Five-Eyes alliance.
"In my opinion, it is rather unlikely, although I do not exclude strengthening cooperation in cyber-security within the QUAD format. I think that a breakthrough event in this regard will be the QUAD Leaders' Summit scheduled for the end of September at the White House," Mateusz Chatys, a Research Fellow at the Center for Asian Affairs, and a Ph.D. student at the University of Łódź, told The EurAsian Times. 
Moscow-based political analyst, Andrew Korybko opined, "I agree that both sides want to share more intelligence with one another and that India entering into a formal intel-sharing pact with the US could complicate that.
Nevertheless, India seems to regard China as its greatest state-level threat and knows that Russia won't share relevant intelligence about it while the US and its QUAD allies would."
#IndianArmy #IndianNavy #IndianAirForce #USA #Japan #Australia

–#China hell-bent upon disrupting peace on #India–#Tibet border
-Carries out live-fire drills
-If #Quad+ doesn't act soon this menace'll engulf world
-Any delay beyond 2025 would be disastroushttps://t.co/CdFGI0Qyan pic.twitter.com/6LqZ7G7FVT

— Insightful Geopolitics (@InsightGL) September 16, 2021
"Regarding Russia's view towards the QUAD, it's suspicious that this structure has zero-sum intentions to aggressively contain China and is therefore against such a purpose despite its members denying that those are its intentions.
Moscow respects New Delhi's sovereign right to cooperate with whoever it wants but hopes that such cooperation isn't aimed against any third country," Korybko added.
Sannidhya Sandheer, Co-Founder and Newsletter Editor of Mission Victory India told the EurAsian Times, "For India, its covert ability in foreign lands will be the deciding factor.
However, it will put the citizens at risk by undermining their privacy. Domestic extrajudicial surveillance by Five Eyes was highlighted by Edward Snowden and the same could use the partnership to surveil the Indian citizens. Both of these will not be something India would want.
"So, becoming the 'sixth' eye would be for India a trade-off where it will gain covert ground overseas. This would mostly be an exercise in actively countering China beyond diplomacy. Five Eyes is looking to define a China policy and India can be the key to the same."
Security analyst Rear Admiral Vineet Bakhshi (Retd) did not agree with Prof. Minwang's views on Indo-Australia bilateral relations.
"To consider that India could become the sixth eye of is a bit far-fetched. India does not have inimical relations with Russia, though China is a bit of a security concern. The sixth eye is therefore unlikely to evolve and develop," Bakshi said.
Aritra Banerjee is a defense journalist who has worked in both online and print media. He has laid an emphasis on issues related to military human resources, tactical psychology, military-media relations, professional military education, and combat fitness. He can be reached on email: aritrareporter@gmail.com.