The deal to sell Light Combat Aircraft 'Tejas' (Brilliance) to Argentina is stuck over the British part in the fighter jet. But during the ongoing visit of the Argentinian defense minister Jorge Taiana is expected to sign a letter of intent for purchasing 20 Light Combat Helicopters 'Prachand' (Fierce).
An Argentinian news organization Pucara has reported citing close sources, that a letter of intent is expected to be signed for purchasing 20 'Prachand' helicopters.
"During the visit being carried out by the defense minister of Argentina, Jorge Taiana, for India, a letter of intent was expected to be signed for the purchase of 20 HAL Light Combat Helicopter (LCH) Prachand helicopters, which would be distributed among the three-Armed Forces," the report read.
The Argentinian Defense Minister is scheduled to visit HAL in Bengaluru on July 20 and is expected to sign the letter of intent there.
The EurAsian Times reported that India pitched the LCH to Argentina last month. A team from HAL was in Argentina to negotiate with the Argentinian Air Force to make a pitch for its LCH, along with its indigenously developed LCA Tejas fighter jets.
The team consisted of the Indian Ambassador to Argentina, Dinesh Bhatia, and officials of HAL met the FAA Chief Brigadier General Xavier Isaac.
"Yes, also about helicopters from HAL. We are going to visit Bengaluru, and we're going to talk about helicopters too. We need to buy helicopters, and we need 2-3 chances or possibilities in which we have to decide which is the best for Argentina," the Argentinian defense minister said in an interview with WION news.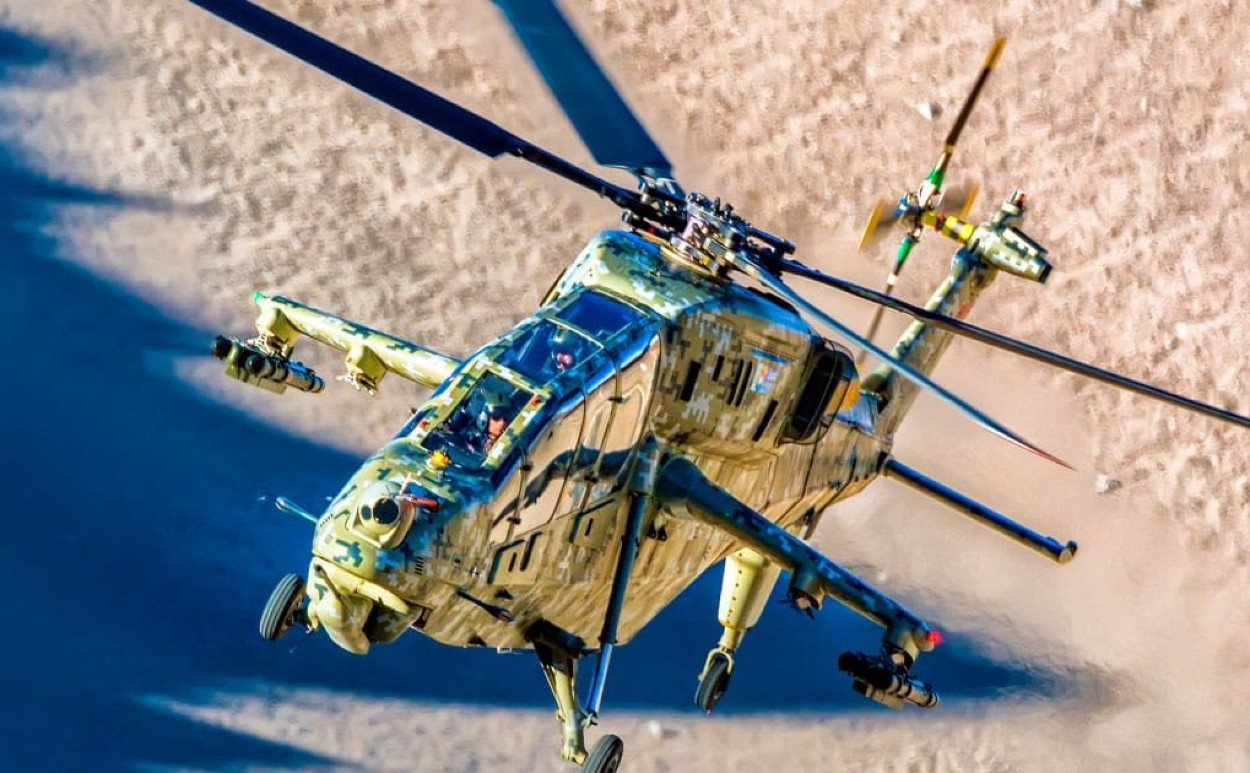 Argentinian Defense Minister Taiana and Secretary of International Affairs for Defense Francisco Cafiero began their India visit on July 18. Besides meeting Indian Defense Minister Rajnath Singh, the Argentinian team is visiting the Indian defense companies to explore the purchase of LCA Tejas and BrahMos.
While BrahMos supersonic cruise missile looks promising, the deal for LCA still faces the hurdle of British components in the aircraft. The UK has sanctions whereby they refuse licenses for the export and trade of goods judged to enhance Argentine military capability.
"We have sent our pilots to fly and consider different aircraft worldwide. One issue is that if the plane has even one British component, the British do not allow it to sell it to Argentina. LCA has 16 such components. The issue is to change or replace these components," the Argentinian defense minister added.
The Argentine news organization adds that the country's army has been scouting for helicopters to replace its aging fleet. The Argentine military has been negotiating for a batch of AH-1 Cobras from the US Army stocks.
Other arms of the military have also expressed intent to buy rotary-wing aircraft to replace the Fennec in the Argentine Navy and transport helicopters in Argentine Air Force.
The Argentine Army wants to replace its transport helicopters – the old UH-1H and the already retired Super Puma. The Argentine military has recently signed a letter of intent for twelve second-hand Airbus H215M (zero-hour tours) at the Le Bourget Hall for US$360 million.
LCH – Thy Name Is Fierce
The Indian Army and the Indian Air Force inducted the LCH in its fleet in 2022. The army intends to deploy these aircraft on its border with Pakistan and China.
The LCH Prachand is India's first indigenous multi-role combat helicopter with potent ground attack and aerial combat capability. It has been customized as per the Indian armed forces' requirement to operate in deserts and mountains.
LCH Prachand is produced as part of a collaboration between HAL and France's Safran company powered by twin Shakti engines. The helicopter can fly at a maximum speed of 288 mph and has a combat radius of 500 km and a service ceiling of 21,000 feet, which means it can operate at the world's highest battleground – the Siachen Glacier.
The pilot and co-pilot, known as the Weapon Systems Operator (WSO), sit in tandem in a glass cockpit and are protected by armored panels.
The weapon complement includes a 20mm nose gun in the front, capable of firing 800 rounds per minute from a range of up to 2 km. A 70mm rocket pod is mounted on the stub wing, with a direct firing range of up to 4 km and indirect up to 8 km.
Above the gun is an electro-optical pod for long-range day and night surveillance and target tracking. Anti-tank guided missile 'Dhruvastra' and French air-to-air missile 'Mistral-2' have a maximum interception range of 6.5 km.
The helicopter was developed by India after its Russian Mi-25 and Mi-35 proved ineffective during the Kargil Conflict against Pakistan in 1999. The Indian defense establishment built a lighter, stealthier, and more maneuverable attack helicopter. The designs for a LCH were first drawn up in 2003.
The government sanctioned the indigenous LCH project in 2006. After a few hiccups and relentless work of over a decade, extensive flight testing was carried out on four prototypes, and operational clearances came between 2017 and 2019.
During its testing, the LCH landed at a forward base in the region, 4,700 meters above sea level, and with a 500-kg load. It is the only helicopter operating at 5,000 meters with a considerable load of weapons and fuel.
South American Defense Market
After India's maiden export to Latin America – its Advanced Light Helicopter (ALH) 'Dhruv' to Ecuador had a disastrous ending, the sale of LCH will be a breakthrough deal to give a fillip to Indian ambitions to become an arms exporter.
After several crashes, Ecuador grounded its fleet of Indian-made helicopters and put the choppers up for sale. The country also unilaterally canceled its order for more ALHs from India. India, in turn, took the Ecuadorian government to court over the matter.
The country has been trying to tap Latin American, African, and South East Asian countries. India has introduced a holistic approach to push military exports to Africa, combining pitch for weapon sales with finance, training, infra development, and soft-power.
New Delhi has already opened its defense export balance sheet in South East Asia by selling BrahMos to the Philippines. It is eager to start doing business in Latin America as well.
Ritu Sharma has been a journalist for over a decade, writing on defense, foreign affairs, and nuclear technology.
She can be reached at ritu.sharma (at) mail.com