Even before the arrival of Rafale jets in India, the comparison between Pakistan's JF-17 Thunder and Rafale aircraft has been vigorously debated by military experts. Even the EurAsian Times did an analysis on Rafale Jets vs JF-17s.
Did India Miss A Trick By Rejecting 'Stealth Killer' Saab Gripen For Rafale & Sukhoi Jets?
While comparing the two, BBC in its analysis has tried to compare the capabilities of the two fighter jets and has incorporated the views of Indian and Pakistan Air Force officials without making a judgement.
India added five of the total 36 french origin aircraft contracted, in its fleet last week. The five Rafale aircraft made a touchdown at the IAF's Ambala airbase covering a distance of nearly 7,000 km from France.
After 72 Years & 91 Votes – Why Is Pakistan Again Claiming Junagadh?
Pakistan Used JF-17s To Counter Balakot Strike
India launched 'surgical strikes' in Balakot last year when Indian warplanes crossed the border and dropped bombs claiming to have destroyed terror infrastructure in Balakot, a claim vehemently rejected by Pakistan.
No Buyers For Rafale Jets: Why Almost Every Country Dumped French Rafales Except India?
In retaliation, the very next day, Pakistan came dangerously close to attacking Indian military installations but refrained from provoking the Indians and dropped bombs nearby the facilities. However, the PAF managed to shoot-down a MiG-21 Bison in aerial combat besides capturing Indian Air Force (IAF) pilot Abhinandan Varthaman, who was handed over to India on March 1, 2019.
After this feat, Indian Prime Minister echoed the same sentiment as former IAF chief and said if India had Rafale planes, the outcome of the Balakot incident with Pakistan would have been very different.
Ram Temple vs Hagia Sophia: Why Islamic Nations Condemned Ram Mandir But Hailed Hagia Sophia Verdict?
Pakistan military denied the claim that US-made F-16 jets were involved in the attack. "The aircraft which engaged those targets and fought them were JF-17," stated then Pakistan Army spokesman – Major General Asif Ghafoor.
"Proud to announce, I was project director for JF-17 Thunder program jointly produced by Pakistan and China during the tenure of General Pervez Musharraf," told retired PAF Air Marshall Shahid Latif said at the time. "Today, same jets targeted and shot down Indian Jets which entered Pakistani Airspace," he said soon after the attack last year.
Islamic Republic Of Pakistan – The 'White Part' On The Green Pakistani Flag Is Fast Disappearing
Rafale Capabilities
According to BBC's analysis, Indian defence analyst Maroof Raza stated that Rafale can be called a 'force multiplier' due to its stealth features. He added that its operational capacity is 65 to 70 per cent, while the Sukhoi fighter jet has an operational capacity of 50 per cent. "It can land in mountainous areas and small places, and it can land on aircraft carriers at sea".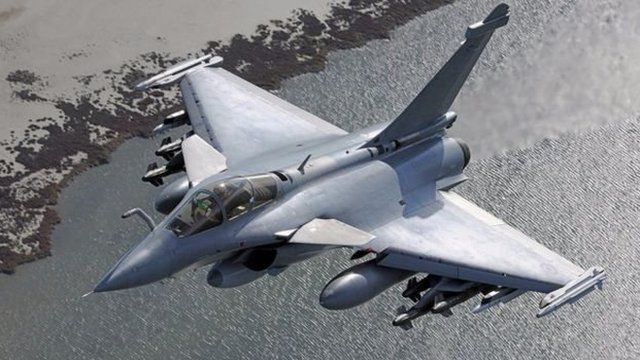 As reported earlier by EurAsian Times, the Dassault Rafale is a French twin-engine, canard-delta wing, multirole fighter aircraft equipped with a wide range of weapons, the Rafale is intended to perform air supremacy, interdiction, aerial reconnaissance, ground support, in-depth strike, anti-ship strike and nuclear deterrence missions.
"Pakistan would not have responded on February 27 last year to the Balakot air strikes if India had the French-manufactured jets then," former Chief of Air Staff Air Chief Marshal (retd) BS Dhanoa said in reference to the retaliation carried out by Pakistani Air Force (PAF), a day after the Balakot strike.
Beirut or Hiroshima: How Big Were The Beirut Blasts In Comparison To Hiroshima Nuclear Blasts Of 1945?
JF-17 Capabilities
The ability to build this aircraft was acquired with the help of China. As per EurAsian Times report, the latest, powered-up version of the JF-17 fighter jet reportedly features technologies from China's high-end J-20 fighter jet that will immensely boost its combat efficiency.
The JF-17 aircraft is installed with many commercial off-the-shelf technologies from the state-owned Aviation Industry Corporation of China. It includes a new and larger holographic wide-angle head-up display and integrated cockpit display comparable to the one used by the J-20, in addition to an advanced infrared missile approach warning system used by J-20 fighter jets.
Did Russian S-400s Got Dumped For Chinese Air Defence System By An Aspiring EU Nation?
The report emphasises that since Pakistan manufactures the JF-17 itself, it already possesses facilities like upgradation and overhauling and hence won't have to depend on any other country to ensure the development stages of this aircraft. In contrast, India would require the support of France for all such activities.
Is India Reluctant To Recognise JF-17's Lead?
Speaking to BBC, Retired Air Vice Marshal of Pakistan Air Force – Shahzad Chaudhary made a comparison between Rafale and JF-17. He said that every aircraft is designed to achieve its goals and it is not correct to compare it in terms of speed, volume or any other aspect. "It's like you start comparing cars and dumpers to see what is being used for what purpose," he added.
Australian Media Says India Has The 'Most Powerful Weapon' Ready Against China
According to Chaudhry, "JF-17 is the best option in terms of our goals. Indian planes were good even when Pakistan shot down an Indian plane (Mig-21) and India's front line, co-called best jets like the SU-30 MKIs could not do anything.
Earlier, Pakistani experts had taken a dig at the Russian origin jets and stated – what really bothered the Indian Air Force was that Pakistan was able to shoot-down an Indian jet (Mig-21 Bison) from a very long range without giving any change to the Indian jets. Indian jets which were targetted included India's front line Sukhoi-30 MKIs which only managed to somehow evade the AMRAAMs and were never able to hit back.
Lockheed Bags Contract To Equip Indian MH-60R Helicopters With Low-Frequency Sonars
Former Air Marshal (retd) Shahid Latif told the BBC that Pakistan has acquired the capability to build as many aircraft as it wants as these jets as developed locally. Shahid Latif says that more than 100 JF-17s have been prepared and handed over to the Air Force and India would need to look-to France for almost anything and everything.
Latif also stated that the JF-17s are capable of almost everything that Rafale is. According to Latif, if Rafale is a fourth-generation jet, then JF-17s have the capability to be upgraded 4.5 generation jets.