Experts believe that the Indian ban on 59 apps developed by Chinese corporations will ultimately hurt India's technology and internet startups as New Delhi only tries to address its domestic audience over recent India-China border clash.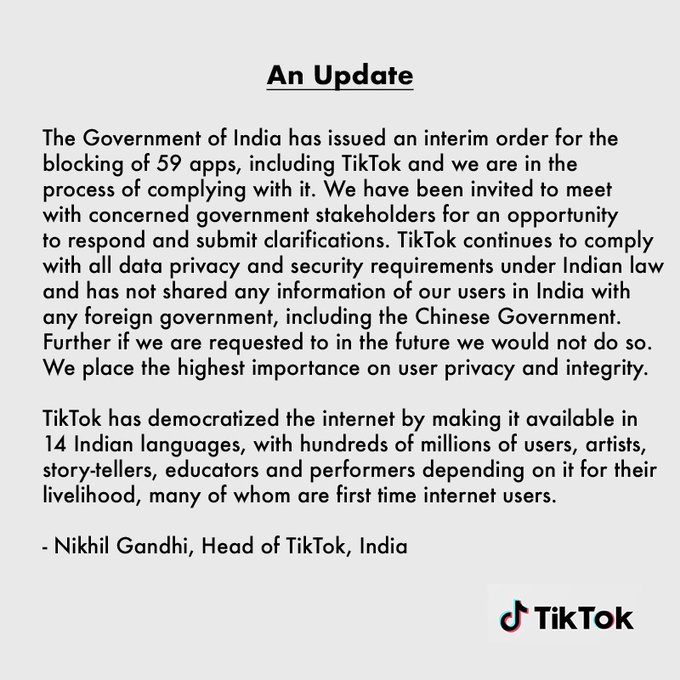 As EurAsian Times reported, the Indian government banned a total of 59 Chinese apps including the teen favourite TicTok. India's IT ministry has announced the banning of 59 Chinese apps that include giants names like TicTok, ShareIt, UC Browser, Likee, WeChat, and Bigo Live. 
India Deploys Israeli SPYDER Missiles Along With Akash Air Defence System Near China Border?
The Indian ministry called the Chinese-owned applications as "prejudicial to sovereignty and integrity of India, defence of India, the security of the state and public order." The Indian Cyber Crime Coordinate Centre under the Ministry of Home Affairs sent an exhaustive recommendation for blocking these "malicious apps". 
The ministry said that it has "received many complaints from various sources including several reports about the misuse of some mobile apps available on Android and iOS platforms for stealing and surreptitiously transmitting users' data in an unauthorized manner to servers which have locations outside India." 
US-India Military Alliance Would Be A Strategic Nightmare For China – Chinese Experts Admit
"The compilation of these data, its mining and profiling by elements hostile to national security and defence of India, which ultimately impinges upon the sovereignty and integrity of India, is a matter of very deep and immediate concern which requires emergency measures," it continued.
Sha Jun, the executive partner at the India Investment Services Center of the Yingke Law Firm, told the GT that New Delhi's behaviour was "too childish and emotional" and "it marks a very bad signal for further Chinese investment in India."
Rafale vs Chengdu J-20: How Will Indian Rafale Jets Compete Against Chinese 'Stealth' J-20s?
The presence of Chinese investors in India's high-tech start-up ecosystem has secured the nation a massive standing in recent years not only due to finances brought to the emerging market but also due to the provision of cutting-edge technologies and sound experience to boost markets.
By the end of 2019, more than half of India's 31 unicorn companies had been invested in by Chinese tech giants Alibaba and Tencent, according to the Iron Pillar Fund. Businesses backed by Chinese capital have diversified – from online payment platform Paytm and delivery platform Zomato to ride-hailing companies like Ola.
India or China: Who Will Russia Support In A Possible Clash Between India & China?
Chinese non-financial investment in India grew 9.7 times from 2020-18, according to China's Ministry of Commerce. Investment in technology stood out with total investment exceeding $8 billion.  As a result, banning Chinese apps would mean a disaster Indian start-up ecosystem, analysts cautioned.
Zhou Rong, a senior research fellow at the Chongyang Institute for Financial Studies told the GT that the ban is aimed at addressing the anti-China sentiment that has arisen from a recent India-China border clash and would be difficult to execute.
China-Australia Conflict Escalates As Beijing Slams Australia Over Espionage & Instigating Its Nationals
Via: The Global Times