Tensions between Australia and China have been running high for a while, flaring sporadically with their 'military encounters' in the Pacific region. However, there is a looming threat of escalation as the Australian Defense Minister has accused China of aggression in a rare statement.
Australian Defense Minister Peter Dutton has announced that a Chinese warship with spying capabilities has been hugging Australia's western coast in an "aggressive act."
The ship was spotted sailing north around 250 nautical miles from Broome, Western Australia, on Friday morning and had been monitored along the coast for the previous week, according to the Minister.
"Its intention, of course, is to collect intelligence right along the coastline," Dutton said. "It has been in close proximity to military and intelligence installations on the west coast of Australia."
This accusation comes in the backdrop of concerns regarding China's security agreement with Solomon Island, which could see Chinese warships and fighter jets docked at a military base on the island just about 2,000 kilometers from Australia.
The agreement has led to Canberra adopting a diplomatic approach, while the US has issued threats to the South Pacific nation.
In February this year, Australia had accused a Chinese warship of shining a military-grade laser at a Royal Australian Air Force surveillance aircraft just north of Australia. Back then, the incident was termed an 'act of intimidation' by the Australian Prime Minister.
Australia's prime minister, Scott Morrison, has declared a laser incident involving a Royal Australian Air Force aircraft last week is an "act of intimidation" by #China. https://t.co/Cv4CDTuymy

— William Yang (@WilliamYang120) February 20, 2022
The Australian Department of Defense (DoD) had disclosed that a RAAF P-8A Poseidon detected a military-grade laser illuminating the aircraft while in flight at 12:35 a.m. The incident had put in jeopardy the lives of ten people who were on board when the laser was reportedly flashed.
Further, the accusation of aggression against China comes when Australia is set to get a new government. The opposition Labor party has launched a scathing attack on the incumbent Scot Morrison government for failing to protect the country against China's expansionist schemes in the Pacific.
At a time when the relationship between the two has reached the nadir, any spying attempt by China could lead to an unprecedented escalation between the two.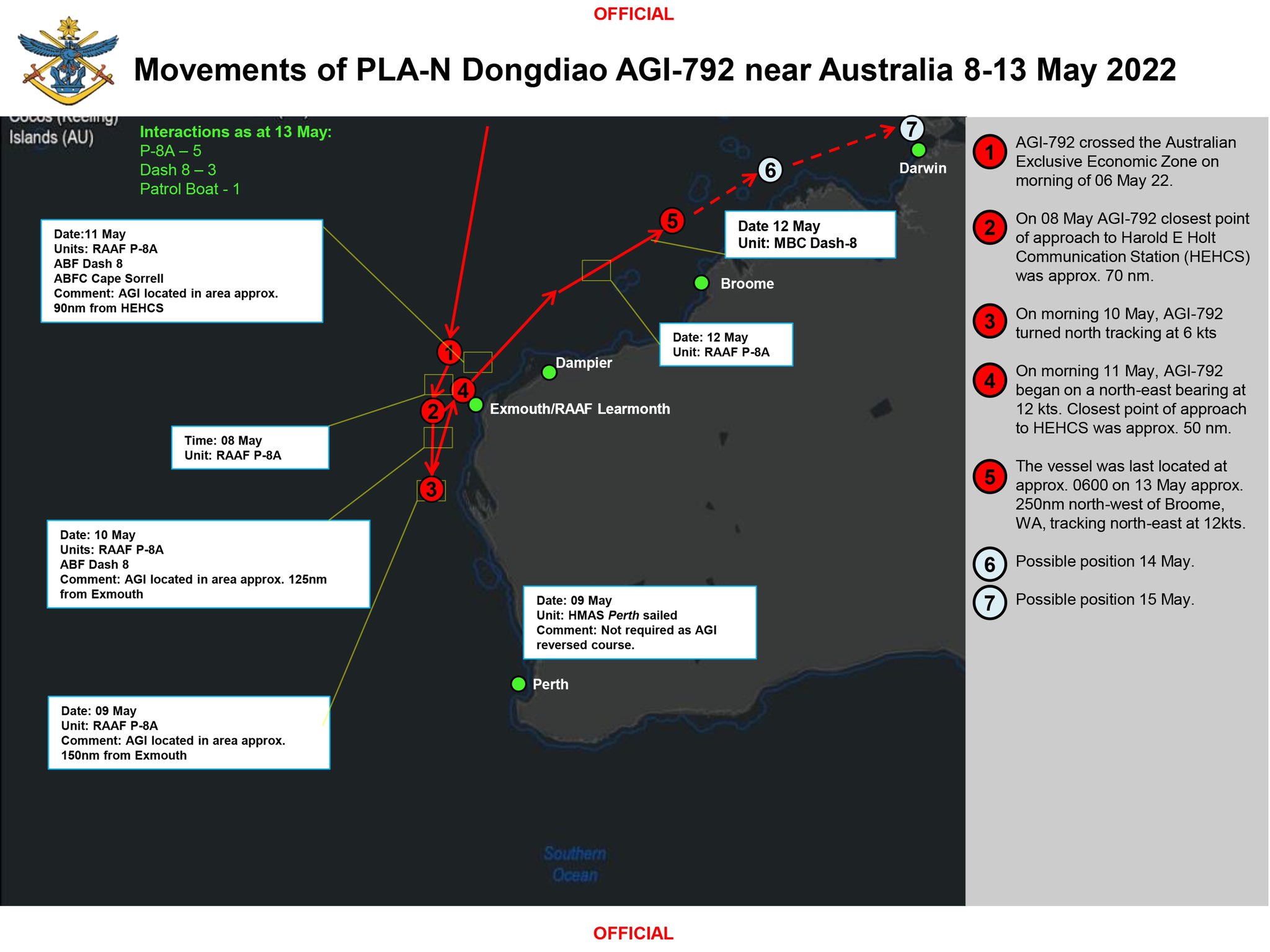 Australia Caught The Ship Red-Handed
The Defense Minister lamented that it was unprecedented for a Chinese battleship to travel so far south, and that the ship was being closely monitored by planes and other surveillance tactics.
He stated that he wanted to be frank and honest about the situation with Australians.
"I think it is an aggressive act, and I think particularly because it has come so far south," Dutton said. "Australia respects the right of all states to exercise freedom of navigation and overflight in international waters and airspace, just as we expect others to respect our right to do the same," the Defence Force said in a statement. "Defence will continue to monitor the ship's operation in our maritime approaches."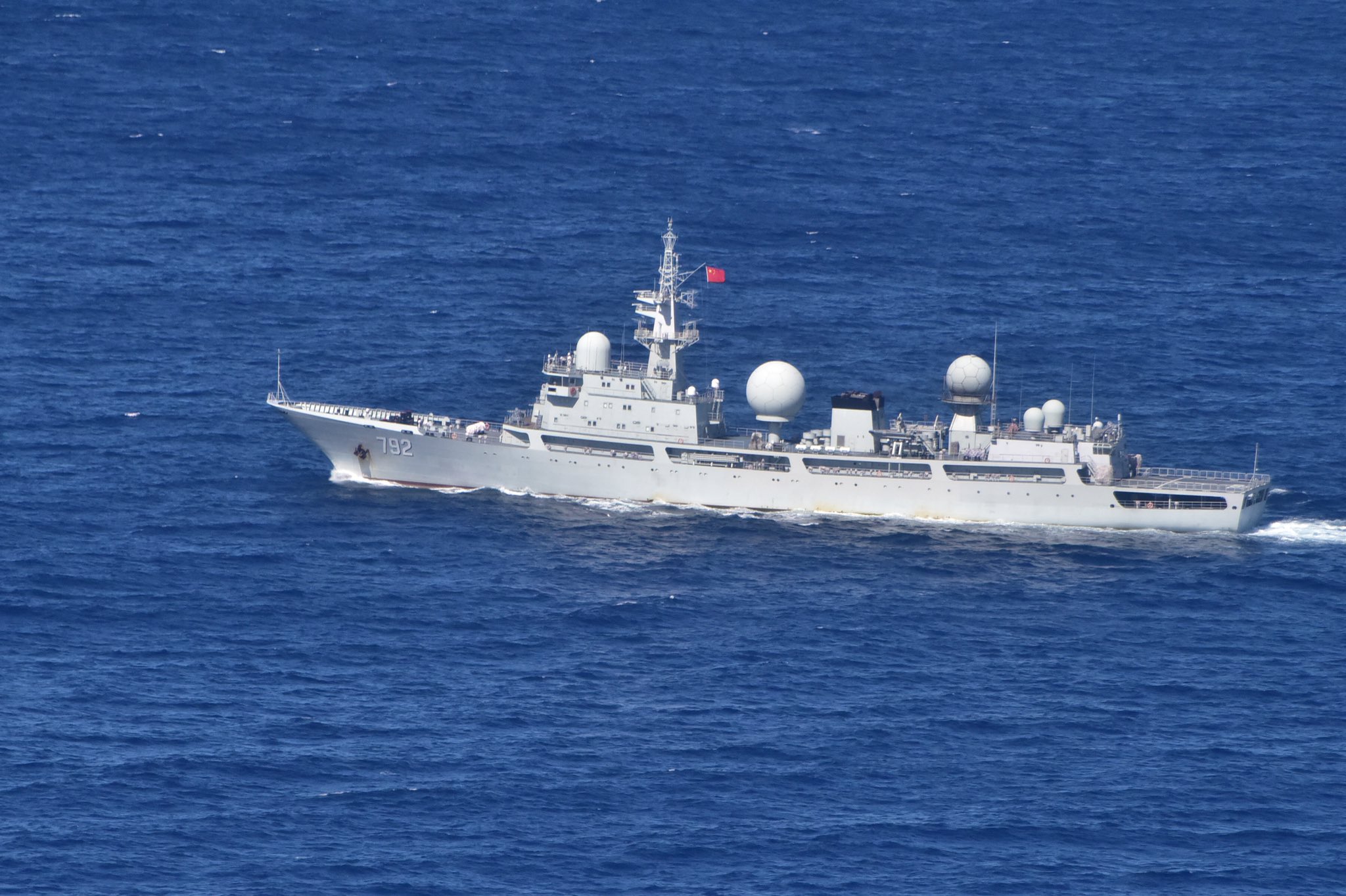 The ship was recognized by the Australian Defense Force as a Haiwangxing, a Dongdiao Class Auxiliary Intelligence ship.
The presence of a spy warship is particularly worrisome because there are several military bases on Australia's west coast, including the Exmouth facility, which supports submarines from both Australia and the United States.
?? PLA Navy Dongdiao Class auxiliary intelligence ship Haiwangxing has been spotted traveling down the west coast of Australia to the vicinity of Exmouth, before changing course to track east hugging the north-west coastline toward Darwin.

1/nhttps://t.co/LUSE5wqoYL pic.twitter.com/smXVvyATRh

— Byron Wan (@Byron_Wan) May 13, 2022
When asked about the ship sighting, Chinese Foreign Ministry spokesman Zhao Lijian said he didn't know anything about the situation but that "China always abides by international law and international practice."
"The relevant Australian politician should see the relevant situation objectively and calmly and not make sensational remarks," Zhao told reporters at a daily briefing.
In eight days, Australians will head to the polls to vote in a general election. The Defense Minister categorically stated that the timing of Dutton's revelation had nothing to do with the election campaign.
Last year, Australia announced that it had tracked two Chinese espionage ships passing through its exclusive economic zone (EEZ) but not in Australian territorial waters.
Nov 26 Australian PM @ScottMorrisonMP said Chinese ships have "every right to be [in Australia's EEZ] under intl maritime law" just like others have rights to be in #SouthChinaSea, emphasizing the importance of freedom of navigation. Via @USNINews https://t.co/TYys6TRShr pic.twitter.com/mneKRaXxmk

— South China Sea Connect (@Scs_Connect) November 29, 2021
According to the defense ministry, one ship was discovered in July monitoring the Talisman Sabre joint exercises between Australia, the United States, and other allies, while the other entered the EEZ near Darwin in the north in August before sailing down the eastern coast to Sydney and on to New Zealand.
China's expansion in the Pacific threatens the status-quo, unsettling Australia and its western allies. The region is Australia's traditional sphere of influence, where it enjoys the status of first responder and the most powerful state.
However, China's advent into the Pacific with its enormous capital and military muscle threatens that established order. In this tug of war between China and Australia, these incidents of intrusion could play the role of a catalyst in further deterioration.