After leasing MQ-9 Reaper drones from the US, India may lease minesweeper vessels from South Korea, according to reports.
South Korean Defense Minister Suh Wook held a bilateral meeting with his Indian counterpart Rajnath Singh in New Delhi on Friday. Wook, a former South Korean Army general, had arrived in New Delhi on Thursday (March 25).
Earlier, the Indian Defence Ministry said in a statement that Singh and Suh would "discuss India–RoK (Republic of Korea) defense cooperation along with other regional and international issues of mutual interest".
The Indian Navy has for long been looking to acquire mine-counter measure vessels (MCMVs), also known as minesweepers. The minesweepers eradicate the threats posed by naval mines to keep the waterways clear for safe shipping.
Currently, nations like the United States, Russia, and South Korea possess the minesweepers.
Indian daily Mint reported that leasing of minesweepers from South Korea could figure in the discussions between Singh and Wook. However, the details of their meeting are not yet known.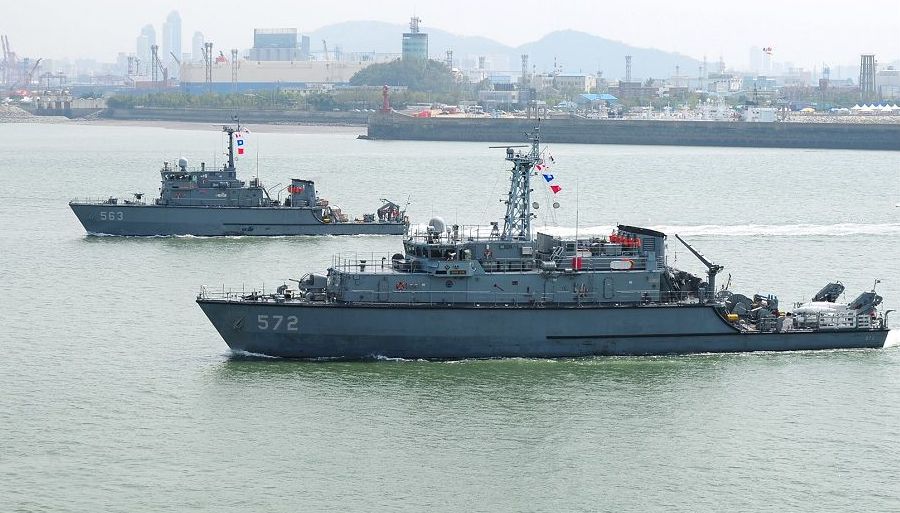 For more than a decade, the Indian Navy has been trying to procure MCMVs to fill gaps in its mine warfare capability.
It had earlier held talks with South Korea's Kangnam Corporation to build 12 vessels at India's state-owned shipbuilding company, Goa Shipyard Ltd in Vasco da Game.
Kangnam Corporation, which has been designated as a defense industry shipyard since 1975, works closely with the Korean Navy and other defense research organizations to design, develop, construct and continuously upgrade Mine Countermeasure vessels.
However, despite the talks, the $5 billion deal was canceled by New Delhi in 2018, due to the "high costs involved and some compliance issues".
Now, New Delhi is eyeing to lease minesweepers from Seoul in a deal similar to the one it struck with the US to procure its General Atomics MQ-9B SeaGuardian, also called Reaper, drones last year.
Following the leasing of the drones, India decided to ink a $3 billion deal with the US to purchase 30 SeaGuardian drones — 10 each for the Indian Air Force (IAF), the Army, and the Navy.
Follow EurAsian Times on Google News