With the ever-changing global dynamic of Europe, more and more countries have realized the priority of bolstering their defensive reinforcements as displayed by India by acquiring the French Rafales, Spain receiving the modified Eurofighters, and the UAE and Qatar looking to lay their hands on the US F-35s jets.
Nawaz Sharif Blames Pakistan Army Generals For 'Humiliating' Kargil War, Assassination Of Benazir Bhutto
Making sure Brazil does not lag behind in the race, Brazil's President Jair Bolsonaro gave a timely go-ahead for their procurement of Swedish aerospace giant Saab's Gripen E fighter jets over Boeing's F-18 Super Hornets and Dassault Rafales.
The Gripens along with the entry of Brasilia's indigenous Embraer C-390 Millennium military transport jets are likely to be a welcome boost in the country's Air Force's attempts of replacing the air fleet.
The arrival of the Gripen fighters enables the South American nation to boast air superiority that it has needed to defend its vast lands, and the delight was evident right from the military to President Bolsonaro, who sprayed champagne on the nose of the first Gripen to arrive at the Brasilia's air force base, before climbing onto the plane's cockpit. 
Gripen Officially Presented in Brazil https://t.co/2YPDXh1RVM #ASDNews #defense #aerospace pic.twitter.com/7cnZiAS4Ou

— ASDNews.com (@ASDNewscom) October 26, 2020
The first of the Gripen Es, which has been designated as the F-39E Gripen by the Brazilian Air Force, made its official debut during the celebrations of Aviator's Day and the Brazilian Air Force Day in Brasília.
First flight to Brasilia International Airport with @fab_oficial F-39E #Gripen ahead of Day of the Aviator celebrations 23 October. Arriving with F-5FM. #avgeek Video: Air Brasilia Aviation #military #Brazil pic.twitter.com/ARaVHuuyvq

— Gripen News (@GripenNews) October 18, 2020
Presentation of F-39E #Gripen #Brazil #DayOfTheAviator @fab_oficial https://t.co/hLpgtATpPc

— Gripen News (@GripenNews) October 24, 2020
Bolsonaro was present at the ceremony alongside Brazilian Defence Minister Fernando Azevedo e Silva, the Swedish Ambassador to Brazil, Johanna Brosmar-Skoogh, Brazilian Air Force Commander, Air Lieutenant Brigadier Antonio Carlos Moretti Bermudez, Commander of the Swedish Air Force, Major General Carl-Johan Edström and Saab CEO and President Micael Johansson.
"It is a great honour to see Gripen E at the ceremony in celebration to the Aviators' Day and the Brazilian Air Force Day. I do not believe that there is a more appropriate occasion for this presentation, as it certainly means a lot to all Brazilian aviators to have the aircraft flying in the skies of Brazil," said Johansson.
23 de outubro | Dia do Aviador e Dia da Força Aérea Brasileira
Assista ao videoclipe do Hino dos Aviadores. #FAB #Dimensão22 #DiaDoAviador #AsasQueProtegem pic.twitter.com/125dElAGtO

— Força Aérea Brasileira ?? (@fab_oficial) October 23, 2020
While spectators got a chance to see the first of the 36 Gripens, Brazil acquired from Sweden in a 4 billion dollar deal, 13 of the fighters will be built in Sweden which will be followed by eight being partially assembled in Brazil by Embraer's defence division.
The celebrations of the ceremony brought reminiscence to the ones which took place in India back when Prime Minister Narendra Modi welcomed the arrival of the first batch of five Dassault Rafales from France.
First five @IAF_MCC #Rafale aircraft have arrived at Air Force Station, Ambala

A formal induction ceremony of Rafale aircraft in 17 Squadron is scheduled to be held in the second half of August 2020

Read: https://t.co/QkAyJBGHJ1 pic.twitter.com/1FfE5t2apD

— PIB India (@PIB_India) July 29, 2020
India also signed a deal to acquire 36 of the lethal French machines in a bid to increase their air dominance in the region, which has seen the growing threat of "Iron Brothers" China and Pakistan.
'Golden Arrows' reach home!

Chief of the Air Staff Air Chief Marshal RKS Bhadauria and AOC-in-C WAC Air Marshal B Suresh welcomed the first five IAF Rafales which landed at Air Force Station Ambala earlier today. #IndianAirForce #Rafales@DefenceMinIndia @rajnathsingh pic.twitter.com/P4MDi0FWUs

— Indian Air Force (@IAF_MCC) July 29, 2020
Watch | "We will be by your side. We also support India's candidacy for the UN Security Council": French Armed Forces Minister Florence Parley at #Rafale induction ceremony. pic.twitter.com/600uu991sR

— NDTV (@ndtv) September 10, 2020
So far, five of the 36 aircraft have been official inducted into the "Golden Arrows" Squadron and has been carrying out regular sorties in a bid to prepare for a potential clash against China in eastern Ladakh.
So India got its first #Rafale #ShastraAircraft. Great news! I liked our #DefenceMinister writing OM on it. But what I loved the most was @rajnathsingh ji's swag throughout the acquiring ceremony. He carried the uniform with great aplomb. Jai Ho and Jai Hind.??? pic.twitter.com/lG3lfA67QK

— Anupam Kher (@AnupamPKher) October 8, 2019
Both Rafales and Gripens are fighter aircrafts falling under the 4.5 generation bracket of modern combat jets, which lie, only a class below the fifth-generation US F-35s, which are considered to be the absolute top dogs in aerial superiority.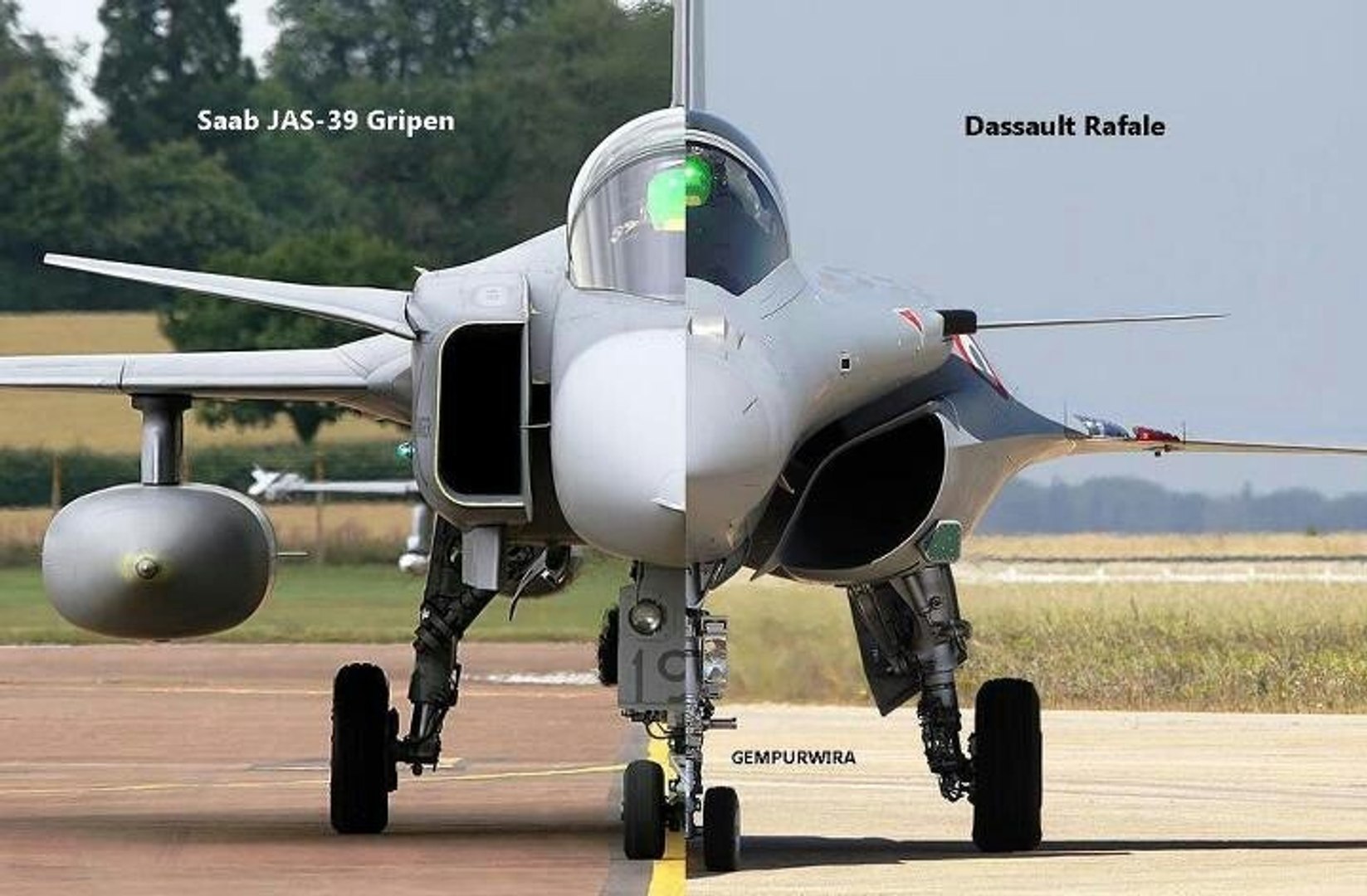 While the Rafale, is a twin-engine, canard delta wing, multirole fighter aircraft equipped with a wide range of weapons that enable it to carry out multiple roles in aerial combat, the single-engine Gripen fighter is said to be a highly upgraded model from its predecessors, based on the NG variant, which has an increased fuel capacity and payload.
Both fighters are equipped with the new Active Electronically Scanned Array (AESA) radar, however, the Gripen with its new GE F-414G engine enables, which is also used in combat-proven Boeing Super Hornet gives it a significantly improved survivability rate as compared to the Rafale.