Regardless of the deadly Covid-19 pandemic, Kashmir literally remains in the midst of a war and continues to burn. The newly formed Union territory of Jammu and Kashmir has witnessed a spike in coronavirus cases but why are certain villages in Kashmir not worried about coronavirus?
Civilians Killed, Houses Destroyed As India-Pakistan Exchange Heavy Artillery Fire
But this isn't the only spike the region has seen lately. Firing and shelling along the Line of Control (LOC) has drastically increased in recent weeks, resulting in the death of innocent civilians, armed forces and militants.
Since the beginning of the year, there has been a spike in ceasefire violations in J&K. The first two months saw a combined 733 (367+366) violations, followed by 411 in March and more than 53 in April, the latest on Sunday in Poonch district.
Indian Army Uses Heavy Duty 'Bofors Artillery Guns' To Hits Terror Launch Pads In Pakistan
Last week, Lt Governor of Jammu and Kashmir, GC Murmu, spoke about the militancy at Raj Bhavan. According to a TOI, Murmu claimed that militancy in the region was under control but Pakistan has escalated its efforts to disturb the peace with a two-fold increase in ceasefire violations along the LOC.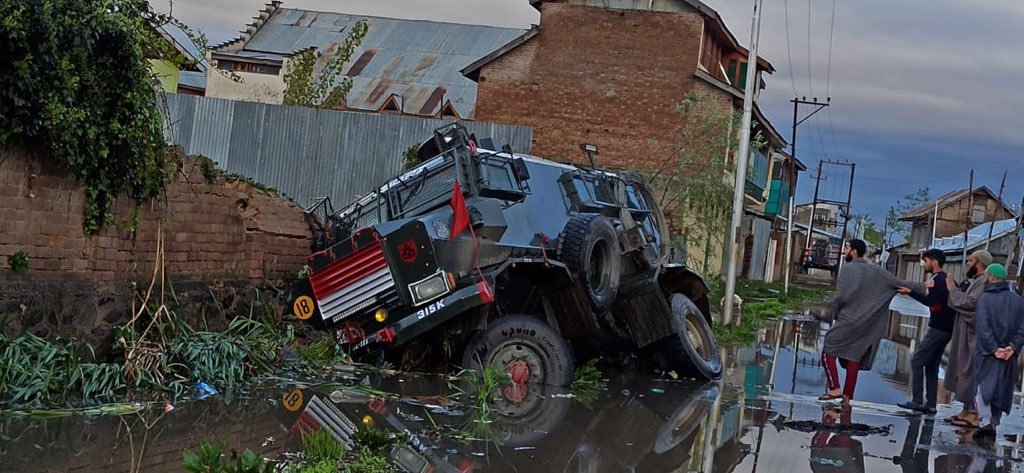 ''Ceasefire violations have doubled. Cross-border elements are desperate,'' Murmu said. The desperation was on display this weekend when 4 CRPF soldiers and 1 J&K Police officer was killed in separate incidents in Anantnag, Sopore and Baramulla districts of Kashmir.
Musharraf's 'Four Point Formula' The Best Way Of Resolving Kashmir Dispute: Washington Post
Earlier this month the Army lost five commandoes of the elite PARA-SF in a feracious, hand-to-hand combat along the Line of Control (LoC) in Keran sector of Kupwara district. As per reports, 4-5 militants were also killed.
The Indian armed forces, however, have been robust in their actions and have neutralized 13 militants in this month alone. A senior officer of the Northern Command said that the army has ensured that terrorists remain in constant fear and their numbers, as well as leadership, remain at the lowest ebb.
How Radical Groups Like Hezbollah, Hamas & Taliban Are Fighting Covid-19 Pandemic?
The Indian army has dominated the situation along the LoC in recent times, eliminating terrorist groups and leadership. Moreover, with increased support from locals, security forces have been able to get hard intelligence about the presence and movement of terrorists and therefore launch operations successfully.
The dwindling numbers of cadre and their leadership were the reason behind recent cowardly acts of attacking civilians and adopting hit-and-run tactics," he said.
Indian Army Targeting Ammunition Dumps, Terror Launch Pads Along The Line Of Control: Army
Indian Defence Minister Rajath Singh also reiterated India's dominant approach and said India is conducting "targeted strikes" on terror launch pads across the Line of Control in Jammu and Kashmir and eliminating Pakistani infiltrators before they cross to the Indian side.
According to the South Asian Terrorism Portal, J&K  has witnessed 33 incidents in 2020 in which 79 people have been killed. Out of the 79, 13 casualties were security forces, 9 civilians and 57 terrorists.
Indian Army Takes 'Covid Terrorism' Very Seriously; Issues Guidelines On Handling Militant Bodies
Civilians have been the worst affected as they have seen their homes destroyed and relatives killed in cross-border firings. On April 12, three civilians, including a child were the latest victims of the ceasefire violation by Pakistan in Kupwara.
Pakistan started an unprovoked ceasefire violation in the Keran sector at 5 p.m. In retaliation to the shelling, India launched an operation of its own that destroyed terrorist launch pads and targetted gun areas and ammunition. Heavy losses were reported on the opposite side with 15 alleged casualties (8 terrorists and 7 Pakistani soldiers).
Residents Of Pak-Controlled-Kashmir Urge PM Modi For Help; Opening Of Jammu Border
The situation is further complicated due to the outbreak of the coronavirus for many living in the border villages such as Kupwara, Pangzam, Batpora, and Mukam. With the villages under lockdown, the incessant shelling across the border makes the locals feel more vulnerable.
They cannot evacuate due to Covid-19 restrictions but do not feel any safer with bombs exploding and guns firing nearby.'' My heart shrinks as if it were to stop each time there was a blast and there was no way I can remember coronavirus. When you face bombardment, there is no room left for other fears,'' a local from Rawathpora told a reporter.