In the first-of-its-kind testing, a General Atomics Unmanned Aerial Vehicle (UAV) 'Mojave' took off and landed at the deck of the British carrier HMS Prince of Wales off the United States East Coast. This is the largest unmanned aircraft ever launched from a British carrier.
The Mojave, operated remotely by a 'pilot' at a computer terminal, has paved the way for the next-generation UK naval power, the Royal Navy said. The drone can carry four Hellfire missiles.
At nine meters long with a wingspan of 17 meters and a weight of more than 1.5 tons, Mojave is the largest unmanned aircraft to be flown on a Royal Navy aircraft carrier.
Rear Admiral James Parkin, Royal Navy Director Develop, whose team planned the trial, said in a statement, "The Mojave trial is a European first – the first time that a Remotely Piloted Air System of this size has operated to and from an aircraft carrier outside of the United States."
Explaining the impact that the recent trial would have on UK naval operations, Parkin added, "The success of this trial heralds a new dawn in how we conduct maritime aviation and is another exciting step in the evolution of the Royal Navy's carrier strike group into a mixed crewed and uncrewed fighting force."
A glimpse into the future…

The largest drone launched from a UK aircraft carrier (@HMSPWLS) could pave the way for tomorrow's naval air power.

Aircraft similar to the uncrewed Mojave could fly on missions alongside traditional machines.https://t.co/SHMzhfrzPi pic.twitter.com/aTVr63QEVf

— Royal Navy (@RoyalNavy) November 17, 2023
The demonstration off the coast of Virginia showed how fifth-generation crewed aircraft like the F-35 Lightnings used by the Royal Navy for carrier operations can coexist with modern unmanned air systems, further unlocking the capability of the UK's Queen Elizabeth-class aircraft carriers.
The recent trial is part of a £1.25 million (USA $1.5 million) contract that the UK Ministry of Defence (MoD) awarded to GA-ASI in May this year with the stated goal to conduct "trials/experiments to demonstrate a threshold capability for a Short Takeoff and Landing Uncrewed Air Vehicle (UAV)." At the time, the MoD added that the "experiments" would affect plans for future investments.
As part of the service's "exploring innovation for future carrier ops," a representative for the Royal Navy affirmed a couple of weeks ago that the Mojave experiment would begin in November.
On its part, the Royal Navy has 20 years of experience operating pilotless aircraft from its ships. The Fleet Air Arm's existing systems, like the hand-launched Puma and the new Peregrine tiny helicopter, which goes into service in January, are intended for short-range surveillance operations on land and at sea.
Much more significant and more complicated than the flight deck of Queen Elizabeth-class carriers, Mojave is designed for short takeoff and landing on runways shorter than that. It has been anticipated that with the recent Mojave test, General Atomics may be able to pursue an MQ-9B STOL program, which has already "caught the imagination" of several European fleets, including those of France, Italy, and Spain.
What Do We Know About Mojave?
US defense firm General Atomics unveiled 'Mojave' in 2021. It is a short takeoff and vertical landing (STOVL) jet. It can land vertically like a helicopter and take off in very short distances. This allows it to operate from challenging, short-field bases and a range of air-capable ships like Mojave, named for one of the world's harshest and most austere areas.
The manufacturer wanted the futuristic drone to be runway-independent. It had realized that a vertical takeoff and landing (VTOL) configuration would be too challenging, so the company opted for the STOL design.
Although the MQ-9 Reaper and MQ-1C Gray Eagle-ER share similar avionics and flight control systems, Mojave stands out due to its giant wings and high-lift devices. When the drone was unveiled, General Atomics emphasized that it would deal with carrier-based operations without requiring a catapult or arresting gear during recovery due to its enhanced short-field performance.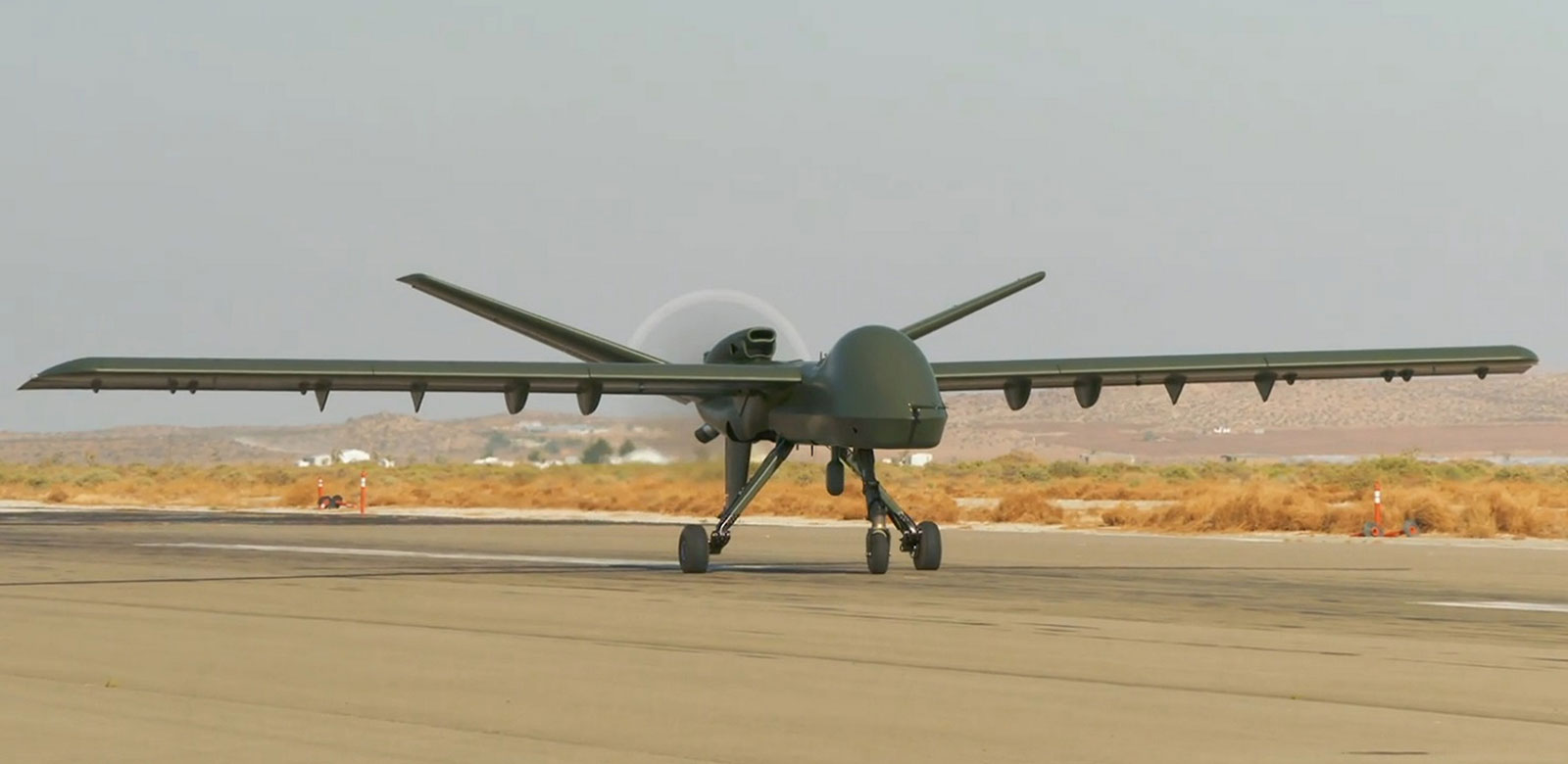 It has a 52-foot wingspan, compared to 56 feet for the conventional MQ-1C and 58 feet for the Gray Eagle Extended Range (GE-ER). Mojave can accommodate multiple sensors, including radars with synthetic aperture imaging functions and signals intelligence suites, communications packages, and the sensor turret under its nose.
The GA-ASI website says, "It is the next step in UAS evolution, delivering unprecedented expeditionary short-takeoff and landing (STOL) performance, C-130 airlift transportability and a significant increase in firepower — without compromising any of the significant advantages in endurance, persistence, or aircrew safety over manned aircraft. Simply put, no aircrew is on board in any danger from the enemy."
Mojave cannot only land, re-arm, and take off from harsh locations near non-permissive environments with speed, but it can also carry twice as much cargo as aircraft from previous models. 
Due to its larger wing area, Mojave can carry up to 16 AGM-114 Hellfire or comparable missiles weighing 3,600 lb. (1,633 kg). Mojave can also be outfitted with an array of sensors, such as EO/IR, SIGINT, and Synthetic Aperture Radar/Ground Moving Target Indicator (SAR/GMTI), to facilitate land or marine missions.
The trials aboard the British carrier were conducted after months of preparation by specialists from the Royal Navy, General Atomics, and the crew of HMS Prince of Wales, according to reports. This fall, a series of trials using crewless aircraft and F-35s will test the limits of the operation involving the UK's two carriers. 
"My team and I are excited and proud to be the first to launch and land a Mojave from an aircraft carrier," said Commander Martin Russell, in charge of air operations aboard HMS Prince of Wales. 
"During a deployment centered around experimentation and expanding the envelope of the Queen Elizabeth class, this is one of the highlights. Integrating the Navy Develop and General Atomics personnel into the Prince of Wales team was key to enabling such a large Remotely Piloted Air System to operate from the deck during this trial, with the capability feeling like a glimpse into the future of these ships," he added.
Contact the author at sakshi.tiwari9555 (at) gmail.com