A video showing the aftermath of Russian missile strikes that left the Ukrainian military air base in ruins and damaged several Ukrainian military aircraft is going viral on the internet.
The video, which appeared to surfaced on February 16, exhibited the outcome missile attack on a military airfield of the Ukrainian Air Force.
According to the reports, the military base, home to numerous fighter jets, was effectively destroyed in a single round of missile attacks. A fighter plane is seen in the footage lying on its back, probably having been flipped over by the shock waves caused by the explosions. 
In the footage, several fighter jets, including a MiG-29, can be seen in a damaged condition. Reports suggest that the Russian missile attacks destroyed at least ten front-line military aircraft. 
For understandable reasons, most aircraft cannot be restored, but the air base could be rebuilt for future use even without combat aircraft. 
Russians were merely demonstrating what they will do to F16 fighter jets if they're sent to Ukraine. They destroyed a Ukrainian airfield.??? pic.twitter.com/WTn7oOfU4b

— Sentletse ???? (@Sentletse) February 16, 2023
Based on the devastation visible in the video, it appears that the surrounding infrastructure, including the storage facility for the munitions, has also been destroyed. 
The exact date and location of the video remain unknown; the video footage was reportedly recorded last summer, but the Ukrainian side only recently made it public.
Meanwhile, top Ukrainian officials predict that Russian forces will launch widespread missile attacks against Ukraine before the first anniversary of the invasion.
Mykhailo Podolyak, Ukraine's presidential adviser, told local media on February 18 that he anticipates Russia to launch cruise and ballistic missile attacks against his nation between Tuesday to Friday.
On February 18, the Ukrainian defense ministry also reported that the Russian military had initiated missile attacks against civilian facilities in the Khmelnytskyi region of western Ukraine. There is a nuclear power facility in that region. 
However, on Sunday, the Russian defense ministry stated that its forces had fired sea-based cruise missiles at a military installation and an ammunition depot in Khmelnytskyi.
The Institute for the Study of War, a US research tank, observed that Russia might attempt to compel emergency shutdowns of nuclear power stations in Ukraine.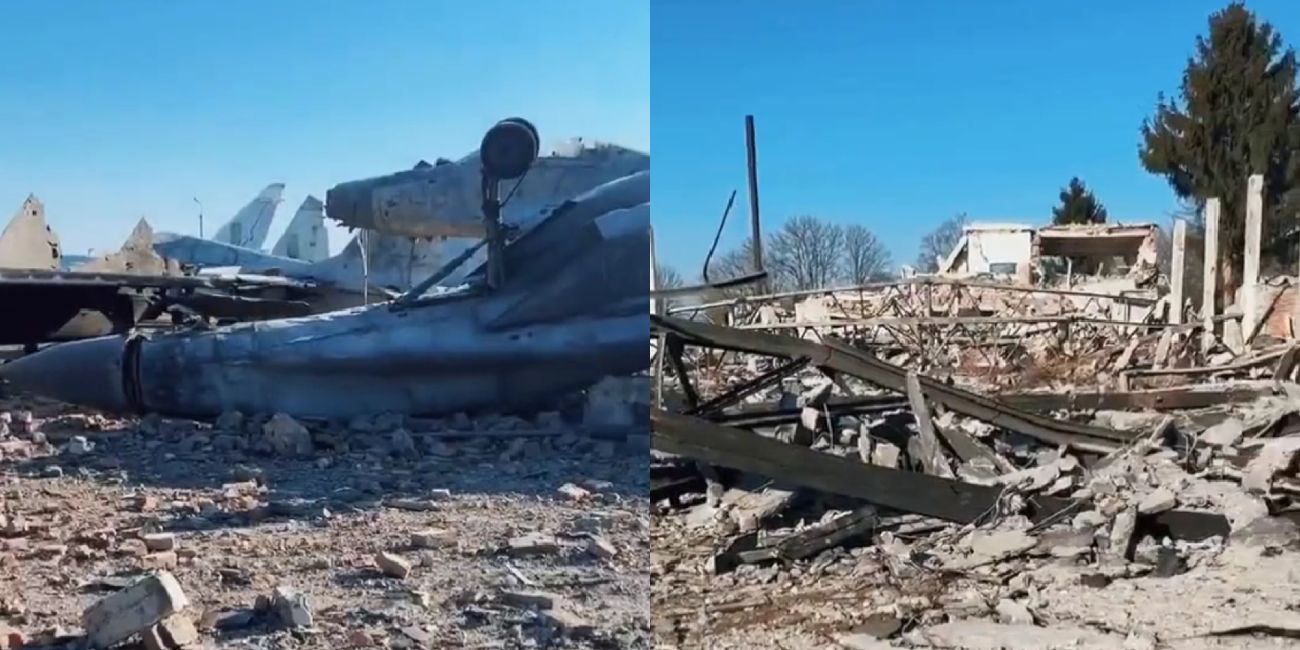 Russia Changing Its Attack Tactics 
On the night of February 15–16, Russia launched a total of 36 cruise missiles from the air and the sea; 16 of these missiles were intercepted by Ukrainian air defense, announced Valerii Zaluzhnyi, Commander-in-Chief of Ukraine's Armed Forces. 
In the strike, 12 Kh-101/Kh-555 air-launched cruise missiles, 8 Kalibr sea-launched cruise missiles, 12 Kh-22 anti-ship cruise missiles, 3 Kh-59/31 guided air-launched missiles, and an Onyx anti-ship missile were deployed.
The missiles were launched by Russian bomber jets, the Tu-22M3 and Tu-95MS. They operated out of the Caspian Sea and the Kursk region. Furthermore, two Russian Su-35 fighter jets fired missiles from the temporarily occupied Melitopol area.
However, the Ukrainian air defense systems could not intercept the Kh-22 missiles. Ukraine's air force defense commander said that his nation lacks a system capable of intercepting and shooting down Kh-22 missiles.  
The Kh-22 missile can be identified by its launch, altitude, and flight speed, but the missile's flight could be off by "hundreds of meters," according to Lieutenant General Nikolai Oleshuk, Commander of the Air Force of the Armed Forces of Ukraine. 
Even though the incoming missiles may be identified as Kh-22s by Ukraine's sophisticated detection system, no missiles have yet been successfully intercepted. 
Analysts drew attention to the fact that the most recent missile attack shows that the Russian military has made a few changes in its attack strategy. 
In comparison to previous attacks, this one was conducted late at night by the Russian forces, reported multiple Ukrainian media outlets. 
Former Indian Air Force pilot Vijainder K. Thakur made a similar observation, stating that Russian forces launch cruise missiles at night rather than during the day.
Thakur noted, "The Kh-22 cruises at speeds between M 3.5 to M 4.6 at altitudes up to 40 km. On launch, the missile climbs to about 40 km, leaving the stratosphere, then vertically dives down on the target, making it extremely difficult to shoot down."
According to Thakur, one of the possible reasons Russia resorted to nighttime strikes was "counter deployment of visual observers who can help plot incursions without the need to switch on radars which become susceptible to Kh-31P attack as soon as they light up."
Before this nighttime missile attack, the Russians altered their approach to using their long-range missile weaponry.
EurAsian Times recently reported that Russia began employing reconnaissance drones and balloons equipped with angular reflectors to locate Ukrainian air defense installations to improve their missile attacks' efficiency.