Indian External Affairs Minister S Jaishankar met his Turkish counterpart Mevlüt Çavuşoğlu in New York on September 21, just a few hours after Turkey's President Recep Tayyip Erdogan said in the United Nations General Assembly that it is "unfortunate" that India and Pakistan haven't been able to establish peace 75 years after independence and hoped for "fair and permanent peace" in Kashmir would have been unthinkable few months ago.
Going by the past practices over the last three years, whenever Erdogan talks about Kashmir, Indian officials immediately meet top leaders of Greece or Cyprus, or Armenia, with whom Turkey has territorial disputes and human rights concerns.
But this time, the two foreign ministers meeting on the same day of Erdogan's UN speech suggests that "The Pakistan factor" in India-Turkey relations is getting diluted, and both New Delhi and Ankara are recalibrating their policies toward one another in the face of the ongoing geopolitical changes.
It also seems that Turkey (Turkey officially changed its name to Türkiye in June 2022) is getting increasingly disenchanted with its strategic ally Pakistan.
It may be noted that soon after Article 370, which provided special status under the Indian constitution to the erstwhile state of Jammu and Kashmir, was abrogated by the Indian government led by Prime Minister Narendra Modi in August 2019, Ankara has been raising the Kashmir issue in various forums.
President Erdogan first broached the issue at the UN General Assembly (UNGA) in September 2019. Since then, he has repeatedly been talking about the Kashmir issue in the UNGA every year.
In 2020, the Turkish President said, "The Kashmir conflict, which is also key to the stability and peace of South Asia, is still a burning issue…We are in favor of solving this issue through dialogue within the framework of the United Nations resolutions, especially in line with the expectations of the people of Kashmir."
This he did, knowing full well that the permanent five members of the UN Security Council and the world at large do not wish to interfere in a matter that they believe falls squarely within India's domestic affairs.
In 2021, he repeated the same at the UNGA by saying, "We maintain our stance in favor of solving the ongoing problem in Kashmir for 74 years, through dialogue between the parties and within the framework of relevant United Nations resolutions."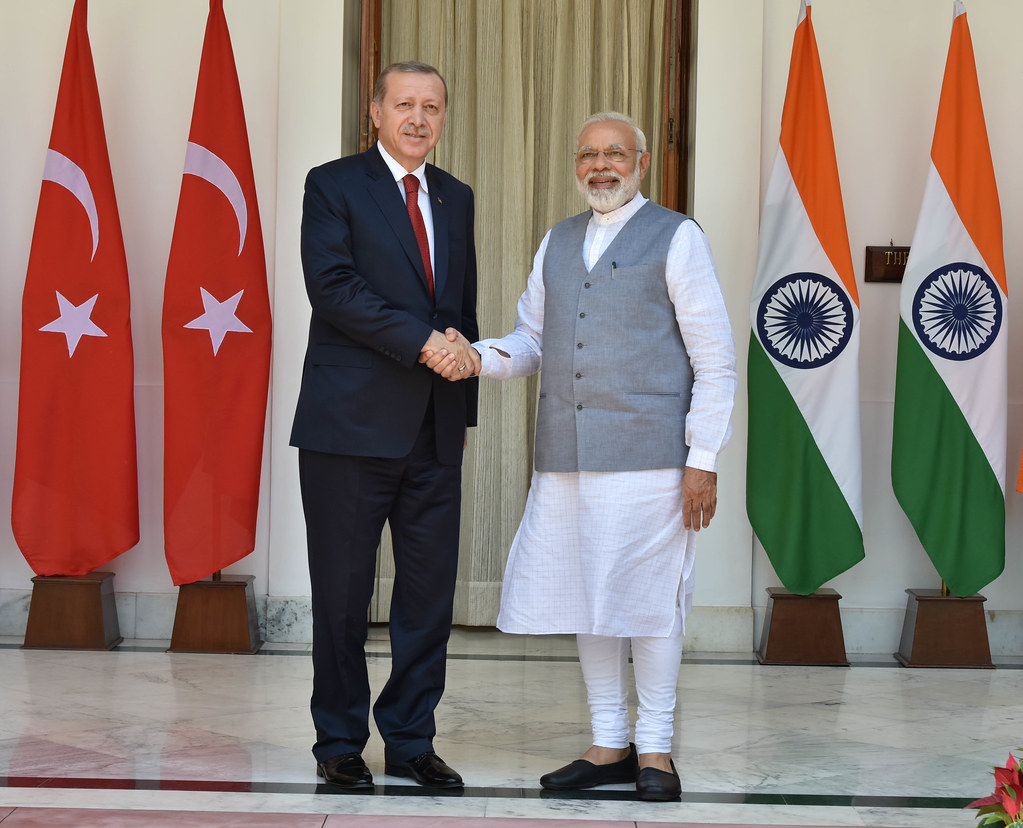 In fact, outside the United Nations, the Turkish President even did not hesitate to say that "India right now has become a country where massacres are widespread. What massacres? Massacres of Muslims. By who? Hindus."
In his February 14, 2020, speech before a joint session of Pakistan's parliament, Erdogan stated: We have never forgotten and will never forget the help, which the Pakistani people extended, by sharing their own bread during our War of Independence. And now, Kashmir is and will be the same for us. It was Çanakkale yesterday, and it is Kashmir today, [there is] no difference".
Erdogan's actions had invited India's strong reactions.  Prime Minister Modi countered by holding meetings with the president of Cyprus and the Prime Ministers of Armenia and Greece on the side-lines of the world body's annual meetings.
India reminded Turkey that unlike Ankara, which invaded and occupied part of the sovereign nation of Cyprus in 1974, New Delhi had not undertaken any such measures with regard to Kashmir.
Besides, Modi later canceled his planned visit to Turkey in October 2019, and a lucrative $2.3 billion naval deal with a Turkish defense company was terminated. India also cut its other defense exports to Turkey, which included dual-use weaponry such as explosives and detonators.
From then on, India also significantly reduced its imports from Turkey. And what was more, India entered into a defense agreement worth $40 million with Armenia, Turkey's traditional rival in the region. It included four SWATHI weapon locating radars developed by the Defence Research and Development Organisation (DRDO).
India-Turkey Resetting Ties
Against this background, this year's speech at the UNGA by President Erdogan on Kashmir was very mild and neutral, experts say.  "India and Pakistan, after having established their sovereignty and independence 75 years ago, still haven't established peace and solidarity between one another. This is very unfortunate. We hope and pray that a fair and permanent peace and prosperity will be established in Kashmir," Erdogan said.
He, unlike in the past, did not support Pakistan's position that the Kashmir issue must be resolved under the dated  UN Security Council resolution of the 1950s.
Diplomatic sources point out that  Erdogan's mellowness on Kashmir was due to the  "very constructive discussions" between him and Prime Minister  Modi in Samarkand (Uzbekistan) during the Shanghai Cooperation Organisation(SCO) summit a week earlier.
They talked about the areas that interest both India and Turkey in terms of what they do bilaterally, in terms of how they can converge regionally, and also in terms of how their perspectives can meet more strongly with regard to developments all over the world.
Three Reasons Why Ankara Is Resetting Its Ties With India  
One, India has assumed the Chairmanship of the SCO, arguably based on the European Union model, for the year. And India will assume the Presidency of the highly influential G- 20 (big economies of the world) this December.
Turkey, which is undergoing a big economic crisis with historically high inflation of 80 percent, has to be pragmatic, not ideological, so as to win more friends than foes.
Erdogan has said that Turkey wants to become a member of the SCO (now it is only a dialogue partner) and that he would pursue the idea at the SCO's 2023 meeting in India.
Obviously, an anti-India posture will not help the matter for Turkey in the changed circumstances, particularly when despite the hitherto tense relations between them, India-Turkey bilateral trade has been fairly extensive. Trade is touching close to about $10 billion.
India has awarded a consortium of Turkey's top five leading shipyards, TAIS, the contract of naval shipbuilding worth $2.3 billion. A Turkish company, Savronik, has also completed a defense ministry-related project to build a tunnel in India's Leh-Manali highway.
Indians are now the third-largest Asian tourists in Turkey after China and Indonesia. Indian businesses, from food to technology, have been gradually expanding their presence in Turkey.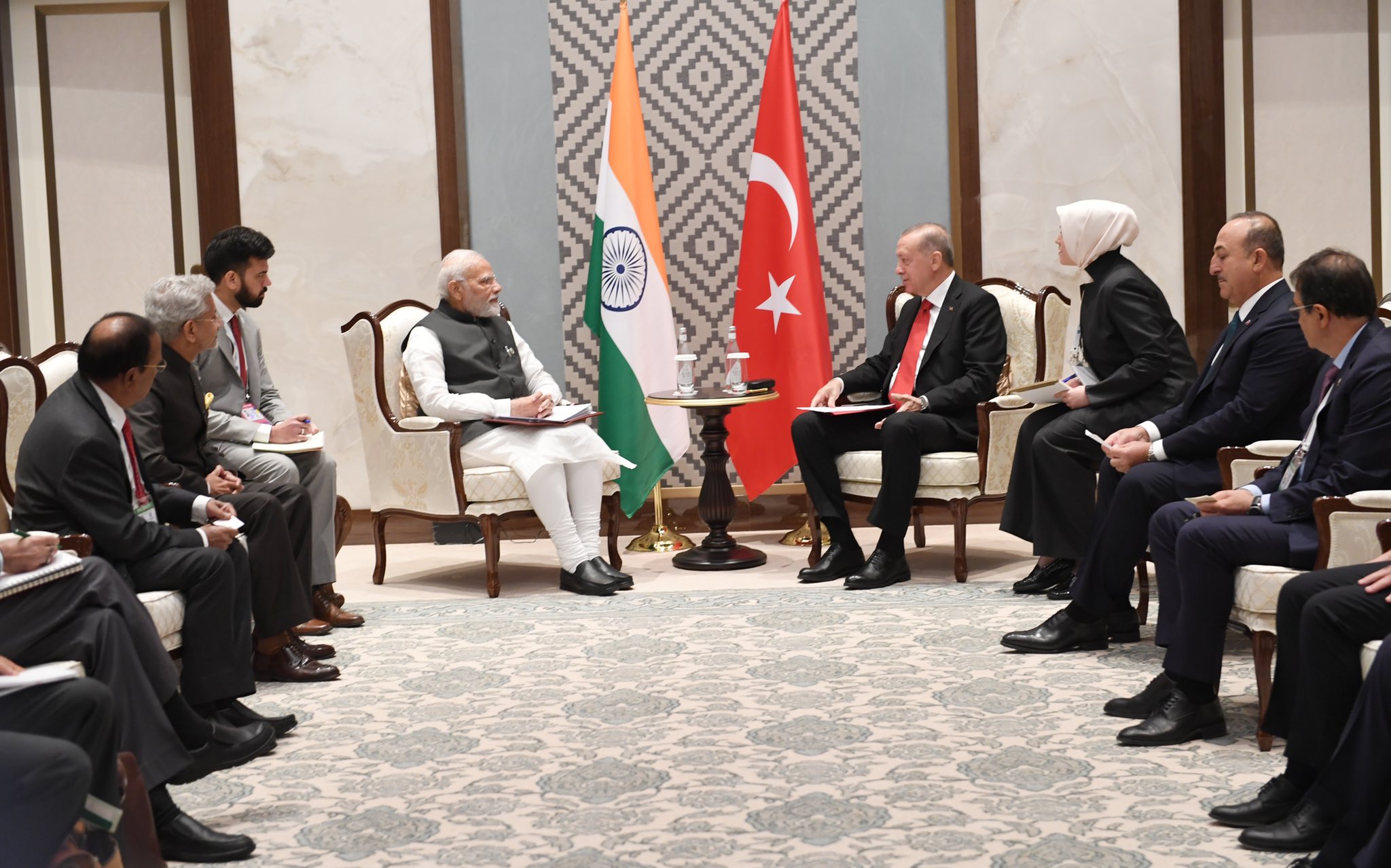 Two,  Turkey perhaps realizes now its failure to emerge as the leader of the "Islamic grouping," consisting of Pakistan, Malaysia, Iran, and Qatar, in an attempt to break Saudi Arabia and the UAE's ideological supremacy within the Islamic world.
Former Pakistani Prime Minister Imran Khan was Erdogan's biggest supporter. His ouster from office, followed by Pakistan's acute financial dependence on Saudi Arabia, has virtually killed that idea.
On the other hand, a "pragmatic" Turkey is now normalizing relations with countries like Israel, Saudi Arabia, and the UAE. In February, Erdogan visited the UAE to bring relations back on track after diversions over Libya and the economic blockade against Qatar orchestrated by the UAE and Saudi Arabia.
Most recently, Turkey re-established diplomatic relations with Israel after more than a decade of tensions that erupted in 2010 when Israeli commandos killed 10 Turkish activists aboard a Turkish aid vessel, the Mavi Marmara, attempting to break the Israeli maritime blockade of Gaza.
They have decided to appoint their respective ambassadors for the first time in four years. The two countries expelled each other's ambassadors in 2018 over the killing of scores of protesters in Gaza by Israeli soldiers on the anniversary of the creation of the Israeli state. Turkey's President had otherwise long criticized Israel's treatment of Palestinians.
And most importantly, in June, Saudi Arabia's Crown Prince Mohammed bin Salman traveled to Turkey to normalize ties after a Turkish court agreed to transfer the case relating to the murder of journalist Jamal Khashoggi at the Saudi consulate in Istanbul in 2018 to Riyadh, removing a significant obstacle between the two countries.
After the UAE, Saudi Arabia has now pledged to Turkey billions of dollars that will boost the Turkish economy ahead of an election next year. Erdogan has also reached out to other foes, including Egypt and Armenia, to mend relations.
Incidentally, India now has excellent relations with all these countries – the UAE, Saudi Arabia, Israel, and Egypt. Turkey seems to have taken note of it while rebuilding ties with India.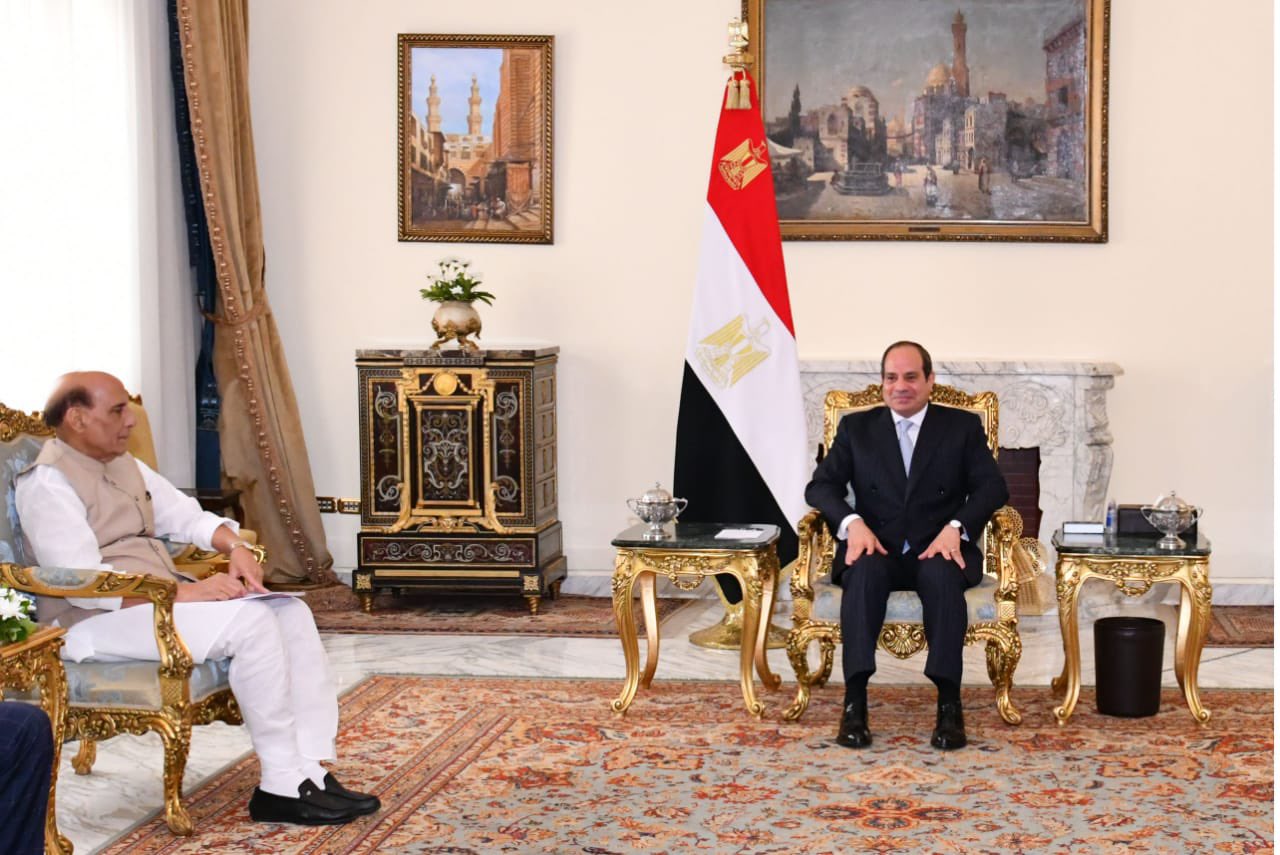 Three, it is becoming increasingly obvious that Turkey is getting disenchanted with Pakistan by and by, the most important factor behind its animosity towards India. The number of illegal Pakistani.
The number of illegal Pakistani immigrants in Turkey is proving to be a huge irritant in Ankara's ties with Islamabad.
According to Turkish authorities, there are between 3,000 and 6,000 illegal Pakistani nationals in detention at any given time, while many others stay in Turkey until they will find a way to go to Europe.
But what is disturbing the Turkish authorities is that the Pakistani immigrants are not respecting the country's culture, particularly the women.
In April of this year, a Pakistani immigrant was caught sharing photographs and videos of Turkish women recorded on social media. Similar videos by other Pakistani immigrants also surfaced on social media, creating a furor in the Turkish population.  "Pakistan Get Out" is, therefore, a big trend in Turkish social media.
Intelligence reports claim that illegal Pakistan immigrants have also been found indulging in gang wars and other illegal crimes, including human and narco-trafficking and ransom kidnapping of tourists visiting Turkey.
This is a major challenge as Turkey is a favorite destination, and tourism is an important revenue-generating source for the economy. A recent incident (late April) was the kidnapping of a small group of Nepali tourists in Istanbul. Luckily, they were rescued by the Police, and six Pakistanis who had committed the crime and asked for a ransom of 10.000 Euros were arrested.
Considering all this, experts say that past setbacks notwithstanding, India-Turkey ties have a real chance of better days ahead.
Kabir Taneja, a  Fellow at the Strategic Studies Programme of the Delhi-based think- tank  Observer Research Foundation, seems to make sense when he says, "Using mechanisms such as the I2U2 grouping between India, the UAE, Israel, and the US, aimed toward regional economic dialogues as a springboard could provide new ideations and opportunities for dialogue with Ankara relating to trade and other economic opportunities via the Gulf, offering potentially small steps to test ground and intent prior to having more consequential dialogues addressing the more fundamental challenges that persist".
Author and veteran journalist Prakash Nanda has been commenting on politics, foreign policy on strategic affairs for nearly three decades. A former National Fellow of the Indian Council for Historical Research and recipient of the Seoul Peace Prize Scholarship, he is also a Distinguished Fellow at the Institute of Peace and Conflict Studies. CONTACT: prakash.nanda@hotmail.com