The US is gearing up to conduct the Large Scale Exercise 2023 from August 9 to 18, which will see the combined firepower of the Navy and Marine Corps teams across six maritime component commands, seven numbered fleets, and 22 time zones.
During a media event at US Fleet Forces Command on July 24, Adm. Daryl Caudle, commander of US Fleet Forces Command, and Lt. Gen. Brian Cavanaugh, commander of Marine Forces Command, announced the forthcoming Large Scale Exercise (LSE) 2023.
The Large Scale Exercise 2023 will incorporate a combination of live and virtual training to challenge the fundamental assumptions of crucial warfighting concepts for both services. 
The Navy and Marine Corps anticipate that future maritime conflicts will demand dispersed units spread across vast distances, capable of launching simultaneous strikes against adversaries before dispersing again.
Caudle said that their ability to command and control operations across 22 time zones is the key to achieving victory in a global environment against competitors. To accomplish this, precise and synchronized timing is essential to conduct high-end modern warfare effectively.
According to the United States Fleet Forces Command, the primary objective of LSE is to support the Chief of Naval Operations' initiative by integrating fleet operations with emerging technologies, to enhance and validate Distributed Maritime Operations (DMO) capabilities while advancing naval doctrine and tactics. 
Lt. Gen. Cavanaugh highlighted the importance of conducting these operations in a live, virtual, and constructive manner, emphasizing the critical role of synchronization and execution at all levels, from tactical operations involving sailors and marines on the ground or at sea to the command and control aspect.
LSE 2023, the second iteration of this exercise, builds upon the insights gained from LSE 2021 and the continuous refinement of warfighting concepts through Fleet Battle Problems.
The exercise was first started in 2021 by Chief of Naval Operations Adm. Michael Gilday to evaluate the preparedness of the Navy's globally dispersed commands in the event of a global conflict. 
Scheduled from August 9 to August 18, this year's exercise is being overseen by Adm. Caudle, along with the involvement of Lt. Gen. Brian Cavanaugh, commanding general of Fleet Marine Forces, Atlantic, representing the senior Marine Corps leadership.
Importance Of The Exercise
LSE distinguishes itself from other exercises due to its large scale, involving over 50 commands across 22 time zones, and its exclusive focus on the US Navy and Marine Corps without integrating international partners or the broader joint force.
The specific details of the scenario employed in LSE 2023 are classified, and exercise directors have intentionally refrained from linking the hypothetical adversary to any particular country.
However, given the USA's continuous attention to potential threats from countries such as China, Russia, North Korea, and Iran, these contexts may have inspired elements of the exercise's design. 
The exercise will heavily utilize "Live, Virtual, and Constructive" training, a military term that refers to units participating in the events, including simulated enemies and remote participation of friendly units, likened by the briefers to an advanced video game.
Back in February, US Pacific Fleet commander Adm. Sam Paparo explained the concept of Distributed Maritime Operations (DMO), stating that it involves sailing at a distance and in a formation that avoids presenting an apparent military target to the enemy while still enabling mutual support among the naval forces.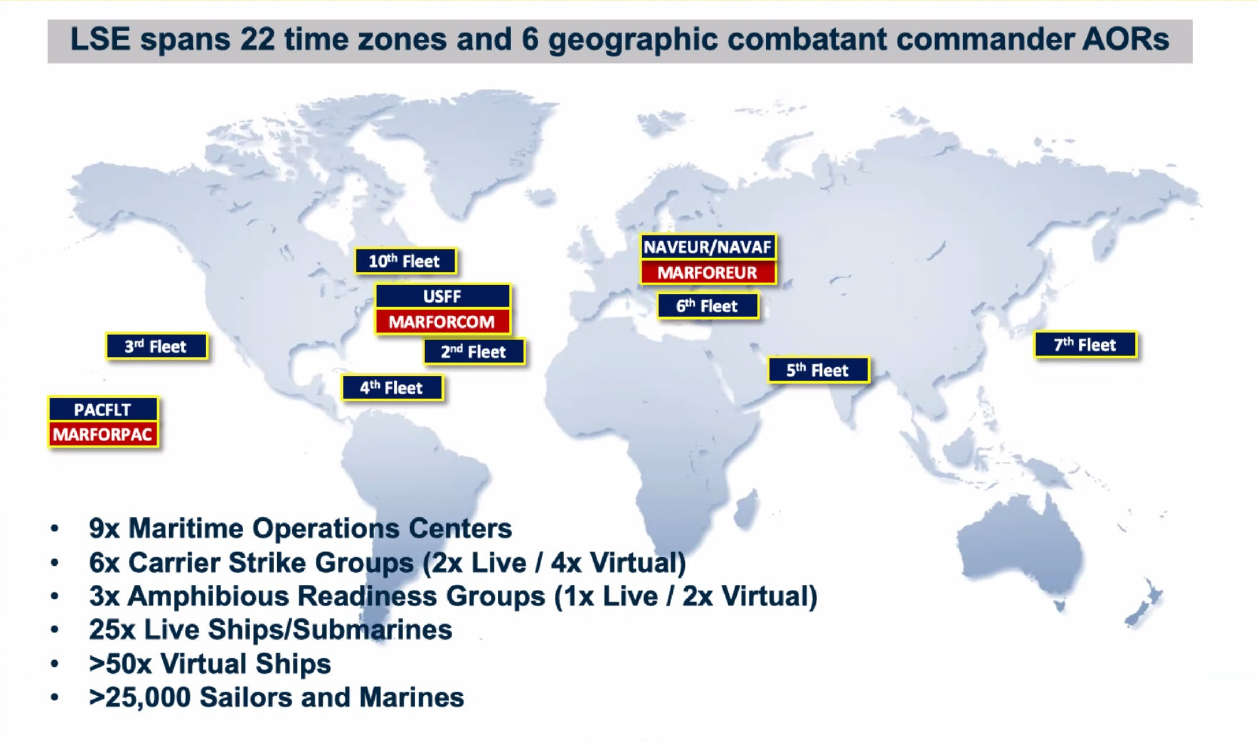 On July 24, the lead exercise planner, Capt. Chris Narducci told reporters, "We want to build a more competent and lethal force; we want to be able to demonstrate that we can globally synchronize this exercise."
"And then finally, we want to be able to show that we can fight and win against our adversaries using the live virtual, constructive training environment," Narducci added. 
The exercise will witness extensive participation of units and assets, comprising six carrier strike groups, three amphibious readiness groups, over 25 ships or submarines, and a workforce of more than 25,000 sailors.
During the LSE 2023, the inputs from the various participating units will be channeled to nine maritime operations centers.
From there, the information will be consolidated and directed to the central command node in Norfolk at the Naval Warfare Development Center.
The scale of the exercise necessitates a substantial workforce, involving over a thousand people solely for its successful execution.
The exercise's central objective revolves around the seamless coordination and integration of all elements. The key to its success is ensuring that all the moving parts work together harmoniously, allowing the naval forces to effectively demonstrate their ability to operate cohesively and tackle complex scenarios as a unified and formidable force.