The French Navy's Charles de Gaulle Carrier Strike Group set sail as part of its first operational deployment of 2022 in the Mediterranean Sea. The exercise is aimed at demonstrating interoperability with allied navies. 
Its mission, called CLEMENCEAU 22, will last through April and will include several foreign ships. The Carrier Strike Group will be positioned in a complicated strategic setting defined by the rise of regional tensions as a mechanism of power projection and autonomous assessment of the situation during its three-month mission.
Bon vent et bonne mer à tous les marins engagés au sein de la mission #Clemenceau22 ! pic.twitter.com/UcXK2vJAzP

— Marine nationale (@MarineNationale) February 1, 2022
The European Union's marine partners (Belgium, Spain, Greece) and NATO allies  (United States, Canada) will be part of the Carrier Strike Group. This integration will enable France to retain and improve its ability to collaborate and defend Europe's interests. Moreover, France currently holds the rotating six-month presidency of the European Union Council. 
The CSG will be deployed into Operation CHAMMAL, the French component of Operation INHERENT RESOLVE, and will participate in the combat against the Islamic State in the Middle East, as it has done in past missions.
The mission will also contribute to supporting France's operational responsibilities within the European Union (EUNAVFORMED IRINI), NATO's SACEUR (Supreme Allied Command for Europe) area of responsibility, or another coalition. 
The Clemenceau 22 will focus on the Mediterranean, but because of escalating tensions in the region, some of its assets (a frigate and fighters) will be positioned in the Black Sea.
France's Carrier Strike Group is centered around the FS Charles De Gaulle (R 91) aircraft carrier and her Air Wing (20 Rafale marine fighter aircraft, 2 E2C Hawkeye, helicopters Caïman marine and Dauphin).
French Rafale-M To Operate With F-35B 
The French CSG will participate in "tri-carrier operations" with the Cavour CSG of the Italian Navy (Marina Militare) and the Truman CSG of the US Navy as part of the Clemenceau 22 mission.
The major goal is to maintain interoperability between allied navies while also training with new assets including Italian F-35B fighter jets and American E-2D Advanced Hawkeye planes.
According to USNI News, 20 Rafale Marine F3R fighters, two E-2C Hawkeyes Airborne Early Warning and Control aircraft, one Dauphin helicopter, one Panther helicopter, and one NH90 NFH Caman anti-submarine warfare helicopter are among the aircraft aboard Charles De Gaulle. A Belgian Air Component NH90 helicopter is also stationed at Forbin.
While the exercise is majorly focused on maintaining interoperability between allied navies, it will also witness the training of new assets such as Italian F-35B fighter jets and American E-2D Advanced Hawkeye planes. 
The F-35 and Rafale, two of the most powerful jets, will participate in the drills accompanying their respective aircraft carriers. Last year, the UK Royal Navy's stealth fighter F-35B and the French Navy's Rafale-M or Marine similarly conducted drills in the Mediterranean Sea.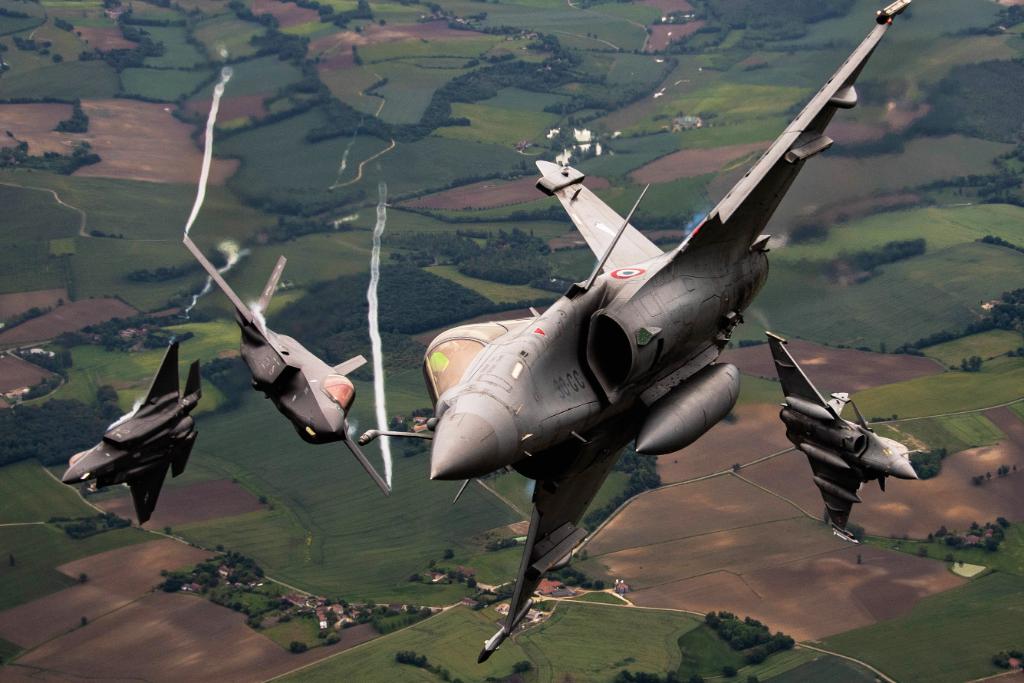 The UK and French carrier groups teamed up in the Western Mediterranean Sea for a cooperative maritime exercise called 'Gallic Strike' in 2021. The naval variant of the Rafale and the F-35 aircraft then collaborated in a range of aspects, including anti-air, anti-surface warfare, and force projection, during this exercise, which included a sea-to-land strike simulation and cooperative tactical maneuvers.  
In recent years, France and its partners have prioritized improving interoperability between fourth and fifth-generation fighter jets. Exercise 'Atlantic Trident 21', which was conducted at Mont-de-Marsan Air Force Base in France, witnessed the sorties between USA's F-35A Lightning II Joint Strike Fighter (JSF) and Dassault Rafale jets. 
Russian task groups from the Pacific, Northern and Baltic Fleet are also on their way to the Mediterranean to rendezvous for an exercise in the area. 
India's Interest In Rafale-M
Although India is not a part of this exercise, it will closely monitor the war game especially the performance and capabilities of the Rafale-M. Recently, Rafale-M was flight-tested at a shore-based facility in Goa, simulating conditions similar to those aboard India's indigenously manufactured aircraft carrier INS Vikrant. 
The Rafale-M is competing against the US-made Super Hornet for India's carrier-based fighter jet contract. The 44,000-tonne INS Vikrant, which is now undergoing trials in the Arabian Sea and the Bay of Bengal, is expected to be commissioned in August.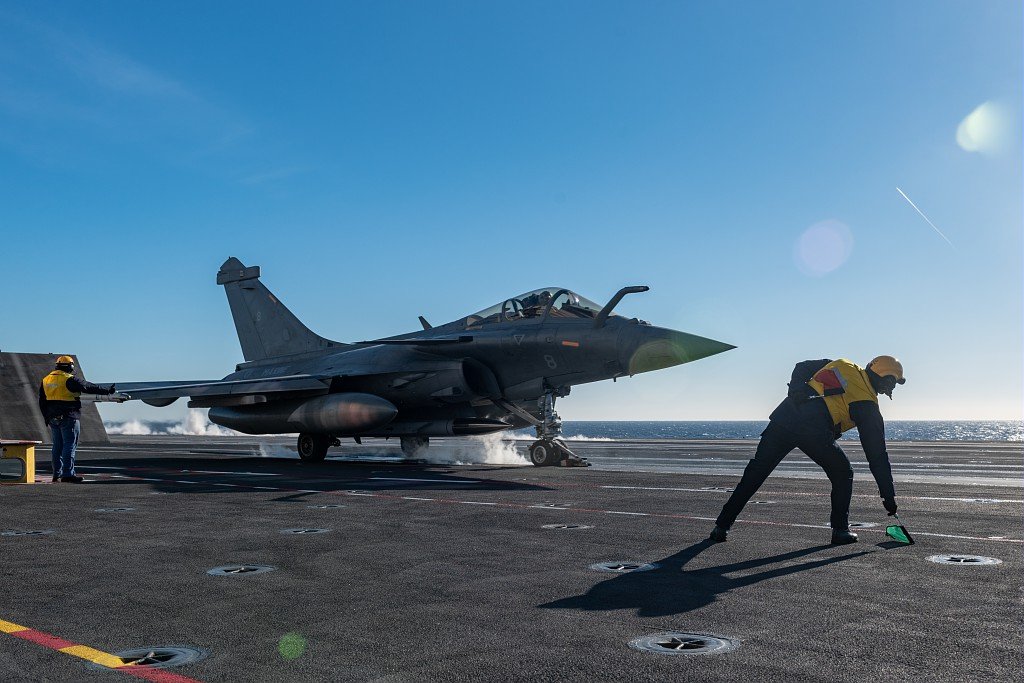 In contrast to many other aircraft carriers, INS Vikrant was designed as a ski-jump launch ship. As a result, the aircraft chosen by the Indian Navy must be capable of taking off in this mode while hauling all weapon systems and a full fuel load.
The Rafale-M fighter was apparently tested for 12 days last month at the INS Hansa facility in Goa, utilizing a 283-meter simulated ski-jump facility. Similar tests are anticipated at INS Hansa next month for Boeing's Super Hornet or F/A-18E/F jet, which is also being offered to India.
The vendors have reportedly modified both the Rafale-M and the Super Hornet to make them suitable for the Indian contract. The Navy was hunting for a plane that could deliver nuclear loads, air-to-air and air-to-ground missiles, and precision-guided bombs. 
Although the Navy had submitted a Request for Information (RFI) in 2017 for 57 multirole carrier-borne aircraft, it now wants to buy only 26 planes.