The Russian Air Force seems to be struggling in the Kharkiv region, with four of its fighter jets allegedly knocked down by Ukrainian forces in a single day, as per the recent claims made by Ukraine's Defense Ministry.
The Ministry of Defense of Ukraine's tweet dated September 24 claimed to have shot down two Russian Su-30SM Flankers, a Su-25SM Frogfoot, and a Su-34 Fullback.
Su-30 fighters are also operated by 'arch rivals' India and China and form the backbone of both the airforces.
There have been videos circulating on social media, according to which multiple aircraft seem to have been shot down, but an exact number of kills could not be confirmed independently.
Today is a good day for #UAarmy and a bad day for russian aviation. Su-25, two Su-30, Su-34 have gone to f..k themselves. pic.twitter.com/MNmcEm8CUf

— Defense of Ukraine (@DefenceU) September 24, 2022
One video shared by Ukraine's Defense Minister, Oleksii Reznikov, shows a Su-30 flanker being shot down over the Kharkiv region by an American-made Stinger missile.
In the video released by Reznikov, the missile makes contact with the aircraft before it rapidly runs into the ground, causing a colossal explosion that releases a massive plume of flames and thick black smoke.
Ten months ago, in WDC, I asked for Stingers 4 #UAarmy & heard "It's impossible."
Many times.
Today, rus Su-30 jet was shot down by ?? Stinger in the Kharkiv region.
So…the impossible is indeed possible.
Thanks to our partners.
We will win! ??
? Горить, "Палає техніка ворожа" pic.twitter.com/c1NtHcqlsD

— Oleksii Reznikov (@oleksiireznikov) September 24, 2022
The Ukrainian Defense Minister wrote on Twitter, "Ten months ago, in Washington DC, I asked for Stingers for the Ukrainian Armed Forces and heard 'It's impossible' many times."
"Today, a Russian SU-30 jet was shot down by a Ukrainian Stinger in the Kharkiv region. So…the impossible is indeed possible."
Another video shared by Ukraine's Command of the Airborne Assault Troops purportedly showed a Su-25 and a Su-30SM being shot down by the 25th Airborne Brigade.
Russian Tactic Faltering In Kharkiv
Earlier this month, the Ukrainian forces conducted a surprise northern counteroffensive to retake the Russian-held Kharkiv region, forcing a hasty withdrawal of Russian troops from the area.
However, as EurAsian Times discussed earlier, Russian withdrawal seemed more of a tactical move to draw in a large number of Ukrainian forces and equipment for it to be destroyed by heavy artillery shelling and air strikes.
This would be very similar to what was observed in the strategic 'Snake Island' in the northern Black Sea, where Russian forces withdrew after a series of Ukrainian aerial attacks, only to conduct air strikes on the island when Ukrainian forces tried basing themselves there.
However, this time the Russian tactic seems to be faltering in the face of forward-deployed medium and long-range Ukrainian air defenses that are forcing the enemy fighter jets to fly at altitudes below 4.5 kilometers, right into the range of the man-portable air defense systems (MANPADs).
Since the onset of war in February, thousands of MANPADS of different types from several countries have been supplied to the Ukrainian forces, with more on their way.
For example, the US government has committed to providing Ukraine with over 1,400 Stinger anti-aircraft systems, an example of which allegedly shot down a Russian Su-30SM in the latest video shared by Ukraine's Defense Minister Reznikov.
Iranian Drones Could Overwhelm Ukraine
Nevertheless, the Russian military does have a way to deal with these air defense systems – Iranian-made drones. The Iranian-made drones pose a significant challenge for Ukrainian forces in Kharkiv and other areas far from the frontline.
So far, Iran is known to have supplied Russia with the Mohajer-6 and Shahed-series unmanned aerial vehicles (UAVs). Of these, Russian forces have been using Shahed-136 suicide drones to take out Ukrainian armor and artillery systems in the north-eastern Kharkiv region, as per a recent EurAsian Times report.
#Ukraine: In the first credible sighting of Iranian drones in use by Russian forces, here we see the remains of a HESA Shahed-136 loitering munition (or a design based on it), which is made in Iran. From the appearance, it seems it likely detonated.

Images via @kms_d4k pic.twitter.com/LUBKrPAMNc

— ?? Ukraine Weapons Tracker (@UAWeapons) September 13, 2022
The UK Ministry of Defense (MoD) said in its September 14 update, "The Shahed-136 is a one-way attack UAV with a claimed range of 2,500 kilometers.
Besides Kharkiv, Iranian drones have been observed flying above the Ukrainian port city of Odesa. Also, on September 22, Ukrainian forces claimed to have destroyed four Shahed-136 drones in the Mykolaiv region with medium-range surface-to-air missiles (SAMs) on September 22.
Video reportedly of a Iranian Shahed-136 loitering munition over Odesa. https://t.co/LLYyhB8a2I pic.twitter.com/OmrhNe896j

— Rob Lee (@RALee85) September 23, 2022
Russian forces have also begun employing the Mohajer-6 drone. On September 23, Ukrainian troops claimed to have shot down a Mohajer-6 for the first time.
? This is what the Iranian-made Mohajer-6 drone looks like, shot down by the Air Force of the Armed Forces of Ukraine in Odessa today. pic.twitter.com/5it0YUfjHm

— Toronto Television / Телебачення Торонто (@tvtoront) September 23, 2022
The Mohajer-6 is designed for reconnaissance, surveillance, and strike missions. It has a range of around 200 kilometers and can reach a maximum altitude of up to 18,000 feet. It can stay airborne for up to 12 hours and carry approximately 40 kilograms of payload.
The Air Force of the Armed Forces of Ukraine stated that the drone could carry up to four guided ammunition.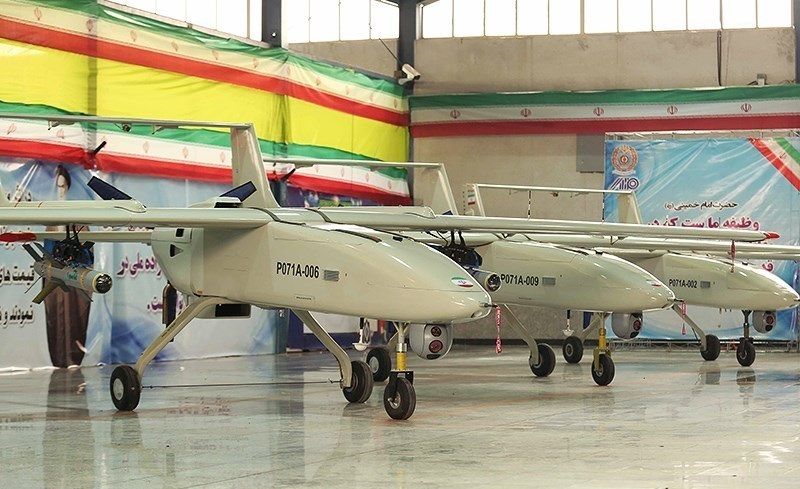 Iranian-made drones provide Russia with an expendable and cost-effective alternative to its precious and expensive aircraft and cruise and ballistic missiles.
The Russian military would look to employ drones where its airpower cannot operate without extreme risk or where its ground troops do not have the artillery and armored advantage.
Also, suicide drones, if used in large numbers, can overwhelm Ukraine's air defenses, particularly its precious SAM stockpile, which will be finished even if these drones are shot down.