The US Air Force (USAF) recently conducted ground and flight acoustic sound testing for its F-15EX (Eagle 2) fighter jet for two weeks at Eglin Air Force Base range in Florida, US.
---
It was the first time such in-depth digital acoustic testing was conducted on an F-15 model and GE-129 engine powering the aircraft. The US Department of Defense (DoD) is said to have initiated a test specifically for the F-15EX, as it will be the new model in the USAF's inventory.
Eglin's Operational Flight Program Combined Test Force (OFP CTF) F-15 Section coordinated and managed the tests.
According to Department of the Air Force community planner James Potter, the purpose of the tests was to establish a baseline of sound data. This data will further help the DoD to update various predictions/models of noise levels present in different locations where the F-15EX jet will operate or be based.
The Air Force's newest fighter crossed over vertical & horizontal rows of microphones on the ground capturing every decibel of sound the aircraft made as it roared by & turned for another pass.That was one of many sound recordings during F-15 acoustic #testing. #TuesdayThoughts pic.twitter.com/dKF65YzU4w

— Eglin Air Force Base (@TeamEglin) November 9, 2022
Blue Ridge Research and Consulting collected sound data during the test. The tests were conducted in the ground- and flight-testing phases.
During the ground testing phase, the aircraft was placed at an idle location with its engine running. Blue Ridge Research and Consulting experts strategically placed more than 100 microphones surrounding the plane to collect sound data.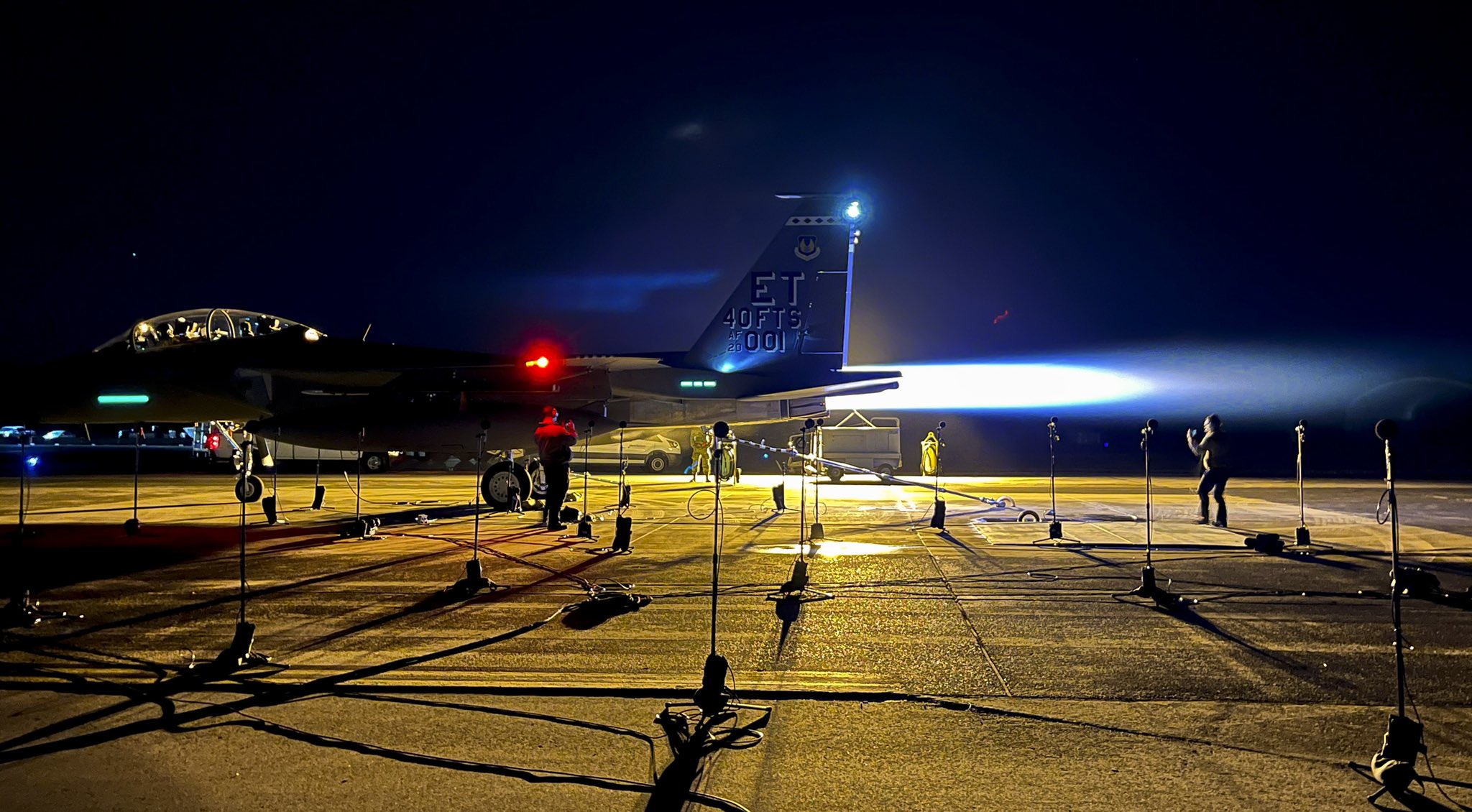 Whereas during the flight-testing phase, the contractor placed around 35 microphones spread 1219.2 meters vertically and 304.8 meters horizontally during the flight-testing phase. This was done to capture the sounds produced by more than 70 Eagle II flyovers.
The flight test was conducted at various heights with different aircraft configurations.
F-15EX Eagle II
The F-15EX is the latest model of the F-15 air superiority fighters. The F-15EX is identical to a conventional F-15 but incorporates a new fly-by-wire (FBW) system, a more effective processor, and advanced electronic warfare (EW) suite.
FBW is a semi-automatic, computer-regulated aircraft flight control system (FCS) that replaces mechanical flight controls with an electronic interface.
Traditional mechanical and hydro-mechanical FCS uses a series of levers, rods, cables, pulleys, and more, which pilots have to move to adjust control surfaces to aerodynamic conditions.
While mechanical flight controls give pilots a direct feel of how the aircraft handles aerodynamic forces while flying, they are also complicated to operate, require constant monitoring, are heavy and bulky, and need regular maintenance.
The electronic FWB system is much lighter and less bulky than mechanical controls, offering increased fuel efficiency and flexibility in aircraft design, even in legacy platforms. Also, most FWB systems have triple or quadruple redundancy backups built to avoid critical flight failure.
The F-15EX is designed around what is known as an Open Mission Systems (OMS) architecture, which allows rapid insertion of the latest capabilities and systems.
Reports suggest the F-15EX has been brought in to replace the Air National Guard units' existing fleet of F-15C/Ds that protect America's maritime borders.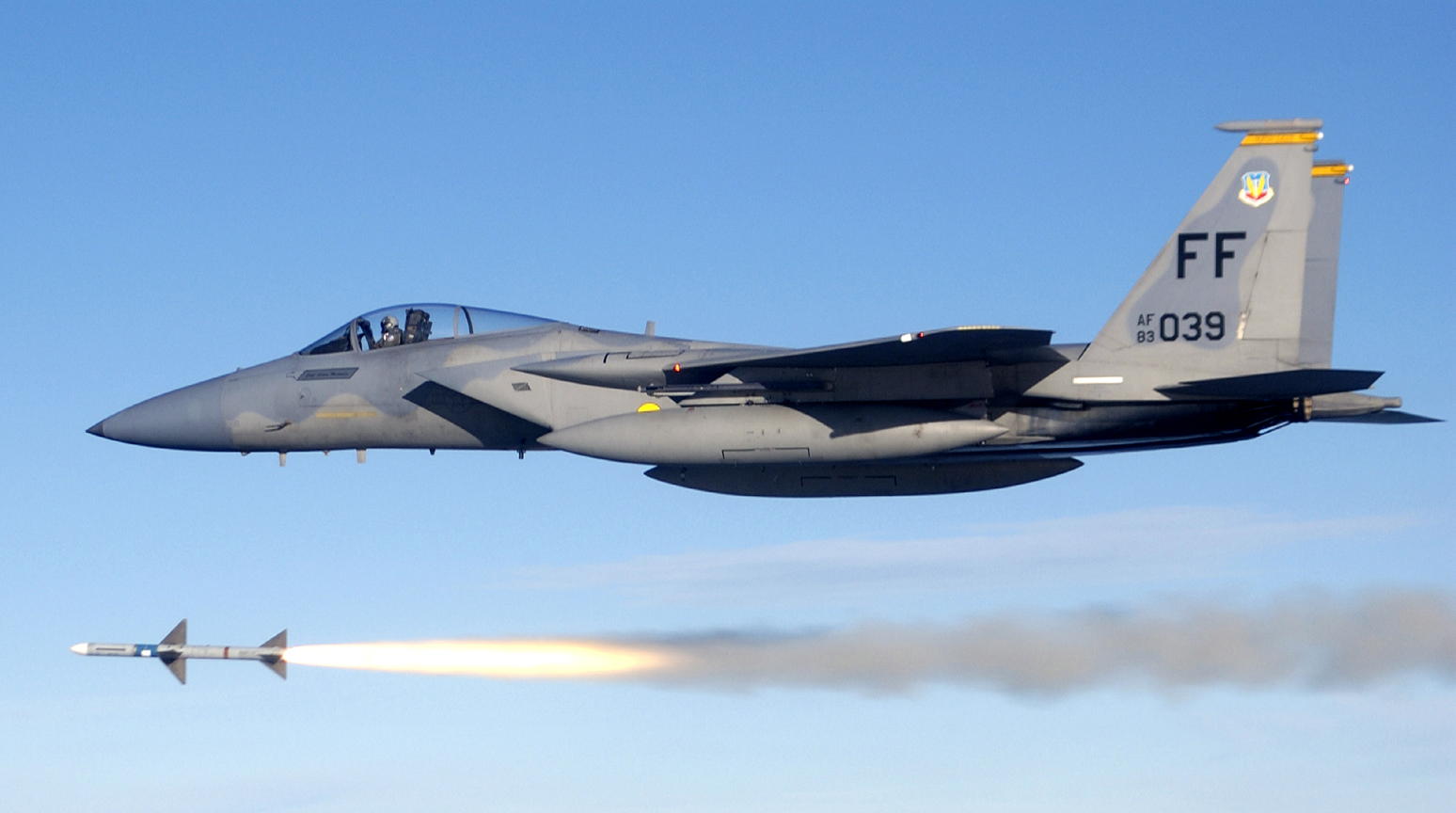 Additionally, the F-15EX is also meant to team up with the stealthy F-35 or F-22 fighter jets for some missions. The Eagle 2 can carry a much larger weapons payload than fifth-generation types. Therefore it is being eyed for roles to carry future hypersonic missiles that could not be accommodated inside a fifth-generation fighter weapons bay.
As EurAsian Times reported earlier, the F-15EX will be the first aircraft in the USAF to be certified with the new Hypersonic Attack Cruise Missile (HACM).
Furthermore, the F-15EX has a top speed of Mach 2.5 and a combat range of over 1700 kilometers, compared to the F-35's range of only around 1000 kilometers. Therefore, it is the best tactical jet for carrying hypersonic missiles over extended distances.
Hypersonic weapons will only become more critical as threats from near-peer nations such as Russia and China keep growing.
Currently, China and Russia are the only countries with operational hypersonic weapons, and Russia has even used its Kinzhal hypersonic missile in the ongoing Ukraine war. In contrast, the US is still catching up.
The IAF Could Operate The F-15EX In The Future
As EurAsian Times reported earlier, Boeing is also targeting the Indian Air Force (IAF) as a potential customer for its F-15EX Eagle II.
The IAF, after procuring 36 Rafale jets from France, proposed the MMRCA 2.0 tender to acquire 114 additional fighter jets. The tender is yet to be released. However, Boeing plans to pitch its F-15EX against Dassault Rafale, which many experts consider the favorite to win the contract.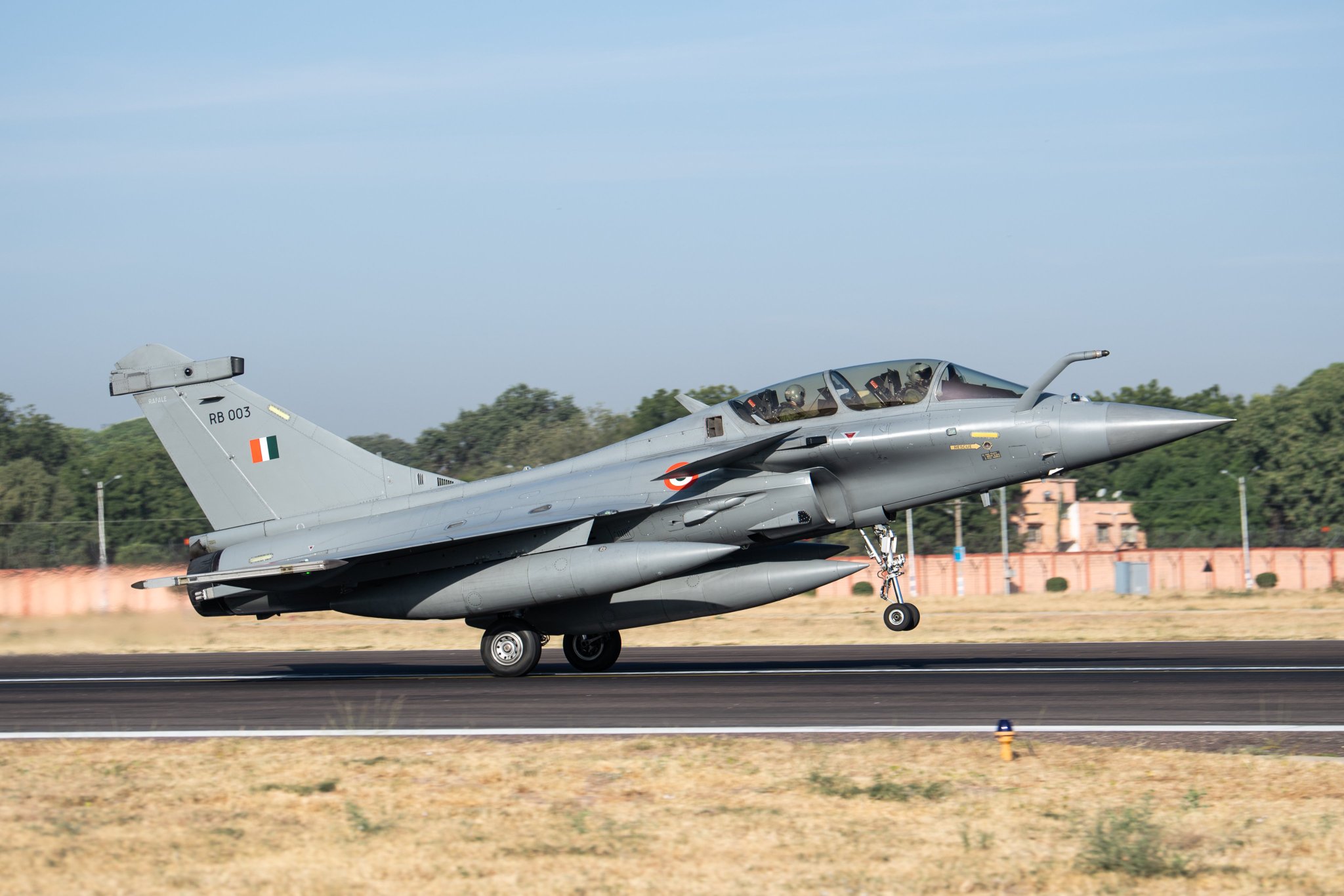 Boeing is aggressively pitching its F-15EX, suggesting the fighter jet could be offered at a much lower price than its competitors.
Steve Parker, vice president, and general manager of the Bombers & Fighters division within Boeing Defense has reportedly indicated that Eagle 2 may cost lower than the expected $80 million unit price.
The figure usually quoted by the US Defense Department for the flyaway unit cost of the F15EX is $87.9 million, with per hour flying cost of $29,000. When armaments and other equipment are added, the unit price will reach between $98 to $110 million.
Notably, India purchased Rafales at a flyaway unit cost of $120 million, with per-hour flight costs ranging between $18000-$21000. Including the weaponry and the rest of the components, the price of Rafales exceeded $220 million per unit.