Russian President Vladimir Putin has signed a law for disseminating fake news about the participants of military operations in Ukraine, making this infraction punishable by up to 15 years in prison.
The law toughened the punishment for discrediting deployment of the Russian armed forces abroad, which previously stood at up to five years in prison. The amendments not only introduce liability for discrediting volunteers but also raise the threshold for punishment to seven years in prison for such acts.
Some amendments were introduced to an article concerning fake news about the Russian armed forces, extending the punishment for such acts to volunteers as well. The maximum penalty under the article is a 15-year prison sentence.
Putin also signed a law on fines of up to one million rubles for disseminating instructions on the illicit manufacture of ammunition to firearms in the media outlets or on the Internet, as well as for public actions aimed at discrediting the assistance volunteers provide to the Russian armed forces in carrying out their tasks.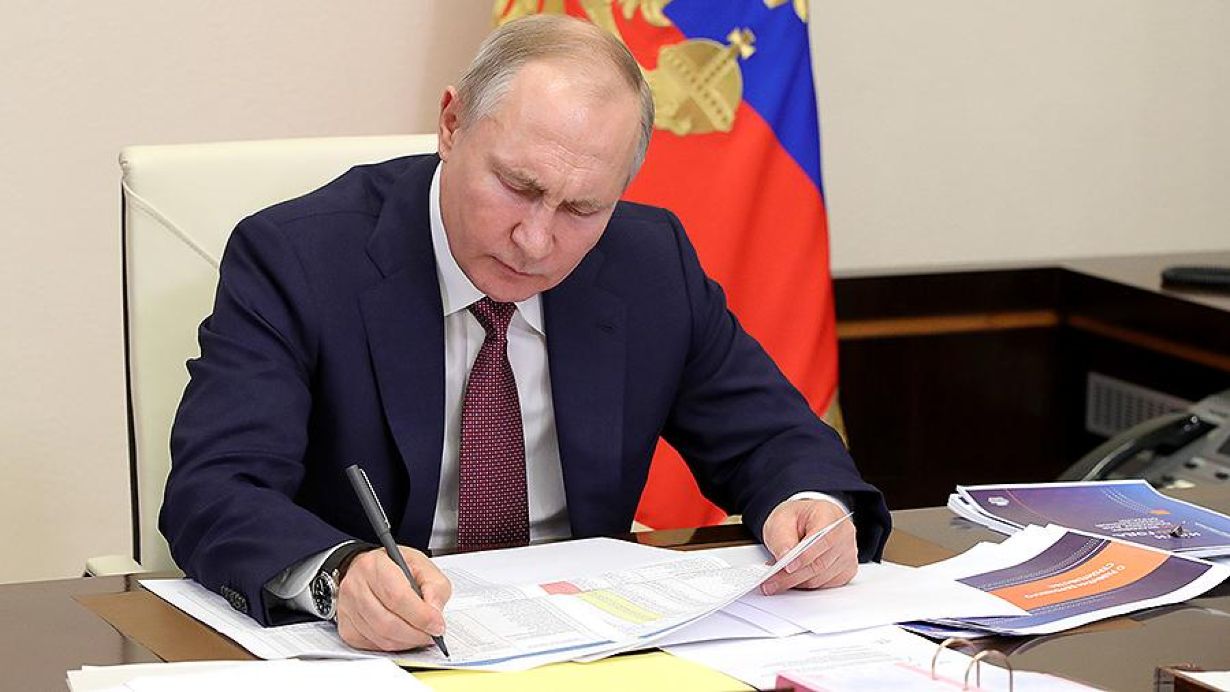 Media and internet dissemination of information on the illicit manufacturing of ammunition to firearms is punishable for citizens by a fine of 10,000-50,000 rubles and a confiscation of the object of offense.
A heavier fine of between 40,000 and 80,000 rubles is imposed on officials, while sole proprietors are subject to a fine of 50,000-100,000 if they commit this offense.
Juridical persons will have to pay a fine of 800,000-1 million rubles if they are found in breach of the law. Sole proprietors and judicial persons may also be punished by administrative suspension of business activity for up to 90 days.
Meanwhile, the law introduces administrative liability for public actions aimed at discrediting the provision of assistance to the Russian armed forces by volunteer formations, organizations, or individuals.
Such offenses, if the actions contain no signs of criminal acts, are punishable by an administrative fine of 30,000-50,000 for citizens, 100,000-200,000 for officials, and 300,000-500,000 for juridical persons.
Putin also signed a Federal law on the reduction of the statute of limitations for several economy-related articles, as well as the termination of criminal proceedings if fines and arrears are paid in tax evasion cases.
For articles concerning tax evasion, failure to perform duties of a tax agent, concealment of monetary resources or property of an organization or a sole proprietor, and evasion from paying insurance premiums, maximum penalties will be reduced by 1-2 years in prison, "which will reduce the statute of limitations for criminal liability," the document said.
Meanwhile, the Russian Embassy in the United States said that U.S. support of the International Criminal Court (ICC) decision to issue an arrest warrant for Russian President Vladimir Putin is "reminiscent of sluggish schizophrenia."
On Friday, the ICC issued an arrest warrant for Putin as well as Russia's Children's Rights Commissioner Maria Lvova-Belova on the grounds of alleged "unlawful deportation" of Ukrainian children to Russia. U.S. President Joe Biden said on Friday that the arrest warrant is "justified."
"Allowing unacceptable remarks about the Russian leader, the U.S. authorities deliberately keep silent about their own atrocities in Iraq, Yugoslavia, Libya, and Vietnam. Moreover, in an attempt to protect its citizens from international prosecution by all available means, the United States even takes odious measures. For example, unprecedented economic sanctions were imposed on the court's leadership, including ex-Prosecutor Fatou Bensouda, who initiated an investigation into U.S. atrocities in Afghanistan. What independence and impartiality can we talk about?" the Russian embassy said, commenting on the U.S. reaction.
The embassy emphasized that Washington supports the "unprecedented legal bacchanalia" unleashed by the ICC to protect its own geopolitical interests, despite the fact that neither the U.S. nor Russia recognizes the court's jurisdiction.
"Such a position is reminiscent of sluggish schizophrenia. Today, all American officials, in unison, repeated that the ICC is not a decree for the United States. However, a strategic interest to annoy Russia as much as possible outweighs," the Russian embassy said.
Russian Foreign Ministry spokeswoman Maria Zakharova said the ICC warrants to arrest Putin and Lvova-Belova are legally null and void as Russia is not a party to the Rome Statute and has no obligations under it, nor does it cooperate with the ICC.
Kremlin spokesman Dmitry Peskov has repeatedly stated that Russia is not a party to the ICC and its jurisdiction is not recognized by Moscow, so any of its decisions against the country are null from the legal point of view.
Mail EurAsian Times Desk at

etdesk (at) eurasiantimes.com

Inputs from Russian News Agencies